Atypical hemolytic uremic syndrome
Orphanet Journal of Rare Diseases
2011
6:60
Received: 7 December 2009
Accepted: 8 September 2011
Published: 8 September 2011
Abstract
Hemolytic uremic syndrome (HUS) is defined by the triad of mechanical hemolytic anemia, thrombocytopenia and renal impairment. Atypical HUS (aHUS) defines non Shiga-toxin-HUS and even if some authors include secondary aHUS due to Streptococcus pneumoniae or other causes, aHUS designates a primary disease due to a disorder in complement alternative pathway regulation. Atypical HUS represents 5 -10% of HUS in children, but the majority of HUS in adults. The incidence of complement-aHUS is not known precisely. However, more than 1000 aHUS patients investigated for complement abnormalities have been reported. Onset is from the neonatal period to the adult age. Most patients present with hemolytic anemia, thrombocytopenia and renal failure and 20% have extra renal manifestations. Two to 10% die and one third progress to end-stage renal failure at first episode. Half of patients have relapses. Mutations in the genes encoding complement regulatory proteins factor H, membrane cofactor protein (MCP), factor I or thrombomodulin have been demonstrated in 20-30%, 5-15%, 4-10% and 3-5% of patients respectively, and mutations in the genes of C3 convertase proteins, C3 and factor B, in 2-10% and 1-4%. In addition, 6-10% of patients have anti-factor H antibodies. Diagnosis of aHUS relies on 1) No associated disease 2) No criteria for Shigatoxin-HUS (stool culture and PCR for Shiga-toxins; serology for anti-lipopolysaccharides antibodies) 3) No criteria for thrombotic thrombocytopenic purpura (serum ADAMTS 13 activity > 10%). Investigation of the complement system is required (C3, C4, factor H and factor I plasma concentration, MCP expression on leukocytes and anti-factor H antibodies; genetic screening to identify risk factors). The disease is familial in approximately 20% of pedigrees, with an autosomal recessive or dominant mode of transmission. As penetrance of the disease is 50%, genetic counseling is difficult. Plasmatherapy has been first line treatment until presently, without unquestionable demonstration of efficiency. There is a high risk of post-transplant recurrence, except in MCP-HUS. Case reports and two phase II trials show an impressive efficacy of the complement C5 blocker eculizumab, suggesting it will be the next standard of care. Except for patients treated by intensive plasmatherapy or eculizumab, the worst prognosis is in factor H-HUS, as mortality can reach 20% and 50% of survivors do not recover renal function. Half of factor I-HUS progress to end-stage renal failure. Conversely, most patients with MCP-HUS have preserved renal function. Anti-factor H antibodies-HUS has favourable outcome if treated early.
Keywords
Atypical hemolytic uremic syndromeC3factor Hfactor Ifactor Bmembrane cofactor proteinthrombomodulinplasma infusionplasma exchangeeculizumabkidney transplantationcombined liver-kidney transplantation
Disease name and synonyms
A classification of hemolytic uremic syndrome (HUS) and thrombotic thrombocytopenic purpura (TTP)--the two main variants of thrombotic microangiopathies (TMA)-and related disorders according to etiology has been proposed by the European Pediatric Research Group for HUS [1]. In common medical language, the names typical or post-diarrheal (D+) HUS describe the most frequent form of HUS in children, due to Shiga-toxin (Stx) producing Escherichia coli (STEC), mostly E coli 0157:H7. By opposition, the name atypical HUS (aHUS) has been historically used to describe any HUS not due to STEC, thus including:
i) "Secondary" aHUS, due to a variety of causes, including infectious agents different from STEC, mostly Streptococcus pneumoniae (S pneumoniae) (via neuraminidase of S pneumoniae and T antigen exposure), human immunodeficiency virus and H1N1 influenza A, malignancy, cancer chemotherapy and ionizing radiation, bone marrow or solid organ transplantation, calcineurin inhibitors, sirolimus or anti vascular endothelial growth factor (VEGF) agents, pregnancy, HELLP (Hemolytic anemia, elevated Liver enzymes, and Low Platelets) syndrome, malignant hypertension, glomerulopathies, systemic diseases (systemic lupus erythematous and antiphospholipid antibody syndrome, sclerodermia) or, in children, methyl malonic aciduria with homocystinuria, cblC type, a rare hereditary defect of cobalamine metabolism [1–14]. Of note, it is now acknowledged that using the aHUS terminology rather than an etiological-based denomination (e.g. S pneumoniae-HUS) is inadequate [1].
ii) aHUS classified as "primary", at least until the years 2000, as no exogenous cause was identified and the mechanism was unknown. However, it was recognized nearly four decades ago that this form of HUS could be familial, touching members of the family several years apart [15]. This is why it is also described as hereditary HUS. During the last decade, this form of aHUS has been demonstrated to be a disease of complement dysregulation. Therefore it is now described as "complement dysregulation -associated aHUS" or, for abbreviation, "complement-HUS". Of note, most authors, including ourselves for this review, now use the aHUS denomination to designate only complement-HUS [16].
Another denomination for aHUS has been non-post-diarrheal (D-) HUS, because the prodromal bloody diarrhea characteristic of STEC-HUS was rarely the predominant symptom. However, as gastroenteritis is a frequent trigger of complement-HUS episodes [17, 18], this terminology of (D-) HUS should be withdrawn. In practice, some publications on (D-) HUS/aHUS in children include S pneumoniae - HUS, a frequent category in children [19]. Also, some publications on complement-HUS include some secondary aHUS [18, 20], while others exclude the various causes indicated above (except pregnancy and contraceptive pill) [17, 21–23]. This may explain differences in results. Last, as HUS and TTP share in common hemolytic anemia and thrombocytopenia, with predominant central nervous system (CNS) involvement in TTP and predominant renal involvement in HUS, both diseases are often grouped under the denomination TTP/HUS. This is also due to the possible overlap of symptoms, with CNS involvement in HUS and renal involvement in TTP. TTP and aHUS can now be differentiated according to their different physiopathology i.e. deficiency of the von Willebrand cleaving protease, ADAMTS (A Disintegrin And Metalloprotease with ThromboSpondin type 1 repeats) 13, in TTP (commonly acquired via circulating autoantibodies in adults and rarely inherited (Upshaw-Schulman syndrome) via recessive ADAMTS-13 mutations in neonates or young children) and complement dysregulation in aHUS. However, biological investigations may not confirm the clinical diagnosis as at least 10-25% of TTP patients have normal ADAMTS13 activity and 30% of aHUS patients have no complement anomalies, suggesting the presence of unknown physiopathological mechanisms [16, 24, 25].
Definition
HUS is defined by the triad of mechanical, non-immune (negative Coombs test, except false positivity in S pneumoniae-HUS, see section Differential diagnosis) hemolytic anemia (hemoglobin < 10 g/dL) with fragmented erythrocytes (schizocytes), thrombocytopenia (platelets < 150.000/mm3) and renal impairment (serum creatinine > upper limit of normal for age). High lactate deshydrogenase (LDH) and undetectable haptoglobin levels confirm intra vascular hemolysis. The underlying histological lesion is TMA, characterized by thickening of arteriole and capillary walls, with prominent endothelial damage (swelling and detachment), subendothelial accumulation of proteins and cell debris, and fibrin and platelet-rich thrombi obstructing vessel lumina. TMA predominantly affects the renal microvasculature, although the brain, heart, lungs and gastrointestinal tract may be involved. When none of the etiologies indicated in the preceding chapter is present, the diagnosis of primary aHUS, now demonstrated to be a disease of complement dysregulation, is most probable. Our aim is to review the tremendous progress performed during the last decade in the understanding of this disease, and to show how this new knowledge has opened the way to new therapies.
Epidemiology
The incidence of aHUS is estimated in the USA to 2 per million, a number calculated from the incidence of (D-) HUS in children, including S pneumoniae - HUS [19]. In reality, the incidence of complement-aHUS is not known precisely. However, more than 1000 aHUS patients investigated for complement abnormalities have been reported from five European registries or series [17, 18, 20–22, 26–28] and one from the USA [23].
Clinical Description
Gender and age at onset
aHUS is equally frequent in boys and girls when onset occurs during childhood [17], while there is a female preponderance in adults [20]. aHUS occurs at any age, from the neonatal period to the adult age (extremes: 1 day to 83 years [17, 18]. Onset during childhood (≤ 18 years) appears slightly more frequent than during adulthood (approximately 60% and 40% respectively) [18, 21]. Seventy per cent of children have the first episode of the disease before the age of 2 years and approximately 25% before the age of 6 months [17]. Therefore, onset before the age of 6 months is strongly suggestive of aHUS, as less than 5% of STEC-HUS occur in children less than 6 months [29, 30] and personnal communication of Lisa King, Institut de Veille Sanitaire, St Maurice, France, with permission].
Triggering events
An infectious event, mainly upper respiratory tract infection or diarrhea/gastroenteritis, triggers onset of aHUS in at least half of patients [18], up to 80% in pediatric cohorts [17, 31]. Interestingly, diarrhea preceded aHUS in 23% and 28% of patients in the French pediatric [17] and the Italian adult and pediatric [18] cohorts respectively, showing that the classification of HUS as (D+) or (D-) may be misleading and that post-diarrheal onset does not eliminate the diagnosis of aHUS. Other triggers such as varicella [32], H1N1 influenza [6, 33–35] and, interestingly, STEC-diarrhea [17, 18, 36, 37] have been reported in patients who were investigated for aHUS because of a fulminant course, a familial incidence of the disease or the subsequent occurrence of relapses. Pregnancy is a frequent triggering event in women [18, 38, 39]: 20% of women with aHUS experience the disease, mostly the inaugural episode, at pregnancy, 80% of them during the post-partum period [39]. These observations highlight the difficulty to define the limit between aHUS triggered by an incidental event and secondary HUS.
Presenting features
Onset is generally sudden. Symptoms in young children are pallor, general distress, poor feeding, vomiting, fatigue, drowsiness and sometimes oedema. Adults complain of fatigue and general distress. Most patients have the complete triad of HUS at first biological investigation: hemoglobin < 10 g/dL (not exceptionally as low as 3-4 g/dL), platelets count < 150 000/mm3 (generally between 30 000 and 60 000/mm3, with no or little risk of bleeding complications), and renal insufficiency (serum creatinine > normal value for age), with or without anuria or reduced urine volume, proteinuria if diuresis is maintained. The presence of schizocytes, undetectable haptoglobin and high LDH levels confirm the microangiopathic intravascular origin of hemolysis. If diagnosis is delayed, life-threatening hyperkaliemia (≥ 6 mmol/L), acidosis (serum bicarbonates < 15 mmol/L) and volume overload with arterial hypertension and hyponatremia (< 125 mmol/L) may be observed. Arterial hypertension is frequent and often severe, due both to volume overload in case of oliguria/anuria and to hyperreninemia secondary to renal TMA. Cardiac failure or neurological complications (seizures) due to hypertension are possible. Half of children and the majority of adults need dialysis at admission.
Extra renal manifestations are observed in 20% of patients [17, 18]. The most frequent is CNS involvement (10% of patients) manifested by irritability, drowsiness, seizures, diplopia, cortical blindness, hemiparesis or hemiplegia, stupor, coma. Brain magnetic resonance imaging (MRI) is useful to differenciate CNS complications due to arterial hypertension (reversible posterior leukoencephalopathy syndrome with posterior white matter hyper intensity predominant in the parieto-occipital regions) and those due to cerebral TMA (on FLAIR and T2 sequences, bilateral and symetrical hyperintensities of the basal ganglia, cerebral pedunculas, caudate nuclei, putamens, thalami, hippocampi, insulae and possibly brainstem [40]. Myocardial infarction due to cardiac microangiopathy has been reported in approximately 3% of patients and explains cases of sudden death [18, 41]. Distal ischemic gangrene leading to amputation of fingers and toes can also occur [42]. Approximately 5% of patients present with a life-threatening multivisceral failure due to diffuse TMA, with CNS manifestations, cardiac ischemic events, pulmonary hemorrhage and failure, pancreatitis, hepatic cytolysis, intestinal bleeding [17, 18].
Some patients (approximately 20% of children [17] and a similar percentage in adults) have a progressive onset with subclinical anemia and fluctuating thrombocytopenia during weeks or months and preserved renal function at diagnosis. They may go to remission and subsequently have an acute relapse, or they develop progressive hypertension, proteinuria that may induce nephrotic syndrome, and increase of serum creatinine over several weeks or months. Some patients have no anemia or thrombocytopenia and the only manifestations of renal TMA are arterial hypertension, proteinuria and a progressive increase of serum creatinine.
In children, age, clinical context and symptoms at presentation most often allow to differenciate patients as having TTP or HUS, and, if HUS most likely, as having post-diarrheal STEC-HUS, invasive S pneumoniae infection or complement-HUS. On the opposite, clinical presentation is more confusing in adults and complement-HUS has to be suspected whatever the clinical context.
Pathogenesis
As early as 1970-1980, it had been noticed that some patients with aHUS had low C3 plasma levels [43]. Impressive progress has been done during the last decade, showing that 4 regulatory proteins of the complement alternative pathway, complement factor H (CFH), membrane cofactor protein (MCP or CD46), factor I (CFI) and thrombomodulin (THBD) and 2 proteins of the C3 convertase, C3 and factor B (CFB), had a role in the pathogenesis of aHUS.
Diagnostic methods
Methods for complement investigation are indicated in Table
4
and Table
5
. Except for the concentration of plasma C3 and C4, investigations of the complement system require specialized laboratories [
61
]. The list of laboratories providing specialized investigations of the complement system is available in references [
38
,
90
]. Except for the study of MCP expression on peripheral leucocytes and the screening for mutations, blood samples must be collected before plasma infusion (PI) or plasma exchange (PE). Normal range of each protein has to be determined for each technique in each laboratory using 100 healthy donors of the same ethnicity as the patients. A major issue is the lack of international standards for CFH and CFI. In addition to physiological variability of plasma CFH concentration, the dosage of CFH is particularly problematic, explaining variations of results between laboratories [
61
]. Assessment of plasma C3, C4, CFH, CFI and CFB levels, membrane expression of MCP on blood leucocytes, and screening for anti-CFH antibodies is mandatory and results should be available as soon as possible.
Table 4
Methods for assessment of plasma and membrane complement proteins and screening for anti- factor H antibodies
Plasma or membrane complement

Proteins

Plasma concentration

(mg/L) (- 2 to + 2 SD) or membrane expression

Technique

Laboratory

Interpretation

C3

660-1250

Nephelometry

Basic complement screen

Severe complement consumption through the alternative pathway indicated by very low plasma levels of C3 and CFB. Frequently, there is only an isolated moderate decrease of C3 level with normal CFB level

CFB

93-380

Nephelometry

Specialized diagnostic

CFH

330-680

(no international standard)

ELISA

Specialized diagnostic

CFH or CFI less than 60% of normal are compatible with quantitative deficiency

CFI

40-80

(no international standard)

ELISA

(or radial immunodiffusion)

Specialized diagnostic

Anti-CFH Ab

Screening

ELISA

Specialized diagnostic

The title is expressed in Arbitrary Units (AU)

MCP

Mean fluorescent intensity (MFI)

FACS (a) with anti- MCP phycoerythrin -conjugated antibodies

Specialized diagnostic

No MCP expression is detected in patients with homozygous MCP deficiency. The MFI in patients of heterozygous MCP deficiency is around 50% of the normal range
Table 5
Genetic screening of the complement system
| Gene | Location | Method of choice for mutation screening | Number of exons |
| --- | --- | --- | --- |
| CFH | RCA, Chr 1q32 | Direct sequencing analysis | 22 |
| CFI | Chr 4q25 | Direct sequencing analysis | 13 |
| MCP | RCA, Chr 1q32 | Direct sequencing analysis | 14 |
| C3 | Chr 19p13.3 | Direct sequencing analysis | 42 |
| CFB | Chr 6p21.3 | Direct sequencing analysis | 18 |
| THBD | Chr 20p11.2 | Direct sequencing analysis | 1 |
In children, age at onset guides genetic investigations (Table
6
): in patients with onset before the age of one year,
CFH
,
CFI
and
C3
should be screened first, whether C3 plasma concentration is decreased or not. If onset is after one year of age and C3 concentration is normal,
MCP
mutation should be first investigated. As anti-CFH antibodies-HUS predominates after the age of approximately 7 years and in pre-adolescents and adolescents, screening for anti-CFH antibodies is a priority at this age, especially if C3 concentration is decreased. Screening for
CFB
and
THBD
mutation is necessary in case no mutation is found in
CFH
,
CFI
,
MCP
and
C3
, whatever the age of onset. Figure
7
shows genetic screening strategy according to plasma levels of C3, CFH and CFI and expression of MCP. This strategy is theoretically valid, although not very realistic in practice.
Table 6
Atypical hemolytic uremic syndrome in children: age at onset and plasma C3 concentration as indicators of complement anomaly to screen in priority
| Age at onset | Complement abnormality to screen first |
| --- | --- |
| Birth to < 12 months ± decreased C3 | CFH , CFI, C3 mutation |
| > 1 year + normal C3 | MCP decreased expression/mutation |
| > 1 year + decreased C3 | CFH, CFI, C3 mutation |
| 7-11 years ± decreased C3 | Anti-CFH antibodies |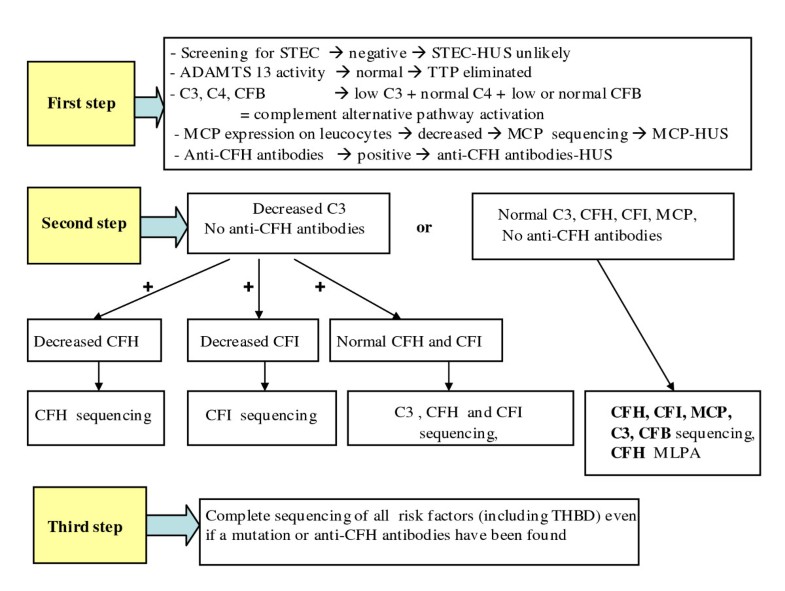 Several messages are important: i. The association of low C3 and normal C4 plasma levels signs complement alternative pathway activation in the fluid phase. Very low C3 and CFB levels are indicative of intense alternative pathway activation, mildly decreased C3 with normal CFB is indicative of mild activation in the fluid phase. ii. Normal C3 and CFB levels do not eliminate a complement abnormality with dysregulated activation at the cell surface. iii. The assessment of complement proteins plasma level is insufficient and genetic analyses are necessary in any patient with aHUS, even if the plasma level of C3, CFH, CFI and CFB and the expression of MCP are normal. iv. However, knowledge of complement proteins plasma levels guides the investigator towards which gene to screen first (Figure 7) and helps him for the validation of genetic screening. For instance, if CFI level is low, and non CFI mutation is found, results of sequencing are re-examined and if necessary, sequencing repeated to find out the missed mutation; if C3 is low with normal CFH anf CFI levels and no anti-CFH antibodies, a C3 and then a CFB mutation must be looked for; if a patient has MCP mutation with low C3, a mutation in another factor than MCP must be looked for. v. C3 and CFH plasma levels are normal in patients with hybrid CFH detected only by MLPA, a technique now indicated for all unexplained aHUS. vi. As mutations have been identified everywhere in the various genes, screening of all exons is justified. vii. Since at least 10% of patients have mutations in two or more complement regulators, and some have a mutation in addition to anti-CFH antibodies, the identification of a mutation or anti-CFH antibodies does not preclude the necessity to study all genes, although the specific role of each complement abnormality on the outcome of the disease is unclear. viii. Screening for mutations and anti-CFH antibodies is mandatory before transplantation, especially in historical patients considered for transplantation (see Section Transplantation). ix. The functional consequences of each genetic abnormality should be determined in vitro by mutagenesis, if not already established [61]. Interaction between the physician and the referent person in the specialized laboratory about the pathogenicity (proven/most probable/unlikely/unknown) of the mutation is fruitful and should be encouraged.
Differential Diagnosis
Complement-aHUS has to be differenciated from other forms of HUS and from TTP. Age at onset (Figure
8
), family history, context and clinical presentation are generally indicative in children, while presentation may be more confusing in adults (Table
7
). Biological confirmation is now available for the majority of patients [
90
,
91
].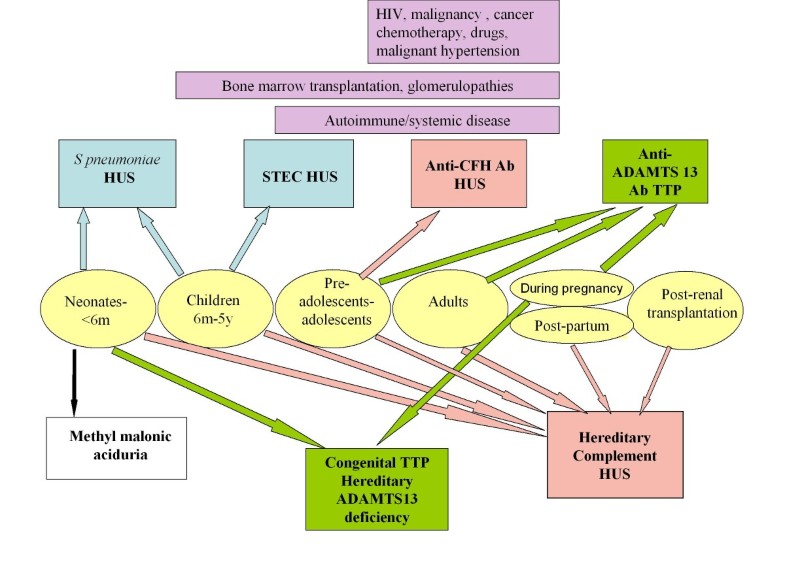 Table 7
Clinical presentation of the various subgroups of hemolytic uremic syndrome and thrombotic thrombocytopenic purpura and investigations to confirm diagnosis
Age at onset and clinical presentation

Probable diagnosis

Investigations to confirm diagnosis

Neonatal period

Severe jaundice

Porto colour urine without major hematuria

Consanguineous family and/or similar symptoms or neonatal death in siblings

Congenital TTP

(Upshaw-Schulman syndrome)

ADAMTS 13 deficiency (< 10%) without anti-ADAMTS 13 antibobies

Mutation in ADAMTS13 (autosomal recessive)

Neonatal period-< 6 months

Failure to thrive, feeding difficulties, hypotonia ± developmental delay

Consanguineous family

Methyl-malonic aciduria-associated HUS

Hyperhomocysteinemia, hypomethioninemia, methyl-malonic aciduria

Mutation in MMACHC (autosomal recessive)

< 2 years

Fever

Invasive S.pneumoniae infection (proven or suspected): pneumonia, meningitis, septicaemia, especially if empyema or subdural collection

HUS due to Streptococcus pneumoniae

False positive Coombs test

Positive cultures (blood, CSF) or PCR

Positive T-activation test (exposure of the Thomsen-Friedenreich antigen on red blood cells) supports the diagnosis

> 6 months-5 years

Diarrhea ± melena during the last 2 weeks

Endemic region of STEC or Shigella dysenteriae infection

STEC-HUS

(Shigella dysenteriae- HUS in endemic regions)

Stool or rectal swab: culture for STEC (Mac Conkey for 0157:H7); PCR for Stx

Serum: anti-LPS antibodies against the most common serotypes in the local country

Adolescents and adults

Fever

Central nervous system manifestations

No or mild renal involvement

Autoimmune context (SLE, APLS, thyroiditis)

Immune TTP

ADAMTS 13 deficiency (< 10%) with anti-ADAMTS13 antibodies

From birth to adolescence and adult age

No prodromic diarrhea or prodromic diarrhea but any of the following:

- age < 6 months or > 5 years

- insidious onset

- relapse of HUS

- suspicion of previous HUS

- previous unexplained HUS

- post-transplant HUS

- pregnancy (post-partum) HUS

- non synchronous familial HUS

Complement-aHUS

Complete investigation of the complement system
In neonates and children less than 6 months of age, hereditary complement-HUS is the first line diagnosis, but pneumococcal HUS also needs urgent recognition and treatment [92–94], while hereditary congenital TTP and methylmalonic aciduria, both exceptional diseases, are alternative diagnoses that need specific investigations and treatment. In children from 6 months to 5 years of age, again the diagnosis of pneumococcal HUS must not be delayed. Post-diarrheal STEC-HUS largely predominates in this age group, but complement-HUS comes next. Preadolescents and adolescents mostly have complement-HUS, predominantly MCP-HUS and anti-CFH antibodies -HUS. Interestingly, it is also the age for acquired TTP due to anti-ADAMTS13 antibodies [95] (Figure 8). In adults, secondary aHUS or immune TTP may have common causes such as autoimmune diseases (systemic lupus erythematosus (SLE) or antiphospholipid (APL) antibodies syndrome) (Figure 8). Pregnancy may trigger both HUS and TTP, although pregnancy-TTP mostly occurs during the second and third trimesters while pregnancy-HUS is mostly a disease of the post-partum [39]. TTP and aHUS generally have different clinical presentation, with predominant neurologic involvement in TTP and renal involvement in HUS, but symptoms may overlap and complement-HUS has to be suspected whenever ADAMTS13 deficiency is not confirmed in a TTP- patient.
Patients identified as having aHUS require full biological investigation (Table 8)
i. Investigations for STEC infection at onset of HUS are required in all patients, including those identified as having aHUS, as unusual presentation of STEC-HUS (unusual age or absence of diarrhea) can occur.
ii. ADAMTS13 activity determination is required in all patients identified as having aHUS, as manifestations of aHUS and TTP may overlap. In addition, the association of CFH mutation with a hereditary complete deficiency of ADAMTS13 has been reported [96]. Blood must be collected before PI or PE. Only ADAMTS13 activity below 10% of normal is significant of TTP. ADAMTS13 plasma concentration can now be determined within less than 24 hours by Elisa technic [97]. Laboratories for ADAMTS13 determination are indicated in [38, 90].
iii. Screening for defective cobalamine metabolism (homocystinuria with methylmalonic aciduria) is mandatory in all children with aHUS. In the neonatal form of this exceptional intra cellular vitamin B12 metabolism anomaly, mortality is extremely high once HUS has developed, because of multivisceral failure [12, 14]. The recommendation to perform diagnostic investigations for this disease in all children with aHUS comes from the report of a few cases of mild methylmalonic aciduria without neurological involvement, revealed by aHUS during late childhood. Such cases appear to have a favourable outcome both of HUS and the metabolic disease under continuous B12 supplementation [13]. Of note, the association of methylmalonic aciduria with MCP [98] or CFH [99] mutation has been reported, once again outlining that aHUS is a multifactorial disease.
iv. In adults with aHUS, HIV infection and autoimmune disease must systematically be investigated.
v.
Women with HELLP or post-partum HUS, and patients with post-transplant HUS, require complement investigation
. While no complement dysfunction has been demonstrated in patients with HIV-aHUS or HUS after bone marrow transplantation, complement mutations have been demonstrated in 36% of women with HELLP syndrome [
100
], 86% of pregnancy-HUS [
39
] and 29% of
de novo
HUS after kidney transplantation [
101
]. Of note, complement mutations have also been demonstrated in 18% of patients with SLE and/or APL antibodies who develop preeclampsia and 8.5% of preeclampsia patients lacking autoimmune disease [
102
]. The frequency of preexisting complement anomalies in aHUS complicating malignant hypertension has not been investigated.
Table 8
Investigations recommended in patients identified as having atypical hemolytic uremic syndrome, adapted from [90]
Investigations

1. STEC infection

Stool or rectal swab: culture for STEC (Mac Conkey for 0157:H7); PCR for Stx

Serum: anti-LPS antibodies against the most common serotypes in the local country

2. Disorders of complement regulation

C3, C4 (plasma/serum)

Factor H, Factor I, Factor B (plasma/serum)

Anti-factor H autoantibodies

MCP (surface expression on leucocytes (polynuclear or mononuclear leucocytes by FACS)

Gene mutation analysis in factor H, factor I, MCP, C3, factor B

3. ADAMTS13 deficiency

inherited or acquired classification

Plasma ADAMTS13 activity or dosage (Elisa) ± inhibitor

4. Cobalamin metabolism:methyl malonic aciduria

Plasma amino-acid chromatography (high homocysteine, low methionine); urine organic acid chromatography (methyl-malonic aciduria)

± mutation analysis in MMACHC gene

5. HIV

Serology

6. Pregnancy, HELLP syndrome

Pregancy test, liver enzymes. Investigate as in 2 and 3

7. Miscellaneous

Antinuclear antibody, lupus anticoagulant, anti-phospholipid antibodies
Genetic Counselling and Prenatal Diagnosis
De novo mutations are exceptional and, if investigated, one parent of the proband has the mutation. Proband's siblings and children have a 50% chance of inheriting the mutation. However, as penetrance of the disease is approximately 50% and age at onset and clinical severity often variable among individuals with the same mutation within a family, it is extremely difficult to predict the risk of developing the disease and the outcome in the individuals at risk. Genetic counseling must also take into account that HUS results from a panel of genetic risk factors, some known and some unknown. Identifying one factor does not eliminate the responsibility of another one, not known today. In other words, it is as difficult to be sure that an individual has no risk of HUS as to be sure he is at risk.
Despite these caveats, genetic counseling has to be offered to parents and young adults with the disease or at risk. Prenatal testing is possible. Identification of the mutation(s) is necessary before prenatal testing is proposed. In addition, the functional consequences of the mutation need to be established, to be sure the mutation is at high risk of being disease-causing. However, similar to what happens for healthy family members with the mutation, the risk for the fetus to develop aHUS after birth is extremely difficult to forecast, even for mutations with a high degree of pathogenicity. Pre implantation genetic diagnosis may be an option.
Management Including Treatment
Outcome
Data on outcome and prognosis rely mostly on historical series, including patients who received either no plasmatherapy or plasmatherapy modalities which would now be considered as inadequate (started too late, not aggressive enough (PI instead of PE), stopped too early). However these series illustrate the natural outcome of the disease or the best evolution possibly obtained with the plasmatherapy modalities commonly achieved and/or feasible.
Among the French pediatric cohort, mortality during the acute phase of HUS was 8.6% and 24% of survivors developed end stage renal disease (ESRD) at first episode [17]. In the Italian cohort, mortality at first episode was 8,4%, ranging from 12% in children to 2% in adults, and 32% of survivors did not recover renal function at first episode [18]. Relapses of HUS are mostly observed in patients with mutations of MCP (70%-90% of patients have relapses) [17, 18], CFH (50%) [17, 18], C3 (50%) [18, 83, 84] and anti-CFH antibodies (40-60%) [18, 37]. In MCP-mutated patients, relapses occur at unpredictable intervals of a few months to several years, most often triggered by infections. Relapses with complete recovery are characteristic of MCP-HUS in children [17, 18] (Table 3).
aHUS patients have been noticed to have cardiovascular ischemic events complicating flares of the disease [18, 41]. Stenoses of intra-and extracranial arteries, large thoracic and abdominal aorta branches, pulmonary and coronary arteries have been demonstrated in a 10 year-old child with aHUS and a CFB mutation [177] and cerebral artery stenoses in a 15 year-old child with CFH mutation [178]. These observations suggest that aHUS with complement dysregulation may involve large arteries and support the logic of complement inhibition by anti-C5 antibody.
Prognosis
The data presented here come from the two main cohorts of clinically documented patients: the French pediatric cohort [17] and the Italian cohort concerning children and adults [18], which included both retrospective and recent patients, but none treated by eculizumab. The overall mid-term prognosis of aHUS was poor, and more severe in adults than in children. At 3 to 5 years after onset, 44% [17] to 48% [18] of children and 67% of adults [18] had either died or reached ESRF.
Prognosis varies according to genotype (Table 3). The worst prognosis is in patients with CFH mutation and the best in patients with MCP mutation. In CFH-mutated patients, mortality at first episode was 20-30% in children (a percentage now historical) and 4% in adults and evolution to ESRF at first episode in survivors 20-40% in children and 48% in adults [17, 18]. By comparison, no patient with MCP mutation from either cohort died at first episode, none of the MCP-children and only 25% of MCP-adults developed ESRF at first episode. Among patients with CFI mutations, 50-60% went to ESRF at first episode or within the year after onset, while the other half have preserved renal function generally without further relapses [17, 18]. At three to five years follow-up, the percentage of patients who had died or reached ESRF was approximately 75% in CFH-mutated patients and 50-60%% in CFI-mutated patients, whether adults or children [17, 18]. While 38% of MCP-mutated children in the French pediatric cohort had reached ESRF at 5 years follow-up after a number of relapses, only 6% of MCP- mutated patients in the Italian registry had developed ESRF at that stage, varying from 0% in children to 25% in adults [18]. The prognosis of HUS with C3[18, 83] or CFB[18, 80, 81] mutation is as poor as that of CFH-HUS, whatever the age at onset. Patients with THBD mutations also have a poor outcome, with evolution to ESRD in 46% of patients at 1 year and 54% at 3 years follow-up [18]. Among patients with anti-CFH antibodies, 35% [37] to 60% [18] developed ESRD within 3 years follow-up.
Recent progress in diagnosis (e.g. early detection of anti-CFH antibodies) and therapeutic options, including early aggressive and prolonged plasma therapy and the use of eculizumab, most probably will allow a much better outcome of the disease. It is not unrealistic to consider that the poor prognosis indicated by presently available cohorts will soon appear as outdated.
Conclusion
The progress in the understanding of the physiopathology of aHUS during the last decade has opened the way to new therapies which hopefully will prevent the evolution to ESRF in the patients at risk, and allow a successful transplantation in the patients presently on dialysis. Recent trials and clinical experience confirm the efficiency of the complement blocker eculizumab. The challenge is now to define the best choice for each individual patient, according to the identified complement anomaly(ies) and the phase of the disease, between plasma therapy, eculizumab, liver or combined live-kidney transplantation and, in the near future, CFH concentrate or recombinant CFH. Thanks to the progress in knowledge and comprehension, the disease has entered a new era.
Abbreviations
ADAMTS 13:

A Disintegrin And Metalloprotease with ThromboSpondin type 1 repeats 13
aHUS:

atypical hemolytic uremic syndrome
APL:

antiphospholipid
CFH:

complement factor H
CFI:

complement factor I
CFB:

complement factor B
CNS:

central nervous system
D+ HUS:

post-diarrheal hemolytic uremic syndrome
(D-) HUS:

non-post-diarrheal hemolytic uremic syndrome
Elisa:

enzyme linked immunosorbent assay
ESRF:

end-stage renal failure
FFP:

fresh frozen plasma
HELLP syndrome:

Hemolytic anemia, elevated Liver enzymes, and Low Platelets syndrome
HLA:

human leukocyte antigen
HUS:

hemolytic uremic syndrome
LDH:

lactate deshydrogenase
MAC:

membrane attack complex
MCP:

membrane cofactor protein
MLPA:

Multiplex Ligation dependent Probe Amplification
MRI:

magnetic resonance imaging
PCR:

polymerase chain reaction
PI:

plasma infusion
PE:

plasma exchange
RBC:

red blood cell
RCA:

regulators of complement activation
SCR:

short consensus repeat
SLE:

systemic lupus erythematosus
SNP:

Single Nucleotide Polymorphism
Stx:

Shiga-like toxin
STEC:

Shiga-toxin producing Escherichia coli
S pneumoniae :

Streptococcus pneumoniae
THBD:

thrombomodulin
TMA:

thrombotic microangiopathy
TTP:

thrombotic thrombocytopenic purpura
USA:

United States of America
VEGF:

vascular endothelial growth factor
Declarations
Acknowledgements
Dr Fadi Fakhouri, Dr Julien Zuber and the Groupe d'Etude du SHU et des Glomérulonéphrites membranoprolifératives for stimulating discussions; the Association pour l'Information et la Recherche sur les maladies rénales Génétiques (AIRG) for financial support and the help and encouragement offered to patients, families, physicians and staffs of nephrology departments; the patients and their families for their collaboration and support.
Authors' Affiliations
(1)
Pediatric Nephrology Department, Assistance Publique-Hôpitaux de Paris, Hôpital Robert Debré; Université Paris VII, Paris, France
(2)
Biological Immunology Department, Assistance Publique-Hôpitaux de Paris, Hôpital Européen Georges Pompidou, Paris, France
Copyright
© Loirat and Frémeaux-Bacchi; licensee BioMed Central Ltd. 2011
This article is published under license to BioMed Central Ltd. This is an Open Access article distributed under the terms of the Creative Commons Attribution License (http://creativecommons.org/licenses/by/2.0), which permits unrestricted use, distribution, and reproduction in any medium, provided the original work is properly cited.