The official journal of Orphanet, the portal for rare diseases and orphan drugs.
OJRD reviews
Over the last decade-plus, Orphanet Journal of Rare Diseases has served as a leading home for the latest reviews on rare diseases and orphan drugs. This is very important work as often, reviews will be some of the best sources of information about rare diseases and their evolution. Please take a look at some of our most recent work in this essential vein.

Read here
Articles
Research

Published on: 7 December 2017

Research

Research

Published on: 28 November 2017

Review

Research
ADA-SCID
New Horizons in the Management of ADA-SCID, Springer Healthcare IME's independent educational resource, is pleased to share its most recent updates: interviews at ESID, summaries of the latest research, free access to full-text articles, and full editorials. Coming soon: interactive patient cases, an on-demand webinar, and more expert interviews. The portal is for Paediatric/Adult Immunologists, Gene and Cell Therapy Clinicians, Transplant Specialists, Paediatricians and Haematologists designed to educate healthcare professionals who are presented with ADA-SCID patients. This educational activity is supported by an educational grant from GlaxoSmithKline.

Read here
Aims and scope
Orphanet Journal of Rare Diseases is an open access, peer-reviewed journal that encompasses all aspects of rare diseases and orphan drugs. The journal publishes high-quality reviews on specific rare diseases. In addition, the journal may consider articles on clinical trial outcome reports, either positive or negative, and articles on public health issues in the field of rare diseases and orphan drugs. The journal does not accept case reports.
Editor-in-chief
Ségolène Aymé, Hopital Broussais, INSERM
About Orphanet
Orphanet is the reference portal for information on rare diseases and orphan drugs. It offers a range of freely accessible services:
An inventory of rare diseases and a classification of diseases elaborated using existing published expert classifications.
An encyclopedia of rare diseases in six languages.
An inventory of orphan drugs at all stages of development, from EMA (European Medicines Agency) orphan designation to European market authorization.
A directory of specialised services, providing information on specialized clinics, medical laboratories, ongoing research projects, clinical trials, registries, networks, technological platforms and patient organizations, in the field of rare diseases, in each of the countries in Orphanet's network.
An assistance-to-diagnosis tool allowing users to search by signs and symptoms.
An encyclopedia of recommendations and guidelines for emergency medical care.
A bimonthly newsletter, OrphaNews, which gives an overview of scientific and political current affairs in the field of rare diseases and orphan drugs, in English and French.
A collection of thematic reports, the Orphanet Reports Series, focusing on overarching themes, directly downloadable from the website.
Free access to Orphanet data for research purpose is available at www.orphadata.org.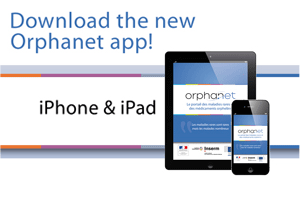 About the EC Expert Group on Rare Diseases
The European Commission has supported the development and implementation of European public health policy since 2004 through three successive multi-stakeholder forums: the Rare Disease Task Force (2004-2009), the European Union Committee of Experts on Rare Diseases (EUCERD, 2009-2013), and the Commission Expert Group on Rare Diseases (2014).
During its mandate, the EUCERD published a number of recommendations and reports, as well as an annual report on the State of the Art of Rare Disease Activities in Europe, providing detailed information on the activities in the field at both European and Member State level. A review of the achievements of the EUCERD was published in OJRD to mark Rare Disease Day 2014.
The Commission Expert Group on Rare Diseases, established via Commission Decision of 30 July 2013 (2013/C 219/04), continues the work of the EUCERD. The Expert Group brings together stakeholders in the field of rare diseases and representatives of the EU Member States to:
Assist the European Commission with the preparation and implementation of community activities in the field of rare diseases, including drawing up guidelines and recommendations;
Foster exchanges of experience, policies and practices between specialised bodies at member state level, European authorities in the fields of research and public health, and stakeholder groups.
The reports and recommendations issued by the Expert Group are available online.