The official journal of Orphanet, the portal for rare diseases and orphan drugs.
Featured series: Undiagnosed rare diseases
Our new thematic series, guest edited by David Adams, delves into the challenges and opportunities which exist for patients living with undiagnosed rare diseases. We are looking to publish material which speaks to the importance of a diagnosis, of utilizing individual approaches in treating patients, of functional studies, and the best ways to share information. For more information about the series (including submission info), please click here.
Announcing the launch of In Review
Orphanet Journal of Rare Diseases, in partnership with Research Square, is now offering In Review. Authors choosing this free optional service will be able to:
Share their work with fellow researchers to read, comment on, and cite even before publication
Showcase their work to funders and others with a citable DOI while it is still under review
Track their manuscript - including seeing when reviewers are invited, and when reports are received
See what the Orphanet Journal of Rare Diseases In Review platform looks like
Rare Disease Day: Findacure winner
This Rare Disease Day (2019), we are proud to publish the winner of the 2018 edition of Findacure's "Student Voice" essay contest! Medical student Logan Williams provides insight into how implicit bias towards biomedicine can impact the care received by patients with a rare illness (using the example of Worster-Drought syndrome). We thank Logan and Findacure for their moving contribution to the journal.
Editor-in-Chief
Francesc Palau, Sant Joan de Déu Children's Hospital and CIBERER, Spain

OJRD reviews
Over the last decade-plus, Orphanet Journal of Rare Diseases has served as a leading home for the latest reviews on rare diseases and orphan drugs. This is very important work as often, reviews will be some of the best sources of information about rare diseases and their evolution. Please take a look at some of our most recent work in this essential vein.

Read here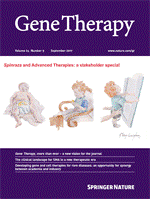 One of the journals in our extended family, Gene Therapy, is featuring a special issue this month, entitled "Spinraza and advanced therapies: a stakeholder special". This issue is a vital resource for all stakeholders in the development of advanced therapies such as Spinraza, which is used to treat spinal muscular atrophy.

ADA-SCID
New Horizons in the Management of ADA-SCID, Springer Healthcare IME's independent educational resource, is pleased to share its most recent updates: a specialist directory showing your nearest ADA-SCID treatment centre; an expert-to-expert interview with Eyal Grunebaum and Michael Hershfield about advances in the management of the disorder; and summaries of the latest published ADA-SCID research. All content is approved by an international editorial board of experts for an audience of paediatric/adult immunologists, gene and cell therapy clinicians, transplant specialists, paediatricians and haematologists, and is designed to educate healthcare professionals who are presented with ADA-SCID patients. This educational activity is supported by an educational grant from Orchard Therapeutics.​​​​​​​

Read here
Aims and scope
Orphanet Journal of Rare Diseases is an open access, peer-reviewed journal that encompasses all aspects of rare diseases and orphan drugs. The journal publishes high-quality reviews on specific rare diseases. In addition, the journal may consider articles on clinical trial outcome reports, either positive or negative, and articles on public health issues in the field of rare diseases and orphan drugs. The journal does not accept case reports.
About Orphanet


The Orphanet Knowledgebase is an organized and dynamic collection of information and data on rare diseases and orphan drugs. Added-value data from multiple sources are archived, reviewed, manually annotated, and integrated with other data.

Orphanet makes available:
An inventory of rare diseases and a classification of diseases elaborated using existing published expert classifications, cross-referenced with other terminologies.

Annotations with associated genes, phenotypes and epidemiological data.

An encyclopedia of rare diseases in eight languages.

An inventory of orphan drugs at all stages of development, from orphan designation to European market authorization.

A directory of specialized services, providing information on specialized clinics, medical laboratories, ongoing research projects, clinical trials, registries, networks, technological platforms and patient organizations, in the field of rare diseases, in each of the countries in Orphanet's network.

An encyclopedia of recommendations and guidelines for emergency medical care.

A bimonthly newsletter, OrphaNews, which gives an overview of scientific and political current affairs in the field of rare diseases and orphan drugs, in English and French.

A collection of thematic reports, the Orphanet Reports Series, focusing on overarching themes, directly downloadable from the website.

Free access to Orphanet data for research purposes via www.orphadata.org.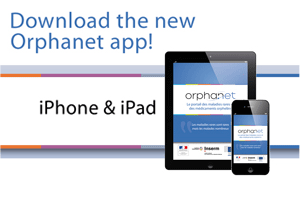 Affiliated with
Orphanet Journal of Rare Diseases is the official journal of Orphanet, the portal for rare diseases and orphan drugs.

Follow