The burden, epidemiology, costs and treatment for Duchenne muscular dystrophy: an evidence review
Orphanet Journal of Rare Diseases
2017
12:79
Received: 13 October 2016
Accepted: 12 April 2017
Published: 26 April 2017
Abstract
Background
Duchenne Muscular Dystrophy (DMD) is a rapidly progressive, lethal neuromuscular disorder, present from birth, which occurs almost exclusively in males. We have reviewed contemporary evidence of burden, epidemiology, illness costs and treatment patterns of DMD.
This systematic review adhered to published methods with information also sought from the web and contacting registries. Searches were carried out from 2005 to June 2015. The population of interest was individuals with clearly defined DMD or their carers.
Results
Nine thousand eight hundred fifty titles were retrieved from searches. Fifty-eight studies were reviewed with three assessed as high, 33 as medium and 22 as low quality. We found two studies reporting birth and four reporting point prevalence, three reporting mortality, 41 reporting severity and/or progression, 18 reporting treatment patterns, 12 reporting quality of life, two reporting utility measures, three reporting costs of illness and three treatment guidelines.
Birth prevalence ranged from 15.9 to 19.5 per 100,000 live births. Point prevalence per 100,000 males was for France, USA, UK and Canada, 10.9, 1.9, 2.2 and 6.1 respectively. A study of adult DMD patients at a centre in France found median survival for those born between 1970 and 1994 was 40.95 years compared to 25.77 years for those born between 1955 and 1969. Loss of ambulation occurred at a median age of 12 and ventilation starts at about 20 years. There was international variation in use of corticosteroids, scoliosis surgery, ventilation and physiotherapy. The economic cost of DMD climbs dramatically with disease progression – rising as much as 5.7 fold from the early ambulatory phase to the non-ambulatory phase in Germany.
Conclusions
This is the first systematic review of treatment, progression, severity and quality of life in DMD. It also provides the most recent description of the burden, epidemiology, illness costs and treatment patterns in DMD. There are evidence gaps, particularly in prevalence and mortality. People with DMD seem to be living longer, possibly due to corticosteroid use, cardiac medical management and ventilation. Future research should incorporate registry data to improve comparability across time and between countries and to investigate the quality of life impact as the condition progresses.
Keywords
DuchenneDMDEpidemiologyPrevalenceIncidenceBurdenCost
Background
Duchenne muscular dystrophy (DMD) is a severe, rapidly progressive neuromuscular disorder which belongs to a group of inherited conditions typically characterised by muscle weakening leading to increased disability. There are many different types of muscular dystrophy which vary considerably in severity, age of onset and life expectancy [1]. DMD is the most common and severe affecting 15.9 to 19.5 per 100,000 live births [2, 3] . DMD occurs as a result of mutations in the dystrophin gene which leads to an absence or deficiency of the protein dystrophin and continuous degeneration of muscle fibres. Although primarily an X-linked condition affecting males, some female carriers are symptomatic for the disorder but usually exhibit a milder phenotype.
Initial symptoms such as delayed walking, frequent falls and difficulty running and climbing stairs tend to be first noticeable between the ages of 1 and 3 years with muscles around the calf, pelvis and thigh often affected first and appearing noticeably bulkier than normal. Children with DMD typically need a wheelchair by the age of 8–14 years, as muscle weakening results in loss of ambulation. Once a patient becomes wheelchair bound, certain comorbid complications progress more rapidly including scoliosis and muscular contractures. Scoliosis, which causes the spine to curve sideways and/or forward or backward, leads to additional orthopaedic problems as one shoulder or hip becomes higher than the other leading to potential respiratory problems as the chest cavity reduces. DMD patients can develop symptoms of cardiomyopathy in the late teens, although the disease in this organ has likely started to develop earlier. Cardiomyopathy causes the heart's chambers to enlarge and the walls to get thinner and in the late-teens or early 20s the condition is associated with breathing problems and once the heart and respiratory muscles are damaged the condition becomes life-threatening. Even with medical care, most people with DMD die from cardiac or respiratory failure before or during their 30s.
Age at diagnosis was not often reported but studies in Italy and Australia reported mean age as 4 years [4, 5]. DMD can be suspected when a male child shows abnormal muscle function and hypertrophy but tends to be confirmed following additional clinical presentation (including distribution of weakness) and a complete medical and family history. Elevated levels of serum creatine kinase support further diagnostic work-up for DMD. Historically, diagnosis was confirmed by genetic testing and/or muscle biopsy [6] although in practice, muscle biopsy is rarely undertaken. If clinicians are not fully aware of the manifestations of DMD then delays in diagnosis are likely.
There is no cure for DMD and current treatment options focus on alleviation of symptoms and management of complications. There is a recognized urgent need for a therapy that can alter the fundamental course of DMD and findings from this study of burden, epidemiology, costs and treatment should inform and support any future research. This review was originally designed to support a value proposition for a specific new treatment for DMD and the authors feel that publication of findings at this time will be of both interest and importance for any new intervention designed to manage the condition.
Methods
This systematic review adhered to published methods including those recommended by the Cochrane Collaboration [7] and the Centre for Reviews and Dissemination [8] (York, UK), in order to reduce the risk of bias and error. Information was sought from a literature search, web based searches and through contacting registries and patient organisations.
Research questions
The remit of our review was to identify, collate and describe contemporary evidence of epidemiology (prevalence and mortality), burden (severity and progression), illness costs (direct and indirect) and treatment patterns (pharmacological and other) of Duchenne muscular dystrophy. Current guidelines were also scrutinised for the latest treatment recommendations.
Literature searches
Searches were carried out from 2005 to June 2015 in 10 databases to identify information on the epidemiology, prevalence and burden of DMD. Guideline searches were undertaken to identify management and treatment of DMD. A pragmatic internet search was also carried out to look for sources to support evidence gaps in prevalence of DMD. Additionally, email alerts and RSS feeds were set up to ensure the latest research was not missed. Further details of searching methods including example search strategies can be found in Additional file 1: Appendix 1.
The main Embase strategy was independently peer reviewed by a second Information Specialist, using the Canadian Agency for Drugs and Technologies in Health (CADTH) checklist [9].
Methods of study selection
Titles and abstracts identified through electronic database and web searching were independently screened by two reviewers (drawn from a team of SR, RL, AH, MB, WJ) in order to determine whether they met the criteria for inclusion in the review. During this initial phase of the screening process any references which obviously did not meet the inclusion criteria were excluded. Full paper copies were obtained for all of the remaining references. These were then independently examined in detail by two reviewers (drawn from the team above working in pairs). All papers excluded at this second stage of the screening process were documented along with the reasons for exclusion. With respect to both screening stages, any discrepancies between reviewers were resolved through discussion or the intervention of a third reviewer (SR or NA).
Inclusion criteria
Details are reported in Additional file 2: Appendix 2. In summary, aside from prevalence studies, where the general population (or subsets thereof) was of interest, we included all studies which described the population as DMD, even if details on diagnostic methods were missing. We excluded any studies which only reported on mixed populations (e.g. included Becker Muscular Dystrophy (BMD) or other forms of non-Duchenne Muscular Dystrophy).
Epidemiology and burden of disease outcomes of interest were: point prevalence, birth prevalence, demographic characteristics, clinical characteristics of the disease, mortality, incidence/prevalence of comorbidities and progression of the disease.
Quality of life (QoL) outcomes of interest were: the impact of the disease on quality of life (of patient and caregiver) as measured using a generic and disease specific or symptom specific measures.
Cost of illness outcomes of interest included patient and caregiver costs.
We also sought information about current treatment guidelines and treatment patterns.
Case studies were only included where evidence gaps could remain after consideration of other study types. Countries of interest included those in European Union (EU), South America, North America, Japan and Turkey (following advice from content experts at BioMarin Pharmaceuticals). For guidelines, countries of interest were restricted to EU countries and North America.
The years of interest were 2005 to 2015 inclusive. Due to the large number of papers retrieved and in order to concentrate on the most recent evidence, we decided to focus on records from 2010 onwards. Where evidence gaps existed, we sought records from earlier dates…
Studies were not limited by language or publication status (unpublished or published).
Methods of data extraction
Data extraction was performed by two reviewers independently (drawn from a team of SR, RL, AH, MB, WJ). Any discrepancies were resolved through discussion or through the intervention of a third reviewer (SR or NA). Exemplar data extraction sheets are presented in Additional file 3: Appendix 3.
Quality of study reporting
Two reviewers (drawn from a team of SR, RL, AH, MB, WJ) independently assessed each of the studies using a recommended tool, STROBE [10]. Any discrepancies were resolved through discussion or the intervention of a third reviewer (SR or NA).
Results are presented in Additional file 4: Appendix 4.
Results
In total, 9,850 titles were retrieved from the database searches and 110 titles were retrieved from the guidelines searches. After deduplication a total of 6,712 titles and abstracts were screened for relevance. Figure
1
summarises the flow of studies through the search and screening process. We excluded 6,431 articles during the title and abstract screening stage and 282 full papers of potentially relevant studies were selected for further examination (after having identified one additional guidelines paper [
11
] as a result of hand searching).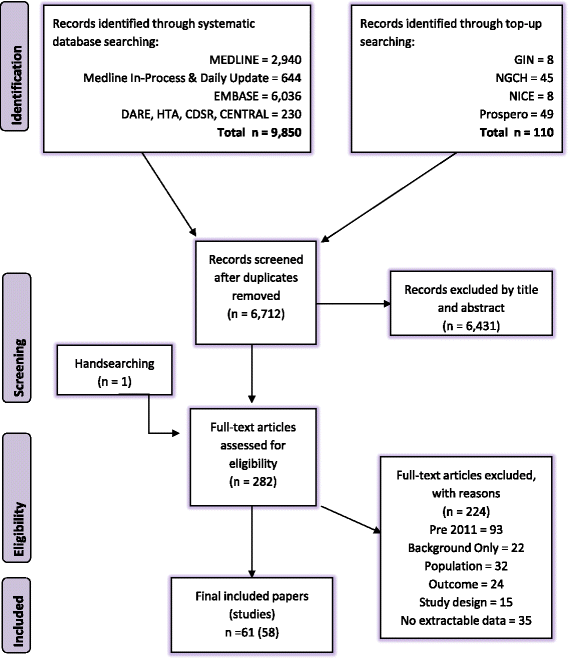 Of the 282 full papers that were screened, 221 did not meet the inclusion criteria and were excluded. Additionally, four papers with extractable data were part of the same study, meaning that three papers were treated as subsidiary papers to the main one.
Fifty-eight studies (from 61 papers) were therefore included in the review. These are summarised by research question in Additional file 5 with an indication of where follow-up data are available in longitudinal studies.
Discussion
We conducted a systematic review of contemporary (from 2010) evidence of burden, epidemiology, illness costs, treatment patterns and guidelines for DMD. In total, 9,850 titles were retrieved from searches. Fifty-eight studies were reviewed for reporting quality with three assessed as high quality, 33 as medium quality and 22 low quality.
Two studies reported birth prevalence from newborn screening programmes and five studies reported point prevalence. There appears to be a trend, over time, from using both genetic testing and muscle biopsy towards only using genetic testing in diagnosis which means that caution is required when comparing studies. This problem is exacerbated by inadequate descriptions of eligibility criteria and participants.
We found three studies on mortality [17–19]. People seem to be living longer with the condition. This is attributed to the widespread prescribing of corticosteroids, improved access to ventilation and the publication of more thorough and specific guidelines of care. For example, a French study [17] found that median survival for those born between 1970 and 1994 was 40.95 years compared to a mean lifespan of 25.77 years for those born between 1955 and 1969. Diagnosis method was also shown to be related to survival with molecular testing associated with a higher mortality than clinical only [19]. This is could have a number of implications, one being that the improvement in survival in those patients with true DMD, at least according to molecular testing, will never be known. As Kieny [17] points out in France: 'Certainty of diagnosis was impossible before 1987, and therefore many patients did not initially have a definitive diagnosis.' (p.444) Uncertainty in diagnosis would of course affect the ability to estimate prevalence as well.
We found forty one studies reporting aspects of disease severity and/or its progression. The prevalent DMD population has considerable dependency in that between 22% [45] and 56% [26] are likely to have lost ambulation and between 27% [24] and 57% [37] have cardiomyopathy. Severity clearly increases with age with a median of around 12 years for loss of ambulation [5] and about 20 years for start of ventilation [17]. Natural history is further explained by consideration of sub groups. The study by Pane [34] found that, over 3 years, the percentage loss of ambulation in those who were originally ambulant varied from 5.2% for those who could originally walk at least 350 m (<7 years old) to 64% for those who could originally walk less than 350 m (≥7 years old). One study undertaken in France [35] provided evidence of changing respiratory function which might be used to inform assessment of function/quality of life as disease progresses. Comparison of studies is hindered by variation in method of diagnosis and most studies inadequately reported participant characteristics.
Treatment patterns were reported in fourteen studies, which showed international variation in use of corticosteroids, scoliosis surgery, ventilation and physiotherapy. We also noted considerable variation in access to corticosteroids between different ethnic groupings as described by Fox [48]. Again, studies often failed to adequately report participant characteristics.
Thirteen studies reported either HRQoL or utilities. The most frequently used tool for measuring HRQoL was the PedsQL which was used in five studies [21, 23, 50, 52, 53] and, for utilities, HUI was calculated for Germany,Italy, UK and US populations in Landfeldt [58]. These measures could be considered when designing future studies although researchers should be aware that some measures reportedly correlate better with disease progression than others. For example there is evidence to suggest that the generic PedsQL does not correlate well with progression of disease in DMD [60]. There may be a trade-off between sensitivity of measurement tool and compatibility with historical research. However, it is also interesting to speculate that lack of change in self-reported quality of life with stage that was observed in two studies is not related to insensitivity of instrument, but reflects the stability irrespective of deterioration in physical status [55, 57]. This might reflect adaptation, which is perhaps why parents might produce lower estimates as shown in Houwen-van Opstal [57].
Indirect costs (due to loss of productivity) appear higher than direct costs (of health or social care) for early stage patients and late stage patients but not necessarily for intermediate stages [23], which highlights the importance of staging to inform co-ordinated financial planning of health and social care. However, these findings are based on only one study.
The main strength of our approach was that it used established systematic review methods to consider a broad range of characteristics of disease impact. The main potential limitation of our approach was in its restriction to published and unpublished evidence from 2011 to 2015. This restriction was imposed because all things being equal, contemporary evidence is of much greater relevance than historic evidence. Also more recent studies should have a better diagnosis procedure, distinguish better between BMD and DMD and be more representative of the DMD population. Nevertheless, although recency is important, it might be argued that our search missed older studies and we identified very few studies of prevalence, incidence and mortality which have been published since 2010. However, a comparison to two systematic reviews of epidemiology from 2014 (Theadom [61] and Mah [62]) revealed virtually no studies in the 5 years prior to 2010 (only a household survey in Egypt 2005 and an abstract of a study of practitioner-referrals in Portugal in 2006). A recent systematic review of cost of illness evidence in rare diseases (Angelis [63]) also failed to identify any contemporary cost of illness studies for DMD, which gives us some confidence that most relevant studies have been identified in our review. We were unable to identify any systematic reviews of treatment, progression, severity or utility, to the best of our knowledge, our study is the first to cover these aspects in a systematic way.
Evidence gaps (particularly in regard to prevalence, life expectancy and treatment patterns) might eventually be filled with the emergence of registries. TREAT-NMD is a web-based community of researchers and those with special interests in neuromuscular diseases which acts as a portal for registries. The network was launched in January 2007 and their website contains contact details for 49 separate national registries across all continents (http://www.treat-nmd.eu/ [64]). As more "real-time" information is collated it may become increasingly common to undertake prevalence studies using registry data. Other important sources include ongoing natural history studies run by The Cooperative International Neuromuscular Research Group (CINRG).
Recommendations
We suggest that, as well as natural history studies, patient registries should be considered as a future source of data to estimate prevalence, treatment patterns, effectiveness and to explore variation in severity, progression and mortality. Registries offer a number of key advantages over other forms of primary research in that they largely use a consistent set of criteria (potentially at an international level), they can be up-to-date and they offer potential for cross-matching of patient characteristics and other clinical indicators. Feasibility studies should address coverage levels (as not everyone in a location may be registered) and also data quality assurance issues (e.g. to avoid double-counting of patients and/or means of updating for new cases and deaths).
We also recommend that future studies, which purport to measure overall burden of the condition, fully account for DMD in all age groups and severity/stages of disease. There are very few prevalence studies and no comparability between them because they relate to different denominator populations (typically defined by different age groupings). In particular, there is a need to focus on prevalence in relation to the whole male population, thereby reflecting the changing age profile of those with the condition. Such studies offer the best potential to fully capture burden levels in an entire economy or location and ultimately to improve clinical awareness.
Whilst we found reasonable quality evidence about the cost of illness, only one study conducted a between country comparison [58]. Also, there is a need to relate this to severity/stage of disease, thereby enabling researchers to fully capture the cost consequences of treatment modifications that alter progression of the condition (including survival). We would recommend further research into the implications of quality of life for comorbid conditions like scoliosis in patients with DMD, alongside associated costs. Similarly, quality of life of carers remains under-researched.
One final recommendation, which pertains to all study types, is greater standardisation of reporting: many studies suffered from poor reporting of eligibility criteria or study participant characteristics.
Conclusions
From a systematic review, fifty eight studies (published since 2010) were found that examined DMD in terms of epidemiology, cost, quality of life and guidelines. There are important evidence gaps, particularly in measuring prevalence and mortality, although people seem to be living longer with the condition, which may be partially as a result of more widespread prescribing of corticosteroids, improved access to ventilation and development and publication of more specific and thorough care guidelines. Increased longevity means that studies of prevalence based only on younger populations will become less representative of the disease burden of DMD. Evidence for wider populations as opposed to specific age/ambulatory status sub groupings should become increasingly more relevant, with studies in older populations with advanced progression currently under-represented.
Disease severity in the prevalent DMD population also appears to be high in that at any given time and any given country between 22 and 56% are likely to have lost ambulation and between 27 and 57% have cardiomyopathy. Severity clearly increases with age with a median of around 12 years for loss of ambulation and about 20 years to start ventilation.
Comparability of evidence on changing prevalence and mortality is hampered by changing case definitions with a trend from using both genetic testing and muscle biopsy towards only using genetic testing.
Indirect costs are a significant feature of this condition and should have a role in informing appropriate care packaging and co-ordinated financial planning of health and social care. Per capita cost burden increases with disease progression. The main recommendations, arising from this systematic review, are for the increased collection and use of registry data to increase comparability across time and between countries.
Abbreviations
6mwd:

Six Metres Walking Distance
BMD:

Becker muscular dystrophy
CADTH:

Canadian Agency for Drugs and Technologies in Health
CAPE:

Children's Assessment of Participation and Enjoyment
CDSR:

Cochrane database of systematic reviews
CENTRAL:

Cochrane Central Register of Controlled Trials
CK:

Serum creatine-kinase (CK)
DARE:

Database of abstracts of reviews of effects
DMD:

Duchenne muscular dystrophy
EQ-5D:

EuroQol – 5 Dimensions
EQ-5D-5 L:

EuroQol – 5 Dimensions – 5 Levels
ER:

Emergency room
EU:

European Union
GIN:

International Guidelines Network Library
HRQoL:

Health related quality of life
HTA:

Health technology assessment
NHS EED:

NHS economic evaluation database
NHS:

National health service
NM:

Neuromuscular
PedsQL:

Paediatric Quality of Life
PODCI:

The Pediatric Outcomes Data Collection Instrument
ppFEV1 :

Percentage of predicted Forced Expiratory Volume
ppFVC:

Percentage of predicted Forced Vital Capacity
QoL:

Quality of life
sd:

Standard Deviation
STROBE:

Strengthening the Reporting of Observational Studies in Epidemiology
TREAT-NMD:

Translational Research in Europe–Assessment and Treatment of Neuromuscular Diseases
UK:

United Kingdom
USA:

United States of America
Declarations
Acknowledgments
This study was funded by BioMarin. BioMarin contributed to the conception and design of the study, however, KSR retained editorial control. The authors would like to thank Katherine Hendrix and David Wilson for their helpful comments on the manuscript. Finally, we would like to thank other members of the team involved in screening and data extraction of papers, namely Malgorzata Bala (MB), Adrian Hernandez (AH) and Wilco Jacobs (WJ) who worked alongside study authors SR, NA, RL and MW on these aspects.
Funding
BioMarin paid KSR for the costs of preparing the publication however KSR retained editorial control.
Availability of data and materials
The data that support the findings of this study are available from KSR Ltd, UK but restrictions apply to the availability of these data, which were used under license for the current study, and so are not publicly available. Data are however available from the authors upon reasonable request and with permission of BioMarin Pharmaceuticals.
Authors' contributions
NA, TB, MJ, RL, JK, and SR contributed to conception and design of the study. SdK designed and carried out search strategies. NA, TB, MW, RL and SR were responsible for acquisition, analysis and interpretation of data. NA, SdK, JK, SR RL and MW drafted the manuscript. TB and MJ contributed data. All authors read, critically revised and approved the final manuscript.
Competing interests
NA, SdK, RL, SL, SR and MW are employed by Kleijnen Systematic Reviews (KSR) Ltd, UK and all declare no conflict of interest. JK is the director of KSR Ltd. TB and MJ receive financial support/salaries as employees of BioMarin Pharmaceuticals.
Consent for publication
Not applicable
Ethics approval and consent to participate
Not applicable
Publisher's Note
Springer Nature remains neutral with regard to jurisdictional claims in published maps and institutional affiliations.
Open AccessThis article is distributed under the terms of the Creative Commons Attribution 4.0 International License (http://creativecommons.org/licenses/by/4.0/), which permits unrestricted use, distribution, and reproduction in any medium, provided you give appropriate credit to the original author(s) and the source, provide a link to the Creative Commons license, and indicate if changes were made. The Creative Commons Public Domain Dedication waiver (http://creativecommons.org/publicdomain/zero/1.0/) applies to the data made available in this article, unless otherwise stated.
Authors' Affiliations
(1)
Kleijnen Systematic Reviews Ltd., York, UK
(2)
BioMarin Europe Ltd., London, UK
(3)
School for Public Health and Primary Care, Maastricht University, Maastricht, The Netherlands