Bullous pemphigoid in infants: characteristics, diagnosis and treatment
Orphanet Journal of Rare Diseases
2014
9:185
Received: 22 August 2014
Accepted: 7 November 2014
Published: 10 December 2014
Abstract
Background
Bullous pemphigoid (BP) in infants is a rare but increasingly reported autoimmune blistering skin disease. Autoantibody reactivity is usually poorly characterized. Current guidelines do not address specific aspects of the infantile form of BP. The objectives of this study are to define clinical and diagnostic characteristics of infantile BP and develop a treatment algorithm.
Methods
Detailed characterization of a current case series of five infants with BP from our departments. Comprehensive analysis of all reported cases (1–12 months) with respect to clinical and laboratory characteristics, treatment and outcome.
Results
In total 81 cases were identified (including our own). The mean age was 4.5 months. Moderately severe and severe disease was seen in 84% of cases. Involvement of hands and feet was present in all cases. Immunofluorescence microscopy was comparable with BP in adults. Where analyzed, the NC16A domain of bullous pemphigoid 180 kDa antigen/collagen XVII (BP180) was identified as the major target antigen. BP180 NC16A ELISA values in our cohort were significantly higher than in a control cohort of 28 newly diagnosed adult patients.
50% of patients were treated with systemic corticosteroids, 20% with a combination of systemic corticosteroids and dapsone or sulfapyridine and 10% with topical corticosteroids alone. 14% of patients needed a combination of multiple immunosuppressants. All but one patient reached remission. Relapses were rare.
Conclusions
Presentation of infantile BP is often severe with blistering of hands and feet present in all cases. Pathogenesis and diagnostic criteria are comparable to adult BP, yet BP180 NC16A ELISA levels seem to be significantly higher in infants. The overall disease outcome is favorable. Based on the results of this study we propose a treatment algorithm for infantile BP.
Keywords
Bullous skin diseaseSkin blisteringVaccination
Background
Bullous pemphigoid (BP, ORPHA703) is an acquired autoimmune disorder presenting with subepidermal blistering, eosinophilia, and severe itch [1]-[5]. Its incidence is increasing [6],[7] and it mostly affects the elderly; it is considered rare in children [8],[9]. The first case of BP in a child was described in 1970 based on immunofluorescence diagnosis [10]; the first case of BP in an infant was described in 1977 [11]. Since then, the number of reported pediatric cases has steadily increased, prompting Nemeth et al. to propose diagnostic criteria for childhood BP [12] which included children and adolescents up to 18 years of age. In 2008, Waisbourd-Zinman et al. noticed different clinical presentations depending on the age of affected children [13]. In a literature review, they showed that the majority of cases of childhood BP occurred in small children under the age of 12 months and that these infants presented with a particular clinical picture. All affected infants had acral involvement with or without generalized blistering. The distribution in later childhood was far less uniform and included a subgroup of children with localized genital BP, a presentation not described in infants. These clinical differences led to the distinction of infantile versus childhood BP [13].
Diagnostic results in infantile and adult BP are similar, but serological tests were not performed systematically in many of the reported cases [13]. The gold standard for diagnosis is direct immunofluorescence microscopy (DIF). However, little information is available on the interpretation of ELISA levels [14], inflammatory markers or blood cell counts in infants. Further knowledge, especially about the relevance of ELISA levels might help to assess disease severity and thus influence the choice of medication or duration of treatment.
Concerning the treatment of infantile BP, first line treatment usually consists of topical or systemic corticosteroids. However, there are no stringent therapeutic criteria and there has been very little discussion on the different options for second line treatment. Furthermore, in clinical consensus guidelines on treatment of BP, there is very little, if any, information on treatment in infants [15]-[18].
Here, we report the diagnostic results and disease course of five children with infantile BP in our care and a comprehensive analysis of all cases reported in the literature. Based on these data – and taking into account the published guidelines for adults as well as special circumstances of treating small infants – we propose a first treatment algorithm for infantile BP.
Methods
Infantile BP cohort and adult BP control cohort
Five infantile BP patients presented at or were referred to our departments. They were included in this study after we obtained parental informed consent for participation and took blood and skin samples for diagnostic and research purposes. As a control, BP180 NC16A ELISA levels of a cohort of 28 adult BP patients that were newly diagnosed in the same time period were determined after informed consent was provided. All investigations were conducted according to the declaration of Helsinki criteria.
Histopathology, immunofluorescence microscopy, immunoblotting and ELISA
Hematoxylin eosin staining of formalin fixed, paraffin embedded tissue sections was performed using standard methods. DIF and indirect immunofluorescence microscopy (IIF) were performed as previously described [19]-[21]. FITC labeled antibodies used for DIF were anti human IgG, IgA, IgM and C3c (Dako, Hamburg, Germany) at a dilution of 1:200, 1:50, 1:50 and 1:500 respectively. For IIF on salt-split skin, patient sera were diluted 1:10, secondary antibodies used were FITC labeled anti human IgG and IgA (Dako, Hamburg, Germany) at a dilution of 1:100 and 1:25 respectively. Immunoblotting of normal human keratinocyte extracts with patient sera at a 1:20 dilution and alkaline phosphatase anti human IgG (Sigma-Aldrich, Taufkirchen, Germany) secondary antibody was performed as previously described [20],[21]. ELISA kits for the detection of BP180- and bullous pemphigoid 230 kDa antigen (BP230)-specific antibodies (MBL, Nagoya, Japan) were used according to the manufacturer's protocol with the cut-off at 9 U/ml.
Statistical analysis
Boxplot descriptive statistics of BP180 NC16A ELISA values were performed using GraphPad Prism software (GraphPad Software, La Jolla, CA).
Literature search
We searched all retrievable English- and foreign-language medical literature using PubMed, PubMed Central, EMBASE, and Google Scholar databases as well as literature cited in the obtained reports. Relevant information was extracted and reviewed to avoid duplications of reports. We included only infants up to 12 months in our review and excluded cases of neonatal BP.
Discussion
Infantile BP is considered very rare. Prospective studies are therefore difficult to perform. Incidence in Israel was estimated to be 2.36:100,000 per year [13]; however, in most countries no central registry exists and the disease might be under-recognized. We present a detailed characterization of a current cohort of five infants with BP from our departments. Furthermore we performed a comprehensive analysis of all cases reported in the literature (age 1–12 months) with respect to clinical and laboratory characteristics and treatment modalities. Taken together the results allow for the following conclusions.
Diagnostic features
Laboratory test results in infantile BP generally resemble those in adult BP. Linear IgG and/or C3 depositions at the basement membrane in DIF are the diagnostic hallmark. Autoantibody profiles, as detected by various methods, are comparable to those in adults with BP [69]: autoantibodies against the NC16A domain of BP180 are more frequent than anti-BP230 antibodies.
We propose the following minimal diagnostic criteria for infantile BP: typical clinical picture (urticarial plaques and blisters, acral distribution) and linear IgG and/or C3 deposition at the basement membrane in DIF. Further diagnostic pointers are the presence of serum autoantibodies against BP180 and/or BP230. and – even though less specific – subepidermal blistering with an eosinophil rich inflammatory infiltrate in conventional histology.
Even though ELISA results were only reported in a minority of cases, and different test systems used do not allow for direct comparison, the reported autoantibody levels in infants seem fairly high. Comparing ELISA values of our five infants with a control group of 28 adults newly diagnosed with BP in our center in the same time period, we found that the mean and median levels of anti-BP180 NC16A antibody levels in infants were significantly higher. These ELISA values had been measured with the same test system (see Methods).
The clinical relevance of antibody testing in infantile BP has been contested [14]. Nevertheless – when tested – patients with a more recalcitrant disease course demonstrated high autoantibody levels. In our cohort, higher values at presentation correlated with the need for more aggressive and longer-term treatment, and values increased before relapses. Therefore, it appears reasonable to take into account the levels of BP180-specific autoantibodies in infantile BP when making treatment decisions.
Patient characteristics/clinical features
At disease onset, the mean age of children was around four months. As opposed to previous reports [13], there was no significant female predominance.
No common trigger was identified. A large number of patients had either been vaccinated or suffered an infection prior to the onset or relapse of disease (Table 2, Additional file 1: Table S1 and Additional file 3: Table S2). The type of infection or vaccine varied. It can be speculated that a modulation of the immune system might play a role in triggering or unmasking an underlying subclinical BP. Nevertheless, especially due to the high number of infants receiving vaccination, this association might be purely coincidental and we believe that the term postvaccination infantile BP should be used with caution.
Cases of adult BP associated with malignancy exist, even though the causal relation remains unclear. In contrast, no case of infantile BP in relation with a malignant neoplasm has been reported. Furthermore, unlike in adult BP [70],[71], drugs do not seem to play a major role in triggering infantile BP.
Within the age group of four weeks to 12 months, the clinical picture was moderately severe to severe (generalized) in over 80% of cases. Acral blistering was present in all children, while mucosal involvement was uncommon. In localized disease, hands and feet were usually affected. There was no case of isolated genital infantile BP. Taken together, involvement of the hands and feet can be considered as a clinical hallmark and diagnostic clue of infantile BP. This is in contrast to childhood and adult BP [
1
],[
4
],[
69
]. Important differential diagnoses of infantile BP are listed in Table
4
.
Table 4
Important Differential Diagnoses of Infantile BP
Autoimmune blistering skin diseases

• Linear IgA dermatosis

• Epidermolysis bullosa acquisita

Hereditary

• Epidermolysis bullosa

• Porphyria

Infectious

• Bullous impetigo

Others

• Pompholyx

• Bullous mastocytosis

• Insect bites

• Insect bite like reaction of hematologic malignancy
Most infants were doing well at the time of presentation despite some irritability, likely due to pruritus. However, individual children with significant morbidity including difficulty breathing and feeding, and weight loss, have been reported.
Even though initial presentation is often severe, the prognosis of infantile BP is excellent, with all but one patient reaching complete remission. That child had only been followed up short-term at the time of publication [8] and subsequent remission is possible. One infant passed away shortly after having been discharged from hospital. This child had received several doses of rituximab and had an underlying immune deficiency, which might have played a role.
The number of relapses was low. It seems that relapses can be triggered by infections or that they occurred in patients where tapering of corticosteroids was started early. Also, relapses were more frequent in patients who did not receive systemic corticosteroids (Additional file 3: Table S2). Once the disease has been controlled for several months, the likelihood of a relapse is extremely small.
Treatment algorithm
In contrast to adult BP, no treatment guidelines for infantile BP exist [
15
]-[
18
],[
72
], and there has been little discussion on possible criteria for choosing the right treatment. After a comprehensive analysis of reported treatments in all published cases of infantile BP – together with lessons learned from our own cohort – we propose a first treatment algorithm. This step-by-step diagnostic and treatment algorithm takes into account disease severity, response to initial treatment and specific practical aspects of steroid sparing agents. It is based on general experience with the different medications in infants and the treatment recommendations published for adult BP (Figure
3
).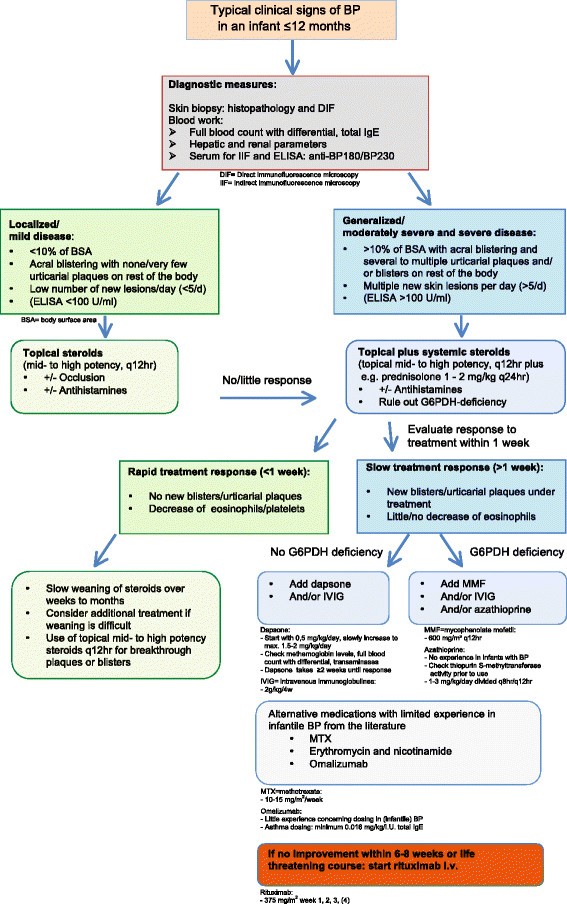 After the diagnosis is established, all patients should receive treatment with mid- to high-potency topical corticosteroids. Children with moderately severe or severe disease (generalized, >10% BSA) usually require additional treatment with systemic corticosteroids. If the treatment response is slow or high doses of corticosteroids are needed for disease control, additional steroid sparing agents should be considered. Dapsone seems to be the agent of choice as it is usually well tolerated, effective, and is frequently used for other autoimmune blistering diseases of infancy and childhood, such as linear IgA dermatosis. Other steroid sparing agents used are IVIGs and MMF. Little or no experience exists for erythromycin-, methotrexate-, cyclophosphamide or azathioprine treatment in infants with BP. Rituximab is to be reserved as rescue treatment for the most severe cases [49],[67]. The full potential and dosing of omalizumab in infantile BP warrant further investigation [56],[73].
After clinical remission for several months, treatment discontinuation can be considered. In our experience ELISA autoantibody values can take a long time to normalize and are therefore not always helpful for deciding when to end treatment.
Conclusions
Infantile BP is considered a rare disorder; however an increasing number of reports during the last years show that it might have been under-recognized. As the disorder is not well known to general pediatricians and dermatologists, most infants are not promptly diagnosed and undergo multiple examinations before establishment of the correct diagnosis.
Infantile BP presents with urticarial plaques and blisters. Involvement of hands and feet is present in all cases. The clinical picture of infantile BP is characteristic. It is therefore a realistic aim to make the diagnosis early, avoid unnecessary diagnostic measures, and treat appropriately to avoid severe morbidity.
Pathogenesis and diagnostic criteria are comparable to adult BP, yet ELISA levels seem to be higher in infants. The overall disease outcome is favorable. Based on the results of this study we have established a first step-by-step diagnostic and treatment algorithm, taking into account disease severity, response to initial treatment and specific aspects of steroid sparing agents.
Abbreviations
BP:

Bullous pemphigoid
BP180:

Bullous pemphigoid 180 kDa antigen/collagen XVII
BP230:

Bullous pemphigoid 230 kDa antigen
BSA:

Body surface area
DIF:

Direct immunofluorescence microscopy
IIF:

Indirect immunofluorescence microscopy
IVIG:

Intravenous immunoglobulins
MMF:

Mycophenolate mofetil
Declarations
Acknowledgments
We would like to thank the patients and their families for participating in this study. We would further like to thank A. Bedorf and K. Thoma for expert technical assistance. The article processing charge was funded by the German Research Foundation (DFG) and the Albert Ludwigs University Freiburg in the funding program Open Access Publishing.
Authors' Affiliations
(1)
Departments of Dermatology and Pediatrics, Medical Center – University of Freiburg, Freiburg, Germany
(2)
Children's Hospital "Klinik am Eichert", Goeppingen, Germany
(3)
Department of Dermatology, University of Luebeck, Luebeck, Germany
(4)
Catholic Children's Hospital Wilhelmstift, Hamburg, Germany
(5)
Department of Dermatology, Medical Center – University of Freiburg, Freiburg, Germany
Copyright
© Schwieger-Briel et al.; licensee BioMed Central. 2014
This article is published under license to BioMed Central Ltd. This is an Open Access article distributed under the terms of the Creative Commons Attribution License (http://creativecommons.org/licenses/by/4.0), which permits unrestricted use, distribution, and reproduction in any medium, provided the original work is properly credited. The Creative Commons Public Domain Dedication waiver (http://creativecommons.org/publicdomain/zero/1.0/) applies to the data made available in this article, unless otherwise stated.