Autosomal dominant cerebellar ataxia type I: A review of the phenotypic and genotypic characteristics
Orphanet Journal of Rare Diseases
2011
6:33
Received: 7 July 2009
Accepted: 28 May 2011
Published: 28 May 2011
Abstract
Type I autosomal dominant cerebellar ataxia (ADCA) is a type of spinocerebellar ataxia (SCA) characterized by ataxia with other neurological signs, including oculomotor disturbances, cognitive deficits, pyramidal and extrapyramidal dysfunction, bulbar, spinal and peripheral nervous system involvement. The global prevalence of this disease is not known. The most common type I ADCA is SCA3 followed by SCA2, SCA1, and SCA8, in descending order. Founder effects no doubt contribute to the variable prevalence between populations. Onset is usually in adulthood but cases of presentation in childhood have been reported. Clinical features vary depending on the SCA subtype but by definition include ataxia associated with other neurological manifestations. The clinical spectrum ranges from pure cerebellar signs to constellations including spinal cord and peripheral nerve disease, cognitive impairment, cerebellar or supranuclear ophthalmologic signs, psychiatric problems, and seizures. Cerebellar ataxia can affect virtually any body part causing movement abnormalities. Gait, truncal, and limb ataxia are often the most obvious cerebellar findings though nystagmus, saccadic abnormalities, and dysarthria are usually associated. To date, 21 subtypes have been identified: SCA1-SCA4, SCA8, SCA10, SCA12-SCA14, SCA15/16, SCA17-SCA23, SCA25, SCA27, SCA28 and dentatorubral pallidoluysian atrophy (DRPLA). Type I ADCA can be further divided based on the proposed pathogenetic mechanism into 3 subclasses: subclass 1 includes type I ADCA caused by CAG repeat expansions such as SCA1-SCA3, SCA17, and DRPLA, subclass 2 includes trinucleotide repeat expansions that fall outside of the protein-coding regions of the disease gene including SCA8, SCA10 and SCA12. Subclass 3 contains disorders caused by specific gene deletions, missense mutation, and nonsense mutation and includes SCA13, SCA14, SCA15/16, SCA27 and SCA28. Diagnosis is based on clinical history, physical examination, genetic molecular testing, and exclusion of other diseases. Differential diagnosis is broad and includes secondary ataxias caused by drug or toxic effects, nutritional deficiencies, endocrinopathies, infections and post-infection states, structural abnormalities, paraneoplastic conditions and certain neurodegenerative disorders. Given the autosomal dominant pattern of inheritance, genetic counseling is essential and best performed in specialized genetic clinics. There are currently no known effective treatments to modify disease progression. Care is therefore supportive. Occupational and physical therapy for gait dysfunction and speech therapy for dysarthria is essential. Prognosis is variable depending on the type of ADCA and even among kindreds.
Keywords
Cerebellar Ataxia
Repeat Expansion
Spinocerebellar Ataxia Type
Molecular Genetic Testing
Autosomal Dominant Cerebellar Ataxia
Disease name/synonyms
Autosomal Dominant Cerebellar Ataxias, Spinocerebellar ataxias.
Disease definition/Diagnostic criteria
The definition of spinal cerebellar ataxias (SCAs) despite significant progress in their understanding is still imprecise. They can be divided by the mode of inheritance to autosomal dominant, autosomal recessive, or sporadic conditions, Harding proposed a classification of autosomal dominant cerebellar ataxias (ADCA) into three categories, Type I, Type II and Type III. ADCA Type I comprises syndromes such as SCA1- SCA4, SCA8, SCA10, SCA12 - SCA23, SCA25, SCA27, SCA28 and DRPLA. ADCA Type II comprises syndromes associated with pigmentary maculopathies and includes SCA7. ADCA Type III comprises pure cerebellar syndromes and includes SCA5, SCA6, SCA11, SCA26, SCA29, SCA30 and SCA31 [1].
The ADCA Type I are the subject of this review. ADCA Type I contain at the time of this writing a group of 22 disorders. There are no fully validated diagnostic criteria for ADCA Type I. The diagnosis is based on clinical history, physical examination and genetic testing.
Clinical and pathological classifications
Phenotypes of ADCA Type I are complex and include ataxia plus other neurological signs. The clinical spectrum ranges from just "pure" cerebellar signs to constellations including spinal cord syndromes, peripheral nerve disease, cognitive impairment, cerebellar or supranuclear ophthalmologic signs, psychiatric problems, and seizure disorders. The ataxia in ADCA Type I is characterized as disordered voluntary movement in (1) the rate of initiation and cessation called dyschronometria, (2) the amplitude known as dysmetria, (3) the coordination of single movements termed dyssynergia, (4) the speed of alternating movements called dysdiadochokinesia, and (5) the continuity resulting in action tremors [
2
]. Cerebellar ataxia can affect virtually any body part causing movement abnormalities. Gait, truncal, and limb ataxia are often the most evident cerebellar findings though nystagmus, saccadic abnormalities, and dysarthria are usually associated. Table
1
lists clinical signs commonly observed in ADCA Type I. Generally, the ADCA Type I manifest in adulthood; however, presentation in childhood may occur. This can be the result of the phenomenon of anticipation that results from trinucleotide repeat expansion mutations that may lengthen in subsequent generations particularly if transmitted paternally. The size of the repeat in those associated with trinucleotide repeat expansions may be inversely related to symptomatic age-related onset [
2
].
Table 1
Clinical signs in ADCA type 1
Clinical Signs (other than ataxia)

ADCA type 1

Slow Saccades

SCA1, SCA2, SCA3, and SCA7

Ophthalmoplegia

SCA1, SCA2 and SCA3

UMN signs

SCA1, SCA3, and SCA12 (sometimes SCA8)

Extrapyramidal

SCA3, and SCA12 (Parkinsonism)

SCA3 (Dystonia)

SCA2, and occasionally SCA1, SCA3, and SCA19(Myoclonus)

SCA12, SCA16, SCA19

Cortical

SCA13, SCA21

SCA17 (Dementia, psychosis, and epilepsy)

Pontine Signs

SCA1, SCA2, and SCA3

Fasciculations

SCA3

Peripheral Neuropathy

SCA3, SCA4, SCA18
Pathologically the different combination of degeneration of the cerebellum, spinal tracts, peripheral nerve, cerebral cortex, basal ganglia, pontomedullary systems, optic nerve, and others is seen [3].
Epidemiology
The prevalence of the SCAs as a whole is similar to Huntington disease and is estimated to be 2-3 per 100,000 people but may be as high as 5-7 in 100,000 in some populations [4–13], though the prevalence of ADCA Type I is unknown. The most common ADCA Type I is SCA3 followed by SCA2, SCA1, and SCA8 in descending order [7]. Founder effects doubtless contribute to the variable prevalence between populations.
Pathogenesis
The pathogenesis of the ADCA Type I is not fully understood. Categories of ADCA Type I based on proposed pathogenesis have been suggested [14]. Accordingly, there are 3 major subclasses. The first and probably most common subclass includes SCA1, SCA2, SCA3, and SCA17; and DRPLA that are associated with trinucleotide CAG repeat expansions encoding large uninterrupted glutamine tracts. The prevailing explanation for the mechanism of neuronal injury observed in these syndromes is that the polyglutamine product is in some way toxic to the cell at the protein level. The details supporting this hypothesis are beyond the scope of this discussion but have been reviewed recently [3, 15]. In brief, the toxic effect may be mediated by interference of protein aggregation and clearance, transcriptional dysregulation, alteration of the ubiquitin-proteasome system, and perturbance of calcium homeostasis leading to premature apoptosis [14]. The second pathogenic subclass includes those ADCA Type I such as SCA8, SCA10 and SCA12 related to trinucleotide repeat expansions that fall outside of the protein-coding region of the disease gene. Again, a toxic reaction is the proposed cause of neuronal damage though in this situation at the RNA level. A similar phenomenon is behind the pathogenic mechanism for the Fragile X-associated tremor ataxia syndrome. These RNA repeat sequences interfere with gene expression in neurons [14]. The last sub-class encompasses SCA13, SCA14, SCA15/16, SCA27 and SCA28 caused by specific gene deletions, missense mutations, and nonsense mutations leading to neurodegeneration [14].
Interestingly, despite the differences in the proposed mechanisms, the phenotypes of the syndromes in all three subclasses is remarkably indistinguishable on clinical grounds. This would seem to suggest that the disruption of a final common pathway leading to neurodegeneration can be mediated through a number of cellular pathways.
Diagnosis
Definitive diagnosis rests on genetic analysis though the importance of the history of illness including a detailed family history and physical examination can not be overstated. Deriving a specific diagnosis based on genetic testing is beneficial primarily for individuals of childbearing age where genetic counseling would be required as there are no known cures for the ADCA Type I. Strategies for selecting the genetic test or tests most likely to result in diagnosis have been suggested and may prove beneficial in reducing costs as these tests are too expensive to send for indiscriminately and are often not reimbursed by insurance companies [
2
]. Though the classification of Harding may be somewhat outdated, it is practical one and allows the clinician at bedside to prioritize genetic testing. Importantly, treatable causes of cerebellar ataxia must be excluded and screening for these conditions should be part of the evaluation of any individual presenting with cerebellar signs and symptoms. Table
2
includes a differential diagnosis of cerebellar ataxia.
Table 2
Differential diagnosis of cerebellar ataxia other than ADCA
| Drug Effect | Phenytoin, 5-fluorouracil, cytosine arabinoside, bismuth (Pepto-Bismol®), mercury-containing fungicides, and lithium |
| --- | --- |
| Toxin | Ethanol, methyl mercurial compounds, solvents containing toluene and metals such as lead, manganese, and tin |
| Nutritional | Vitamin E deficiency, thiamine deficiency (Wernike-Korsakoff syndrome), Gluten sensitivity (Celiac sprue) |
| Endocrinopathy | Hypothyroidism and hypopituitarism |
| Infection | HIV, varicella, Epstein-Barr, prion (Creutzfeldt-Jakob, Kuru etc.) |
| Postinfection | Guillain-Barre and Bickerstaff's encephalitis |
| Structural or lesional | Ischemic infarction, hemorrhage, neoplasm, demyelination, abscess etc. |
| Neurodegeneration | Multiple systems atrophy and recessively inherited cerebellar ataxias |
| Paraneoplastic | Small cell, breast, and ovarian cancer |
| Other | Idiopathic late onset cerebellar ataxia and ataxia with antiglutamate decarboxylase antibodies |
Neuroimaging except for the purpose of excluding other causes of cerebellar ataxia is of little value to the clinician in distinguishing between the ADCA Type I. Magnetic resonance imaging (MRI) is superior to computed tomography (CT) for this purpose. Unfortunately, no pattern of atrophy on MRI is specific for a particular genotype of ADCA Type I [
16
]. Cerebellar atrophy is a typical finding with or without brainstem or cortical atrophy (Figure
1
). Not surprisingly, areas of apparent neurodegeneration on MRI have been correlated with clinical signs referable to the areas of atrophy [
17
].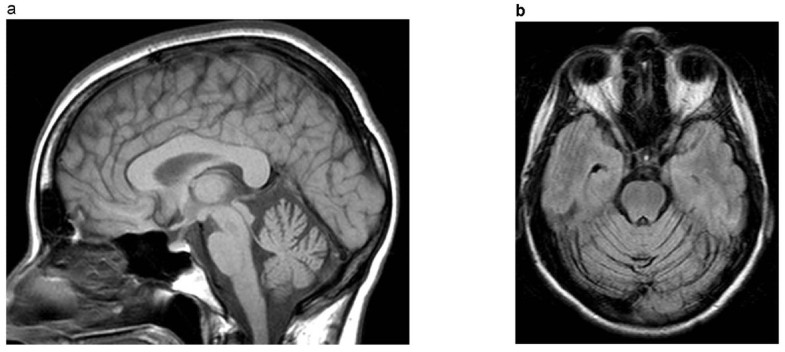 Pathological studies in individuals with ADCA Type I are scant. Studies have demonstrated variable neuronal loss and gliosis in regions of the rhombencephalon more than diencephalon and telencephalon and spinal cord [18]. Like neuroimaging, pathological findings are not specific and are insufficient in distinguishing between the ADCA Type I genotypes.
Management
Supportive care remains the mainstay of management as there is no cure for any of the ADCA Type I at this time. Occupational and physical therapy for gait dysfunction and speech therapy for dysarthria is essential. The use of mechanical aids such as a cane, walker or wheelchair is beneficial in maintaining safety with ambulation and freedom of mobility for as long as possible. Other symptoms such as insomnia, diplopia, spasticity, and urinary urgency or frequency should be treated accordingly in order to improve quality of life [2]. Depression is a potentially treatable and relatively common presenting symptom particularly in SCA3 and should be evaluated for and treated aggressively when present [19]. Likewise, pain particularly related to dystonia can be severe and is an often overlooked component of the ADCA Type I that may be misdiagnosed and mistreated but successfully ameliorated by botulinum toxin therapy [20].
Prognosis
These disorders are unrelentingly progressive and can shorten length of life [21–23]. However, the prognosis is variable between ADCA Type I and even among kindreds. The longitudinal studies have not been performed. Accurate prognostication for an individual patient is difficult to ascertain; however, the determination should begin with the assessment of the phenotype observed in the individual's family and consider the proband's age at presentation. A younger age of onset and longer trinucleotide repeat length generally portends a poorer prognosis.
Clinical description of subforms
Dentatorubral Pallidoluysian Atrophy (DRPLA)
DRPLA occurs with highest frequency in the Japanese population (0.2 to 0.7/100,000) [118]. A few cases were reported from European countries [119–125], North America [126] and recently from Turkey [127]. The age of disease onset ranges from 1 to 60 years (mean age is 28.8 years) [119, 123]. Patients with earlier onset (below 20 years of age) tend to show myoclonus epilepsy and mental retardation. Patients with late onset (over 40 years of age) tend to present with cerebellar ataxia, choreoathetosis and dementia [128]. Clinical features and the age of onset are significantly correlated with the size of CAG repeats [129]. DRPLA is characterized by prominent anticipation. Head MRI shows atrophy of cerebellum, brainstem, cerebrum and high signal has been shown in periventricular white matter [130]. Unstable expansion of a CAG repeats in the B37 has been demonstrated on chromosome 12p13.31 [118]. And that repeats product an abnormal protein called atrophin 1, which is widely expressed in neurons [131].
Conclusions
We believe the Harding classification of ataxia syndromes to three major categories, ADCA Type I, ADCA Type II, and ADCA Type III is still helpful to the clinicians taking care of patients presented with SCA phenotypes. In this review we describe the progress in understanding of clinical and pathological phenotypes, and progress in molecular genetic studies related to the ADCA Type I. Further progress in molecular genetic studies will clarify future classifications of these disorders as already indicated in our review (for examples see SCA16 and SCA15). Table
3
lists the known genetic characteristics of the ADCA Type I.
Table 3
Genetic Characteristics of ADCA type 1
| ADCA | Gene/Gene product | Gene Locus | Repeat Type | Test Availability |
| --- | --- | --- | --- | --- |
| SCA1 | SCA1/ataxin 1 | 6p23 | CAG | Yes |
| SCA2 | SCA2/ataxin 2 | 12q24 | CAG | Yes |
| SCA3 | MJD/ataxin 3 | 14q24.3-q31 | CAG | Yes |
| SCA4 | Unkown | --- | --- | --- |
| SCA8 | SCA8/ataxin 8 | 13q21 | CTG | Yes |
| SCA12 | SCA12(PPP2R2B)/Serine/threonine protein phosphatase 2A, 55 kDA regulatory subunit B, beta isoform | 5q31-q33 | CAG | Yes |
| SCA13 | SCA13/KCNC3 (encodes for a voltage-gated potassium channel) | 19q13.3-q13.4 | NA | Yes |
| SCA16 | SCA16/contactin 4? | 3p26.2-pter | --- | --- |
| SCA17 | TBP/TATA-box binding protein | 6q27 | CAG | Yes |
| SCA18 | Unknown | 7q22-q32 | --- | --- |
| SCA19 | Unknown | 1p21-q21 | --- | --- |
| SCA21 | Unknown | 7p21.3-p15.1 | --- | --- |
| SCA23 | Unknown | 20p13-12.3 | --- | --- |
| SCA27 | FGF14/ FGF 14 | 13q34 | NA | |
| SCA28 | SCA28/ unknown | 18p11.22-q11.2 | --- | --- |
For the clinician, a strategy based on Harding's classification of SCA disorders is important to aid in narrowing the diagnostic possibilities. Although genetic testing is the only means of distinguishing in certainty between genotypes, Harding's classification can aid the clinician in developing a genetic molecular testing strategy. Likewise, the vast clinical variability among these syndromes impedes a specific bedside diagnosis; however, knowledge of the clinical characteristics that commonly are associated with each syndrome may streamline the selection of genetic testing. From the standpoint of prevalence, world distribution, and costs a molecular genetic testing for ADCA Type I such as SCA1 - SCA3, SCA8, SCA14, and SCA17 should be considered first. If negative further molecular genetic testing for SCA4, SCA10, SCA12, SCA13, SCA18, and SCA27 can be undertaken. The clinical phenotype may be also used to guide the selection of molecular genetic tests. For example a molecular genetic testing for SCA1, SCA3, SCA 4, SCA8, SCA18 and SCA25 should be considered for an individual with cerebellar ataxia and peripheral neuropathy. Phenotype characterized by a combination of ataxia and epilepsy may indicate need for molecular genetic testing for SCA10, SCA17 and DRPLA. The presence of ataxia and cognitive impairment may suggest the initial selection of molecular genetic studies to SCA1 -, SCA2, SCA13, SCA15/16, SCA17, SCA19, SCA21 and DRPLA. The presence of extrapyramidal sign occurring in SCA2, SCA3, SCA12, SCA15/16, SCA17, SCA21, SCA27, and DRPLA may lead to selection of genetic studies indicative for these disorders. A unique clinical or radiological feature such as action tremor present in SCA12 or dentate calcification seen on head CT in SCA20 may narrow selection of available genetic tests substantially reducing the cost of deriving to diagnosis. Exclusion of treatable and/or structural causes of cerebellar ataxia is mandatory. Neuroimaging studies and routine laboratory testing specifically required to exclude the conditions in the differential diagnosis of cerebellar ataxia should be directed by the history and physical examination.
Unfortunately, no curative therapies have been discovered, though speech and physical therapy, mechanical aids for gait, and symptomatic management of pain and depression can help improve functioning and overall quality of life. Genetic testing is expensive and may not be indicated in many instances where the diagnosis of a neurodegenerative cause is not in question. For affected individuals of child bearing age or where family planning decision making is requested, genetic counseling is essential. Recently, some massively parallel sequencing methods have become available which enable us to screen of thousands of loci for genetic signatures simultaneously. And the methods can reduce the cost and increase the throughput of genomic sequencing [132]. So genetic testing will be less costly and more widely available in the near future.
At this time, the ADCA Type I are no different than most any neurodegenerative syndrome in that the pathophysiology remains uncertain and no curative treatments have been discovered. In the future, more mutations and kindreds with cerebellar ataxia will be discovered and the ADCA type I group will grow, more knowledge of the pathophysiology will mount, and eventually treatments will be forthcoming.
Declarations
Acknowledgements
ZKW is partially funded by NIH NINDS (R01 NS057567, 1RC2 NS070276, P50 NS 072187), Mayo Clinic Florida Research Committee CR and Collaborative programs (MCF Activity #90052018 and #90052030); Dystonia Medical Research Foundation, Carl Edward Bolch, Jr. and Susan Bass Bolch Gift (MCF Activity #90052031/PAU #90052) grants.
Authors' Affiliations
(1)
Tri State Mountain Neurology, Dr Johnson City, USA
(2)
Department of Neurology 4500 San Pablo Rd Jacksonville, Mayo Clinic Jacksonville, USA
Copyright
© Whaley et al; licensee BioMed Central Ltd. 2011
This article is published under license to BioMed Central Ltd. This is an Open Access article distributed under the terms of the Creative Commons Attribution License (http://creativecommons.org/licenses/by/2.0), which permits unrestricted use, distribution, and reproduction in any medium, provided the original work is properly cited.