Toxic epidermal necrolysis and Stevens-Johnson syndrome
Orphanet Journal of Rare Diseases
2010
5:39
Received: 30 June 2009
Accepted: 16 December 2010
Published: 16 December 2010
Abstract
Toxic epidermal necrolysis (TEN) and Stevens Johnson Syndrome (SJS) are severe adverse cutaneous drug reactions that predominantly involve the skin and mucous membranes. Both are rare, with TEN and SJS affecting approximately 1or 2/1,000,000 annually, and are considered medical emergencies as they are potentially fatal. They are characterized by mucocutaneous tenderness and typically hemorrhagic erosions, erythema and more or less severe epidermal detachment presenting as blisters and areas of denuded skin. Currently, TEN and SJS are considered to be two ends of a spectrum of severe epidermolytic adverse cutaneous drug reactions, differing only by their extent of skin detachment. Drugs are assumed or identified as the main cause of SJS/TEN in most cases, but Mycoplasma pneumoniae and Herpes simplex virus infections are well documented causes alongside rare cases in which the aetiology remains unknown. Several drugs are at "high" risk of inducing TEN/SJS including: Allopurinol, Trimethoprim-sulfamethoxazole and other sulfonamide-antibiotics, aminopenicillins, cephalosporins, quinolones, carbamazepine, phenytoin, phenobarbital and NSAID's of the oxicam-type. Genetic susceptibility to SJS and TEN is likely as exemplified by the strong association observed in Han Chinese between a genetic marker, the human leukocyte antigen HLA-B*1502, and SJS induced by carbamazepine. Diagnosis relies mainly on clinical signs together with the histological analysis of a skin biopsy showing typical full-thickness epidermal necrolysis due to extensive keratinocyte apoptosis. Differential diagnosis includes linear IgA dermatosis and paraneoplastic pemphigus, pemphigus vulgaris and bullous pemphigoid, acute generalized exanthematous pustulosis (AGEP), disseminated fixed bullous drug eruption and staphyloccocal scalded skin syndrome (SSSS). Due to the high risk of mortality, management of patients with SJS/TEN requires rapid diagnosis, evaluation of the prognosis using SCORTEN, identification and interruption of the culprit drug, specialized supportive care ideally in an intensive care unit, and consideration of immunomodulating agents such as high-dose intravenous immunoglobulin therapy. SJS and TEN are severe and life-threatening. The average reported mortality rate of SJS is 1-5%, and of TEN is 25-35%; it can be even higher in elderly patients and those with a large surface area of epidermal detachment. More than 50% of patients surviving TEN suffer from long-term sequelae of the disease.
Keywords
LamotrigineToxic Epidermal NecrolysisStevens Johnson SyndromeBullous PemphigoidBlister Fluid
Background, disease name and synonyms
Stevens-Johnson syndrome (SJS) was first described in 1922, as an acute mucocutaneous syndrome in two young boys. The condition was characterized by severe purulent conjunctivitis, severe stomatitis with extensive mucosal necrosis, and purpuric macules. It became known as SJS and was recognized as a severe mucocutaneous disease with a prolonged course and potentially lethal outcome that is in most cases drug-induced, and should be distinguished from erythema multiforme (EM) majus. Recent clinical studies have shown that the term 'EM majus' should not be used to describe SJS as they are distinct disorders [1–4].
In 1956, Alan Lyell described four patients with an eruption resembling scalding of the skin which he called toxic epidermal necrolysis or TEN [4]. It was only as more patients with TEN were reported in the years following Lyell's original publication, that it became clear that TEN was drug induced, and that certain drugs such as sulfonamides, pyrazolones, barbiturates, and antiepileptics were the most frequent triggers of TEN. Increasingly to date, SJS and TEN are considered to be two ends of a spectrum of severe epidermolytic adverse cutaneous drug reactions, differing only by their extent of skin detachment.
Epidemiology
SJS and TEN are rare diseases in absolute numbers with an incidence of 1.89 cases of TEN per million inhabitants per year reported for Western Germany and Berlin in 1996 [5]. La Grenade et al report similar results, with 1.9 cases of TEN per million inhabitants per year based on all cases reported to the FDA AERS database in the USA [6]. Lower incidence rates were reported by Chan et al in Singapore [7]. Certain infectious diseases may have an impact on the incidence of TEN, and this is clearly the case for HIV where the annual incidence is approximately 1000-fold higher than in the general population, with approximately 1 case per thousand per year in the HIV-positive population ([8]. In a study of HIV positive patients of the greater Paris area in the late eighties and early nineties, 15 cases of SJS/TEN were reported in patients with AIDS compared to 0.04 expected cases [9]. In another study only ten out of 50 cases of SJS/TEN in HIV patients could be clearly attributed to the use of medications, whereas in the other cases a cause could not be determined due to lack of data of drug intake or details [10].
Regional differences in drug prescription, the genetic background of patients (HLA, metabolizing enzymes), the coexistence of cancer, or concomitant radiotherapy [11, 12], can have an impact on the incidence of SJS and TEN.
To a lesser extent, other infections have occasionally been reported as the sole cause. Mycoplasma pneumoniae infections are widely documented to cause SJS and TEN without initial exposure to drugs [13–15]. Furthermore, Herpes simplex virus was recognized in several cases of SJS, especially in children [16]. Single case reports describe Lupus erythematodes [17] or reactivation of Herpes simplex under treatment with azithromycine as potential causes of SJS [18]. The occurrence of TEN in a patient with severe aplastic anaemia after allogeneic haematopoietic stem cell transplantation has also been reported [19]. However there are still cases of SJS/TEN without any obvious identifiable cause.
Clinical Features
Acute Phase
Initial symptoms of toxic epidermal necrolysis (TEN) and Stevens Johnson Syndrome (SJS) can be unspecific and include symptoms such as fever, stinging eyes and discomfort upon swallowing. Typically, these symptoms precede cutaneous manifestations by a few days. Early sites of cutaneous involvement are the presternal region of the trunk and the face, but also the palms and soles. Involvement (erythema and erosions) of the buccal, genital and/or ocular mucosa occurs in more than 90% of patients, and in some cases the respiratory and gastrointestinal tracts are also affected [
20
,
21
]. Ocular involvement at the onset of disease is frequent, and can range from acute conjunctivitis, eyelid edema, erythema, crusts, and ocular discharge, to conjunctival membrane or pseduomembrane formation or corneal erosion, and, in severe cases, to cicatrizing lesions, symblepharon, fornix foreshortening, and corneal ulceration [
22
,
23
]. The severity of acute ocular manifestation is not however predictive of late complications [
24
]. The morphology of early skin lesions includes erythematous and livid macules, which may or may not be slightly infiltrated, and have a tendency to rapid coalescence (Table
1
). The above mentioned skin signs associated with mucosal involvement are clear danger signs and warrant the initiation of rapid diagnostic confirmation with immediate cryosections of a skin biopsy. Histological examination including direct immunofluorescence analysis of the skin biopsy is also important in order to rule out differential diagnoses such as autoimmune blistering diseases, bullous fixed drug eruption, acute generalized exanthematic pustulosis, and due to its rarity in adults, to a lower extend staphyloccocal scalded skin syndrome.
Table 1
clinical features that distinguish sjs, sjs-ten overlap, and ten (adapted after 1)
| Clinical entity | SJS | SJS-TEN overlap | TEN |
| --- | --- | --- | --- |
| Primary lesions | Dusky red lesions | Dusky red lesions | Poorly delineated erythematous plaques |
| | Flat atypical targets | Flat atypical targets | Epidermal detachment |
| | | | Dusky red lesions |
| | | | Flat atypical targets |
| Distribution | Isolated lesions | Isolated lesions | Isolated lesions (rare) |
| | Confluence (+) on face and trunk | Confluence (++) on face and trunk | Confluence (+++) on face, trunk, and elsewhere |
| Mucosal involvement | Yes | Yes | Yes |
| Systemic symptoms | Usually | Always | Always |
| Detachment (%body surface area) | < 10 | 10-30 | > 30 |
In a second phase, large areas of epidermal detachment develop. In the absence of epidermal detachment, more detailed skin examination should be performed by exerting tangential mechanical pressure on several erythematous zones (Nikolsky sign). The Nikolsky sign is positive if mechanical pressure induces epidermal detachment, but is not specific for TEN or SJS, as it can also be positive in, for example, autoimmune bullous skin diseases.
The extent of skin involvement is a major prognostic factor. It should be emphasized that only necrotic skin, which is already detached (e.g. blisters, erosions) or detachable skin (Nikolsky positive) should be included in the evaluation of the extent of skin involvement. Bastuji-Garin et al. proposed classifying patients into three groups according to the degree of skin detachment (Table
1
, Figure
1
) [
1
].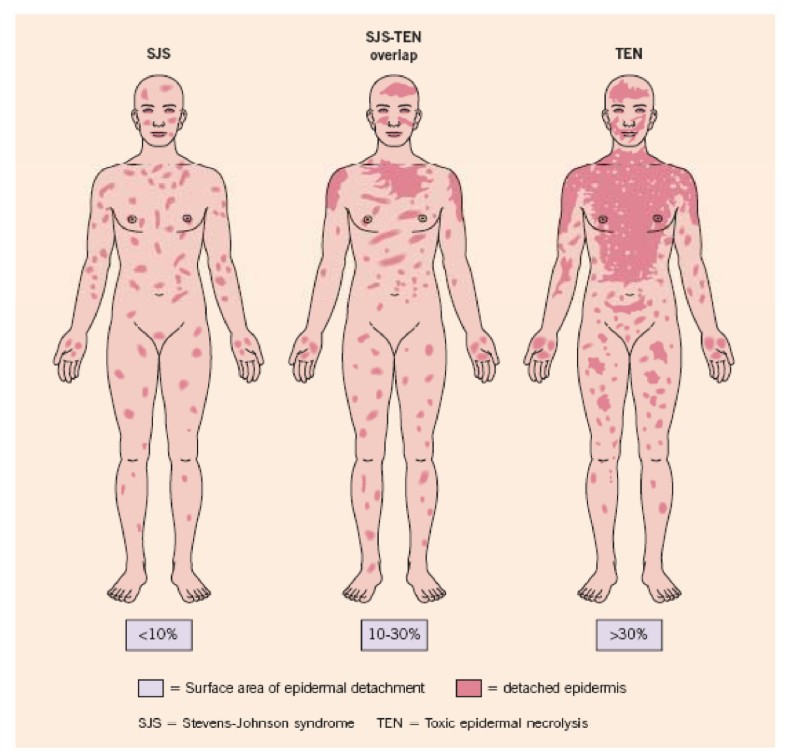 Late phase and sequelae
Sequelae are common features of late phase TEN. According to the study of Magina et al [25] following symptoms are found: hyper- and hypopigmentation of the skin (62.5%), nail dystrophies (37.5%), and ocular complications. According to a study of Yip et al. 50% of patients with TEN develop late ocular complications including, by order of decreasing frequency, severe dry eyes (46% of cases), trichiasis (16%), symblepharon (14%), distichiasis (14%), visual loss (5%), entropion (5%), ankyloblepharon (2%), lagophthalmos (2%), and corneal ulceration (2%) [24]. Hypertrophic scars are only seen in very few patients [26]. Long-term complications of mucosal involvement occur in 73% of patients who present mucosal involvement in the acute phase, and the mucosal sequelae involve mainly the oral and oesophageal mucosa, and to a lesser extent lung and genital mucosa [27]. In a small post SJS/TEN study seven out of nine patients had either xerostomia or keratoconjunctivitis or both, resembling Sjögren-like syndrome [28]. Additionally, another group reported a patient with Sjögren-like pluriglandular exocrine insufficiency including exocrine pancreatic impairment [29].
Etiology and pathogenesis
Management and Therapy
Treatment in acute stage
Management in the acute stage involves sequentially evaluating the severity and prognosis of disease, prompt identification and withdrawal of the culprit drug(s), rapidly initiating supportive care in an appropriate setting, and eventual "specific" drug therapy as described in detail below.
Treatment of sequelae
Due to the often combined involvement of the skin, eyes and mucous membranes (oral, gastrointestinal, pulmonary, genital, as well as urinary), the follow up and treatment of sequelae should be interdisciplinary. Special attention should be given to the prevention of ocular complications. Early referral to an ophthalmologist is mandatory for assessment of the extent of eye involvement and prompt treatment with topical steroids. Visual outcome is reported to be significantly better in patients who receive specific ophtalmological treatment during the first week of disease [23]. Some of the ocular complications have an inflammatory background and have to be treated occasionally with ophthalmic steroids and/or extensive lubrication of the eye [26] in order to prevent progression leading ultimately to the need for corneal transplantation. A small single retrospective study with IVIG showed no significant effect on ocular complications in frequency and severity, but the power of the study was weak [99]. The benefit of local antibiotic treatment (ointments) is not clear. Yip et al. have reported that the use of local antibiotic treatment leads to more late complications, including, for example, dryness of the eyes [24]. Hypopharyngeal stenosis combined with dysphagia and oesophageal strictures are long-term complications which are difficult to treat [100, 101] and may require laryngectomy.
Allergological testing
A detailed drug history is very important when striving to identify the culprit drug in SJS/TEN. In some cases several drugs are possible candidates and allergological testing can be of help in identifying the most likely candidate. In principle, the severity of SJS and TEN does not allow re-challenge and intradermal testing with the culprit drugs due to the feared risk of re-inducing a second episode of SJS/TEN, although two case reports describe intradermal testing without triggering of a second episode of TEN [102, 103]. Induction of SJS/TEN has, however, been documented following local eye treatment [104, 105].
Patch-testing is an investigational option, but not a routine diagnostic option at the moment. Data from Wolkenstein et al. has shown that low sensitivity is a problem with patch testing in SJS/TEN, as only two of 22 tested patients had a relevant positive patch test [106].
Currently the focus of allergological testing lies more on ex vivo/in vitro tests. The lymphocyte transformation test (LTT), that measures the proliferation of T cells to a drug in vitro has shown a sensitivity of 60-70% for patients allergic to beta-lactam antibiotics [107]. Unfortunately the sensitivity of the LTT is still very low in SJS/TEN even if performed within one week after onset of the disease [108].
Another recently reported approach looks for up-regulation of CD69 on T-lymphocytes two days after lymphocyte stimulation in vitro as a sign of drug hypersensitivity [109]. Novel in vitro methods to help identify culprit drug in SJS/TEN are still needed [110].
Prognosis
SJS and TEN are severe and life-threatening. The average reported mortality rate of SJS is 1-5%, and of TEN is 25-35%; it can be even higher in elderly patients and those with a large surface area of epidermal detachment [64]. In order to standardize the evaluation of risk and prognosis in patients with SJS/TEN, different scoring systems have been proposed. The SCORTEN is now the most widely used scoring system and evaluates the following parameters: age, malignancy, tachycardia, initial body surface area of epidermal detachment, serum urea, serum glucose, and bicarbonate (Table 2) [111]. Yun et al. reported recently that lactate dehydrogenase (LDH) may be an additional useful parameter in the evaluation of disease severity [112].
More than 50% of patients surviving TEN suffer from long-term sequelae of the disease. These include symblepharon, conjunctival synechiae, entropion, ingrowth of eyelashes, cutaneous scarring, irregular pigmentation, eruptive nevi, and persistent erosions of the mucous membranes, phimosis, vaginal synechiae, nail dystrophy, and diffuse hair loss.
Abbreviations
AGEP:

acute generalized exanthematous pustulosis
CLA:

cutaneous leukocyte antigen
CsA:

ciclosporine
CTL:

cytotoxic T lymphocytes
EM:

erythema multiforme
HLA:

human leukocyte antigen
IVIG:

intravenous immunoglobuline
MHC:

major histocompatibility complex
NSAID:

non-steroidal anti-inflammatory drug
SJS:

Stevens Johnson syndrome
SSSS:

staphylococcal scalded skin syndrome
TEN:

toxic epidermal necrolysis.
Authors' Affiliations
(1)
Department of Dermatology, University Hospital Zurich, Switzerland
Copyright
© Harr and French; licensee BioMed Central Ltd. 2010
This article is published under license to BioMed Central Ltd. This is an Open Access article distributed under the terms of the Creative Commons Attribution License (http://creativecommons.org/licenses/by/2.0), which permits unrestricted use, distribution, and reproduction in any medium, provided the original work is properly cited.