Holoprosencephaly
Orphanet Journal of Rare Diseases
2007
2:8
Received: 01 September 2006
Accepted: 02 February 2007
Published: 02 February 2007
Abstract
Holoprosencephaly (HPE) is a complex brain malformation resulting from incomplete cleavage of the prosencephalon, occurring between the 18th and the 28th day of gestation and affecting both the forebrain and the face. It is estimated to occur in 1/16,000 live births and 1/250 conceptuses. Three ranges of increasing severity are described: lobar, semi-lobar and alobar HPE. Another milder subtype of HPE called middle interhemispheric variant (MIHF) or syntelencephaly is also reported. In most of the cases, facial anomalies are observed in HPE, like cyclopia, proboscis, median or bilateral cleft lip/palate in severe forms, ocular hypotelorism or solitary median maxillary central incisor in minor forms. These latter midline defects can occur without the cerebral malformations and then are called microforms. Children with HPE have many medical problems: developmental delay and feeding difficulties, epilepsy, instability of temperature, heart rate and respiration. Endocrine disorders like diabetes insipidus, adrenal hypoplasia, hypogonadism, thyroid hypoplasia and growth hormone deficiency are frequent. To date, seven genes have been positively implicated in HPE: Sonic hedgehog (SHH), ZIC2, SIX3, TGIF, PTCH, GLI2 and TDGF1. A molecular diagnosis can be performed by gene sequencing and allele quantification for the four main genes SHH, ZIC2, SIX3 and TGIF. Major rearrangements of the subtelomeres can also be identified by multiplex ligation-dependent probe amplification (MLPA). Nevertheless, in about 70% of cases, the molecular basis of the disease remains unknown, suggesting the existence of several other candidate genes or environmental factors. Consequently, a "multiple-hit hypothesis" of genetic and/or environmental factors (like maternal diabetes) has been proposed to account for the extreme clinical variability. In a practical approach, prenatal diagnosis is based on ultrasound and magnetic resonance imaging (MRI) rather than on molecular diagnosis. Treatment is symptomatic and supportive, and requires a multidisciplinary management. Child outcome depends on the HPE severity and the medical and neurological complications associated. Severely affected children have a very poor prognosis. Mildly affected children may exhibit few symptoms and may live a normal life.
Keywords
HoloprosencephalyDenature High Performance Liquid ChromatographyPyriform ApertureIncomplete CleavageMultiplex Ligation Probe Amplification
Disease name and synonyms
Holoprosencephaly (HPE)
Midline cleft syndrome
DeMyer sequence
Isolated HPE (non syndromic, non chromosomic)
Familial HPE
Arhinencephaly
Cyclopia
Definition
Holoprosencephaly (HPE, MIM 236100) is a complex human brain malformation resulting from incomplete cleavage of the prosencephalon into right and left hemispheres, occurring between the 18th and the 28th day of gestation. Three levels of increasing severity are described [
1
]: lobar HPE, where the right and left ventricles are separated, but with some continuity across the frontal cortex; semilobar HPE with a partial separation, and the most severe form, alobar HPE, with a single brain ventricle and no interhemispheric fissure. Another milder subtype of HPE called the middle interhemispheric variant (MIHF) or syntelencephaly, has now been recognized [
2
,
3
] (Table
1
). There is a continuous spectrum of abnormal separation of the hemispheres rather than clearly distinct division into these three types of malformation [
4
]. The forebrain malformations are generally associated with facial anomalies, ranging from anophthalmia, cyclopia or proboscis in the most severe cases, to midline cleft lip, a simple hypotelorism or even no anomalies in the less severe HPE forms [
5
,
6
] (Table
2
). The HPE phenotypic spectrum also encompasses microforms including facial midline anomalies with a normal brain. This wide spectrum can be observed within the same family [
7
].
Table 1
Anatomic classification of HPE -Different levels of severity [1] [6]
ALOBAR (complete)

Small single forebrain ventricle

No interhemispheric division

Absence of olfactory bulbs and tracts

Absence of corpus callosum

Non separation of deep gray nuclei

SEMI-LOBAR

Rudimentary cerebral lobes

Incomplete interhemispheric division

Absence or hypoplasia of olfactory bulbs and tracts

Absence of corpus callosum

Varying non separation of deep gray nuclei

LOBAR

Fully-developed cerebral lobes

Distinct interhemispheric division

Midline continuous frontal neocortex

Absent, hypoplasic or normal corpus callosum

Separation of deep gray nuclei

MIHF

Failure of separation of the posterior frontal and parietal lobes

Callosal genu and splenium normally formed

Absence of corpus callosum

Hypothalamus and lentiform nuclei normally separated

Heterotopic gray matter
Table 2
"The face often predicts the brain" [5, 110]. Parallelism of face and brain phenotypes generally observed in HPE.
Group

Morphology

HPE degree

(I) Cyclopia

Single or double eye

Proboscis

Alobar

(II) Ethmocephaly

Distinct sockets

Extreme ocular hypotelorism

Proboscis

Alobar

(III) Cebocephaly

Ocular hypotelorism

Proboscis, with single nostril

Alobar

(IVA)

Ocular hypotelorism

Midline cleft lip

Flat nose

Alobar

or

Semi-lobar

(IVB)

Ocular hypotelorism

Midline cleft lip (complete or partial)

Flat nose

Semi-lobar

or

lobar
HPE is a genetically heterogeneous anomaly and this phenotype is known to be part of different syndromes or chromosomal anomalies.
Epidemiology
Holoprosencephaly is the most common forebrain developmental anomaly in humans with prevalence of 1/16,000 in live borns [8–11], an incidence as high as 1:250 in conceptuses [12], and a worldwide distribution. But considering the advances in neuroimaging with magnetic resonance imaging (MRI), children with less severe forms, like the recently described MIHF or lobar forms, who were undiagnosed, should be now identified leading to an increasing prevalence of the disease [13].
Clinical description
As mentioned above, HPE is a complex brain malformation resulting from incomplete cleavage of the prosencephalon, affecting the forebrain. Therefore, clinical manifestations involve the central nervous system with possible facial dysmorphism and various complications [14]. Due to recent molecular data, the HPE phenotypic spectrum is very large ranging from severe cerebral malformations to a microform. This latter form can be defined by MRI normal brain, but with facial anomalies including ocular hypotelorism, midline cleft lip and/or flat nose.
Nowadays, most of severe HPE cases are detected by systematic ultrasound scan and MRI during pregnancy. This prenatal diagnosis often leads to termination of pregnancy, after genetic counseling, regarding to the severity of the malformations. Milder HPE cases or microforms are usually not available to prenatal diagnosis due to macroscopic normal brain. Nevertheless, these children show clinical spectrum of HPE described below.
In any case, it is important to establish whether the HPE is an isolated brain malformation or part of a syndrome with other systemic manifestations (Table
3
)[
15
] to consider genetic counseling.
Table 3
Syndromic HPE with normal karyotype
Syndromic HPE with normal karyotype

214800

CHARGE syndrome gene CHD7 8q12

146510

Pallister Hall gene GLI3 7p13

270400

Smith Lemli Opitz DHCR7 11q12-q13

180849

Rubinstein-Taybi gene CREBBP 16p11.3

249000

Meckel syndrome

264480

Pseudotrisomy 13

192430

Velo cardio facial Synd gene TBX1 22q11.2

300073

HPE and fetal akynesia, X linked?

300571

HPE, ectrodactyly, cleft lip/palate, X linked?

300373

Osteopathia striata with cranial sclerosis Xp11.4-p11.22

245552

Lambotte syndrome

184705

Steinfeld Syndrome

601357

HPE, amelia, facial cleft

600674

Microtia-anotia

236680

Hydrolethalus syndrome

206900

Microphtalmia syndromic

156810

MLRD association

202650

Dysgnathia complex

601370

Genoa Syndrome
Anatomical description
The HPE brain malformation is an incomplete cleavage of the forebrain, with three classical levels of decreasing severity, alobar, semilobar and lobar, described in the definition and whose anatomic features are given in Table 1. This classic definition is not ambiguous, but problems are encountered at less severe ends of the phenotypic spectrum, which includes absent olfactory tracts and bulbs (arrhinencephaly), agenesis of the corpus callosum, hypopituitarism, single maxillary central incisor [16]. Less classical features were also described associated with HPE genes like hypoplasia of the pyriform aperture, ocular anomalies or anomalies of the extremities [7]. Simon et al. [4] established that the degree of deep gray nuclei non-separation parallels the degree of hemispheric non-separation.
In most of the cases, facial anomalies are observed in HPE. The severity of facial dysmorphism correlates with the cerebral anomalies in about 80% of the time (Table 2). These correlations were first given by DeMyer [5] then modified by several authors [9, 17, 18]. Less severe facial dysmorphism may include hypotelorism, lateral cleft lip, and/or iris coloboma [19], and sometimes normal faces can be observed. Some authors suggest following the classification modified by Elias et al. [18], in order to take into account patients with midline defects and a normal or sub-normal brain development, but this classification is essentially based on a genetic definition as it concerns most of the time members of a family who only share a mutation with the proband but do not present any brain MRI anomalies.
Clinical evaluation in HPE children and complications
Children with HPE experience many medical problems that need to be detected:
Neurological signs
Developmental delay is present in all live born HPE patients, and seems in agreement with the severity of the brain malformation. Approximately half of the patients with HPE develop epilepsy. Hydrocephaly can occur during pre- or postnatal development. Many others signs like mental retardation, hypotonia, weakness, spasticity, dystonia and abnormal movements are described.
Craniofacial malformations
Microcephaly, hypotelorism or hypertelorism, midline or lateral cleft lip and/or palate, flat nose, iris coloboma, single maxillary central incisors and hypoplasia of the pyriform aperture are often noticed.
Endocrine disorders
Diabetes insipidus, growth hormone deficiency, adrenal hypoplasia, hypogonadism, or thyroid hypoplasia are very frequent in HPE because the midline malformation affects the development of the hypothalamus and the pituitary gland.
Oromotor dysfunction
Feeding and swallowing difficulties are frequent and generally correlate with the grade of HPE, leading to a requirement for gastrostomy tubes in about two thirds of patients with alobar or semilobar HPE [13]. These complications can be due to axial hypotonia, cleft lip and/or palate, gastro esophageal reflux, choking, slowness in eating and frequent pauses and often lead to failure to thrive.
Dysautonomic dysfunction
Instability of temperature, heart and/or breath rate.
Prognosis
It is clear that neurodevelopmental outcome and mortality risk depend on the severity of HPE. Reports from the "Carter Centers for Brain Research in Holoprosencephaly and Related Malformations" (a national North American consortium funded by a not-for-profit foundation) on 83 children [20–22] and from Rennes (France) on 47 children [7] summarized some of the clinical problems and neurological disorders observed in HPE children. In these two series, less than half of the children had semilobar HPE; approximately 15% each had alobar, lobar or MIHF in the American series, while these forms represented respectively 17.8%, 27.3% and 17% in the French series.
It is generally reported that HPE children do not survive beyond early infancy [13, 23], but this is essentially true for severe forms of HPE associated with severe craniofacial anomalies like cyclopia or ethmocephaly or chromosomal anomalies. A retrospective study of perinatal risk factors of 104 children living with HPE (Carter Center), performed by Stashinko et al. [24], showed that the mean age was 4 years and 15% of these children were between 10 and 19 years of age. In this case, children had normal vision and hearing, and could memorize in spite of their mental delay [11, 25–27].
This underscores the importance of the Carter Neurocognitive Assessment, a new specific evaluation tool designed for children with HPE [28] and an accurate neuroradiologic classification of HPE [13] to help physicians and families in determining that outcome. Recently, a positive correlation was found out between the degree of non separation of the deep grey nuclei and expressive speech skills [20] but none regarding social awareness, visual attention and auditory comprehension [29].
However, the prognosis in Holoprosencephaly depends also on its etiology and is much poorer for those with cytogenetic abnormalities, with only 2% surviving beyond one year [11].
Etiology
The etiology of HPE is very heterogeneous. First, this pathology can be caused by environmental or metabolic factors. The only formally recognized environmental factors are insulin-dependent diabetes mellitus (1% risk of HPE) [30] and maternal alcoholism with a risk that cumulates with smoking (RR 1.4) [31]. HPE in humans has also been noted in association with prenatal exposure to drugs (retinoic acid, cholesterol biosynthesis inhibitors [32] or to infections (cytomegalovirus [33, 34], toxoplasma [35, 36], rubella [36, 37]). The OMIM classification shows that HPE can also be associated in about 25% of the cases with several defined multiple malformation syndromes with a normal karyotype, like Smith-Lemli-Opitz [38], Pallister Hall [39] or velo-cardio-facial syndrome [40] (Table 3).
HPE can be due to chromosomal abnormalities, with a higher prevalence observed in trisomy 13 (70%), trisomy 18 and triploidy. Analysis of recurrent chromosomal anomalies led to the identification of 12 candidate regions (named HPE1 to HPE12) on 11 chromosomes that may contain genes involved in HPE [41]. Large deletions involving HPE loci, like HPE3, are responsible for contiguous genes syndromes (e.g. del 7qter, Currarino syndrome).
Finally, HPE may be a solitary manifestation (neither chromosomal nor syndromic) and several genes are implicated in this isolated form of HPE.
Diagnostic methods
Based on denaturing high performance liquid chromatography (DHPLC) and sequencing, point mutations are found in the four main HPE genes (SHH, ZIC2, SIX3 and TGIF) in about 20% of the cases (25% in living children and 15% in fetuses) [50]; mutations are distributed all over these genes. Mutations in the 5' regulatory regions of these genes are also suspected [107] and are under investigation. All kinds of mutations have been reported but missense mutations are more frequent than nonsense ones, which makes the interpretation complex. Whenever a missense mutation is found, it should be validated using a functional test suitable for the gene to assess its deleterious effect on the protein structure and/or function [52].
Recently, gene dosage methods like Quantitative Multiplex PCR of Short Fluorescent Fragments (QMPSF) or Multiplex Ligation Probe Amplification (MLPA) (MRC-Holland), were added to the molecular diagnosis process [108]. Large deletions in SHH, ZIC2, SIX3 and TGIF are found in 8% of the cases (4% in alive children and 12% in fetuses) [51, 109]. While the proportion of point mutations is higher in living children than in fetuses, part of deletions is, on the contrary, higher in fetuses than in living patients, which may explain the more severe phenotype in fetuses leading to termination of pregnancy.
A systematic search for gains or losses in the subtelomeres by MLPA led to the identification of about 4.3% novel rearrangements involving known but also novel HPE loci. But, at the moment, this approach still concerns research field.
These data lead to perform for each patient the successive molecular tests as described in the algorithm (Figure
2
) as several hits are suspected to induce HPE.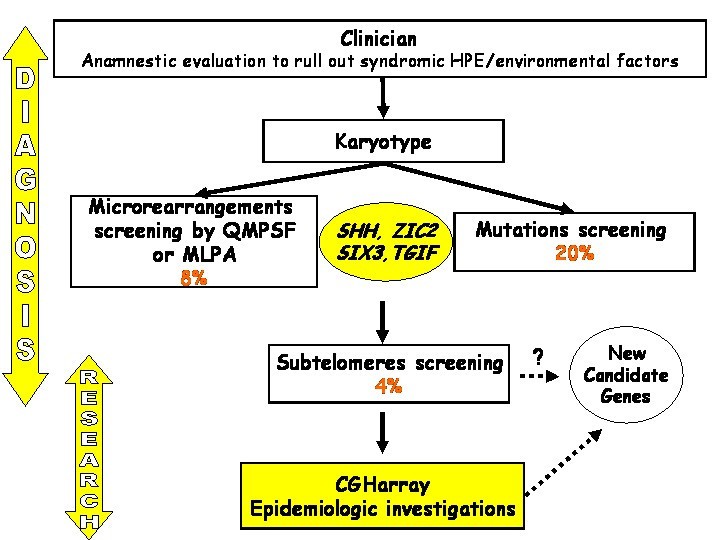 Management including treatment
The care of the child with HPE requires a multidisciplinary management. This aims to detect complications described above to avoid an added handicap and improve their quality of life.
Neurologic complications' management of a child with HPE is not specific and requires anticonvulsive, physical and occupational therapies, as for children with other brain malformations. It is important to consider endocrine disorders testing blood and urines samples and look after dysautonomic dysfunction. Surgery is needed to repair cleft lip and/or palate.
Genetic counseling and prenatal diagnosis
The severity of HPE requires a genetic counseling, which is made difficult by the extreme phenotypic variability, the genetic heterogeneity, the multihit origin and a high risk of recurrence (13%) in apparently sporadic cases [42].
When a patient presents two associated subtelomeric rearrangements and, in particular, duplication associated with a deletion, it can be inherited from one of the parents carrying a balanced translocation, and so far, this could be a great help in the genetic counseling because of the high rate of recurrence.
On the contrary, when a mutation is identified in a patient but is not retrieved in his parents, the HPE onset involves a de novo mutation, and the recurrence rate cannot be calculated but is lower.
Prenatal ultrasound can detect the central nervous system and facial abnormalities of severe HPE as early as the first trimester, but is less sensitive for detection of milder forms of HPE. Fetal MRI will provide better characterization of the malformations in the third trimester of the pregnancy.
The greatest care must be taken for molecular prenatal diagnosis in HPE. Even if a mutation has been identified and seems to be transmitted with clinical manifestations in the family, another event, like a mutation in another gene (not yet identified) or an environmental factor, may be necessary to generate the holoprosencephaly phenotype [43]. In this case, molecular biology performed at the 10–12th week of amenorrhea provides only an additional criterion with regard to prenatal ultrasound or MRI, which still takes precedence over molecular analysis. Nevertheless, the absence of a familial known mutation in the fetal DNA may be reassuring, before MRI imaging.
Unresolved questions
When the search for alterations in the four main HPE genes and the analysis of subtelomeric regions are compiled, the combined rate reaches about 33%, so more than 65% of the cases remain unexplained, suggesting the involvement of many other genes in HPE. The research project should comprise the search for genomic rearrangements all over the genome, using a pangenomic approach like CGH array to identify further candidate genes. Moreover, epidemiologic investigations should be done to check off environmental factors that could act in coordination with genetic events to give rise to holoprosencephaly.
Authors' Affiliations
(1)
UMR 6061 CNRS, Institut de Génétique et Développement de Rennes, Université de Rennes1, IFR 140 GFAS, Faculté de Médecine, Rennes, France
(2)
Laboratoire de Génétique Moléculaire et Hormonologie, Centre Hospitalier et Universitaire de Pontchaillou, Rennes, France
(3)
Service de Génétique Médicale, Hôpital Sud, Rennes, France
(4)
Laboratoire de Cytogénétique, Centre Hospitalier et Universitaire de Pontchaillou, Rennes, France
Copyright
© Dubourg et al; licensee BioMed Central Ltd. 2007
This article is published under license to BioMed Central Ltd. This is an Open Access article distributed under the terms of the Creative Commons Attribution License (http://creativecommons.org/licenses/by/2.0), which permits unrestricted use, distribution, and reproduction in any medium, provided the original work is properly cited.