What's new in pontocerebellar hypoplasia? An update on genes and subtypes
Orphanet Journal of Rare Diseases
2018
13:92
Received: 29 November 2017
Accepted: 16 May 2018
Published: 15 June 2018
Abstract
Background
Pontocerebellar hypoplasia (PCH) describes a rare, heterogeneous group of neurodegenerative disorders mainly with a prenatal onset. Patients have severe hypoplasia or atrophy of cerebellum and pons, with variable involvement of supratentorial structures, motor and cognitive impairments. Based on distinct clinical features and genetic causes, current classification comprises 11 types of PCH.
Main text
In this review we describe the clinical, neuroradiological and genetic characteristics of the different PCH subtypes, summarize the differential diagnosis and reflect on potential disease mechanisms in PCH. Seventeen PCH-related genes are now listed in the OMIM database, most of them have a function in RNA processing or translation. It is unknown why defects in these apparently ubiquitous processes result in a brain-specific phenotype.
Conclusions
Many new PCH related genes and phenotypes have been described due to the appliance of next generation sequencing techniques. By including such a broad range of phenotypes, including non-degenerative and postnatal onset disorders, the current classification gives rise to confusion. Despite the discovery of new pathways involved in PCH, treatment is still symptomatic. However, correct diagnosis of PCH is important to provide suitable care and counseling regarding prognosis, and offer appropriate (prenatal) genetic testing to families.
Keywords
Pontocerebellar hypoplasiaPediatric neurologyGenetics
Background
Pontocerebellar Hypoplasia (PCH) was originally described as a heterogeneous group of prenatal onset neurodegenerative disorders, mainly but not exclusively affecting cerebellum and pons. The first report on PCH dates from 1917 [1]. Two reports that followed used the term 'hypoplasia ponto- neocerebellaris' to indicate the relative sparing of the cerebellar vermis compared to the cerebellar hemispheres [2, 3]. In 1928, the clinical characteristics of a patient with PCH were for the first time described by Krause [4]. He described a 16 months old, atrophic child with swallowing impairment, spasticity and jerky movements of the limbs; in retrospect this description and neuropathological profile fits PCH2. In 1961 the first patient with PCH and spinal motor neurodegeneration as seen in Werdnig-Hoffman disease (or spinal muscular atrophy, SMA) was reported [5]. More reports of similar patients followed, indicating that the combined occurrence of PCH and bulbo-spinal motor neuron degeneration was not an incidental finding but a distinct syndrome [6–8]. In 1990, Barth et al. described 7 affected children from 5 families from a Dutch genetic isolate, with PCH, microcephaly, severe extrapyramidal dyskinesia and absence of voluntary movement [9]. The extrapyramidal hyperkinesia in PCH was previously reported by Peiffer & Pfeiffer (1977) [10]. In 1993, a first classification of PCH was proposed that included two subtypes, PCH1 and PCH2 [11]. PCH1 is characterized by anterior horn degeneration in the spinal cord with muscle weakness and hypotonia. PCH2 is distinguished by neonatal jitteriness, incoordination of sucking and swallowing, lack of voluntary motor development and grasping and – in most patients- almost complete absence of cognitive development [11].
Since the original description of PCH, the phenotype has been significantly broadened. Nine different subtypes were added to the classification of PCH, initially based upon distinct clinical, radiological or biochemical features (like optic atrophy, CSF lactate elevation), and later followed by the finding of associated gene defects (Table
1
; Fig.
1
). Inheritance of all PCH subtypes is autosomal recessive. Great clinical and neuroradiological variability exists within and between the different subtypes. Overall, PCH is a severe disorder with very limited or sometimes virtually absent developmental progress, and often early lethality. Most of the clinical neurological findings pertain to dysfunction of the cortex and basal ganglia, including severe intellectual disability, central motor impairments and epilepsy. Obvious cerebellar symptoms are very rarely reported in PCH, despite the severe cerebellar involvement shown by neuroimaging. The clinical features and genetics of the different subtypes, as well as the differential diagnosis of PCH and possible disease mechanisms, will be discussed separately below.
Table 1
Overview of PCH subtypes with associated gene defect. DSD = Disorders of Sex Development. * Imaging suggests postnatal onset of neurodegeneration in (a subset of) patients in this group
Subtype

Symptoms/ distinctive features in addition to PCH

Subcategory and gene (#OMIMnr)

Gene function

Key references

PCH1

Motor neuron degeneration, muscle weakness, hypotonia, respiratory insufficiency, congenital contractures

PCH1A: VRK1 (#607596)

Neuronal migration

PCH1B: EXOSC3 (#614678)

mRNA degradation

PCH1C: EXOSC8 (#616081)

mRNA degradation

[18]

PCH1D: SLC25A46 (*610826)

Mitochondrial fission and fusion

PCH2

Generalized clonus, impaired swallowing, Dystonia, chorea, progressive microcephaly

PCH2A: TSEN54 (#277470)

tRNA splicing

PCH2B: TSEN2 (#612389)

tRNA splicing

PCH2C: TSEN34 (#612390)

tRNA splicing

[21]

PCH2D*: SEPSECS (#613811)

Selenocysteine synthesis

PCH2E: VPS53 (#615851)

Unknown

[30]

PCH2F: TSEN15 (#617026)

tRNA splicing

[26]

PCH3

Facial dysmorphism, optic atrophy, cerebellar atrophy

PCLO* (#608027)

Regulation synaptic protein & vesicle formation

PCH4

Severe form of PCH2 with congenital contractures and polyhydramnios

TSEN54 (#225753)

tRNA splicing

PCH5

Severe form of PCH2 with congenital contractures and polyhydramnios (identical to PCH4)

TSEN54 (#610204)

tRNA splicing

PCH6

Hypotonia, seizures, elevated CSF lactate, progressive supratentorial atrophy

RARS2* (#611523)

Arginyl tRNA synthetase

PCH7

DSD, thin corpus callosum, enlarged ventricles

TOE1 (#614969)

RNA processing

[52]

PCH8

Abnormal muscle tone, dystonia, ataxia, no/little disease progression. Non-degenerative.

CHMP1A (#614961)

Regulation INK4A

[54]

PCH9

Abnormal muscle tone, impaired swallowing, corpus callosum agenesis and 'Fig. 8' configuration of brainstem

AMPD2 (#615809)

Regulation GTP synthesis

PCH10

Abnormal muscle tone, seizures, motor neuron degeneration, mild cerebellar hypoplasia/atrophy

CLP1 (#615803)

tRNA splicing

PCH11

Non-progressive/ non-degenerative PCH.

TBC1D23 (# 617695)

Intracellular vesicle transport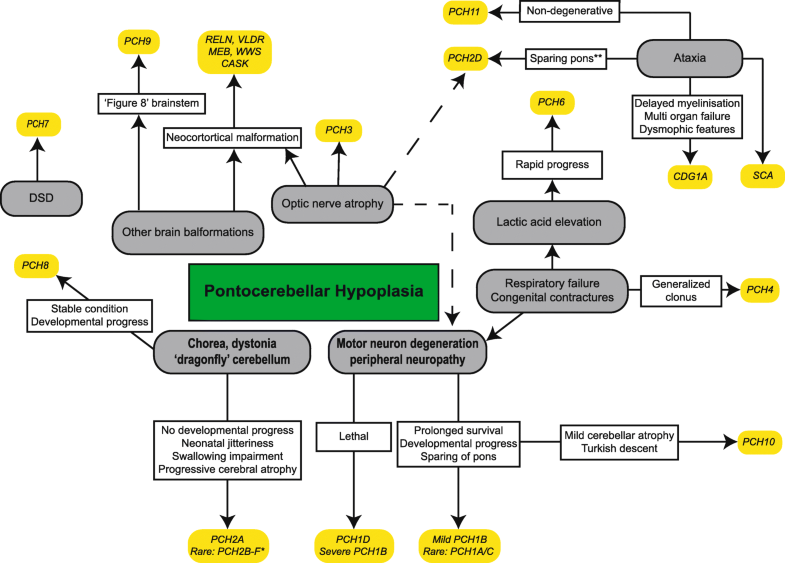 Discussion & Conclusion
Due to development and appliance of next generation sequencing techniques, many new PCH related genes and phenotypes have been described. However, there are still many patients with a clinical diagnosis of PCH, in whom no mutations in any of the known PCH related genes is identified.The current classification of PCH comprises a heterogeneous group of disorders, ranging from lethal conditions with prenatal onset as PCH1D and PCH4 to milder forms where disease progression is less devastating allowing survival into adolescence as (some subtypes of) PCH1B and PCH2D. Unfortunately, by including such a broad range of phenotypes, the current classification undermines two important aspects of the original description of PCH. Both nondegenerative conditions (e.g. PCH8 and PCH11) and disorders with a postnatal onset (e.g. PCH2D, PCH2E and PCH10) are included in the PCH classification, essentially ignoring the fact that PCH was originally defined as a disorder of prenatal onset neurodegeneration. PCH2D and PCH2E were initially described by the authors as progressive cerebellocerebral atrophy (PCCA and PCCA2, respectively), but eventually ended up as subtypes of PCH. PCH3 was originally referred to as cerebellar atrophy and progressive microcephaly (CLAM), because neuroimaging resembled cerebellar atrophy rather than hypoplasia. The patient numbers reported in PCH 3–11 are small (with only PCH6 due to RARS2 mutations occurring relatively common), therefore the full clinical and radiological spectrum of these disorders is not completely revealed yet. The current classification of PCH is prone to lead to confusion, because at this point it is unclear which disorders should be classified as PCH and which should not.
Genotype-phenotype correlations are most clear in TSEN54 (PCH2A and PCH4). Homozygosity for the p. A307S mutation in TSEN54 is strongly associated with a dragonfly configuration of the cerebellum, impaired swallowing and extrapyramidal movement disorders in infancy. In infants presenting with these symptoms and neuroradiological profile, prompt testing for this specific mutation is required. Patients compound heterozygous for the A307S mutation with a splice site or nonsense mutation on the other TSEN54 allele have a more severe phenotype characterized by congenital contractures and primary hypoventilation. In the majority of PCH patients, especially the milder ones and ones presenting with profound cerebral degeneration or other brain malformations, the diagnosis is less straightforward. Clinical, neuroradiological, metabolic and genetic data should be carefully evaluated and interpreted to get the correct diagnoses. It should not be overlooked that mutations in PCH related genes can also lead to milder phenotypes and might be revealed in adolescents or even young adults [114, 115]. When interpreting possible disease causing variants identified with whole exome sequencing, Genematcher can be a very useful tool to identify similar patients. Genematcher is an online tool where clinicians or researchers can enter their gene of interest and will be connected to others with an interest in the same gene [116]. Targeted gene panels have been developed to facilitate fast genetic diagnosis in PCH, but run the risk of being outdated soon because of the accelerated rate of new gene discovery.
The identification of novel genes resulted in new insights regarding the disease mechanism. Besides defects in RNA metabolism and protein synthesis, also other mechanisms like mitochondrial dysfunction (SLC25A46) and chromatin modelling (CHMP1A) are implied in PCH. Despite the discovery of new pathways involved in PCH, treatment is still symptomatic. PCH is a very rare disorder; in some subtypes only a few families are described. In addition, although clinical course is variable, the brain structure is already severely affect at birth in most children. These factors, together with the heterogeneous etiology in PCH, complicate the development of a targeted therapeutic strategy.
Declarations
Acknowledgements
We thank Bart Appelhof and Prof. Dr. Hanne Meijers-Heijboer for helpful discussions.
Authors' contributions
TvD wrote the manuscript. PGB, FB and BTPT critically reviewed the manuscript. All authors read and approved the manuscript.
Ethics approval and consent to participate
Not applicable.
Consent for publication
Consent for the publication of MRI images of the PCH patients was obtained via the referring medical doctors.
Competing interests
The authors declare that they have no competing interests.
Publisher's Note
Springer Nature remains neutral with regard to jurisdictional claims in published maps and institutional affiliations.
Open AccessThis article is distributed under the terms of the Creative Commons Attribution 4.0 International License (http://creativecommons.org/licenses/by/4.0/), which permits unrestricted use, distribution, and reproduction in any medium, provided you give appropriate credit to the original author(s) and the source, provide a link to the Creative Commons license, and indicate if changes were made. The Creative Commons Public Domain Dedication waiver (http://creativecommons.org/publicdomain/zero/1.0/) applies to the data made available in this article, unless otherwise stated.
Authors' Affiliations
(1)
Department of Clinical Genetics, Academic Medical Center, Amsterdam, The Netherlands
(2)
Department of Clinical Genetics, Leiden University Medical Center, Leiden, The Netherlands
(3)
Department of Pediatric Neurology, Academic Medical Center, Amsterdam, The Netherlands