Vici syndrome: a review
Orphanet Journal of Rare Diseases
2016
11:21
Received: 20 August 2015
Accepted: 8 February 2016
Published: 29 February 2016
Abstract
Vici syndrome [OMIM242840] is a severe, recessively inherited congenital disorder characterized by the principal features of callosal agenesis, cataracts, oculocutaneous hypopigmentation, cardiomyopathy, and a combined immunodeficiency. Profound developmental delay, progressive failure to thrive and acquired microcephaly are almost universal, suggesting an evolving (neuro) degenerative component. In most patients there is additional variable multisystem involvement that may affect virtually any organ system, including lungs, thyroid, liver and kidneys. A skeletal myopathy is consistently associated, and characterized by marked fibre type disproportion, increase in internal nuclei, numerous vacuoles, abnormal mitochondria and glycogen storage. Life expectancy is markedly reduced.
Vici syndrome is due to recessive mutations in EPG5 on chromosome 18q12.3, encoding ectopic P granules protein 5 (EPG5), a key autophagy regulator in higher organisms. Autophagy is a fundamental cellular degradative pathway conserved throughout evolution with important roles in the removal of defective proteins and organelles, defence against infections and adaptation to changing metabolic demands. Almost 40 EPG mutations have been identified to date, most of them truncating and private to individual families.
The differential diagnosis of Vici syndrome includes a number of syndromes with overlapping clinical features, neurological and metabolic disorders with shared CNS abnormalities (in particular callosal agenesis), and primary neuromuscular disorders with a similar muscle biopsy appearance. Vici syndrome is also the most typical example of a novel group of inherited neurometabolic conditions, congenital disorders of autophagy.
Management is currently largely supportive and symptomatic but better understanding of the underlying autophagy defect will hopefully inform the development of targeted therapies in future.
Keywords
Hemophagocytic LymphohistiocytosisAutophagy PathwayBacterial ConjunctivitisCallosal AgenesisDanon Disease
Disease name
Vici syndrome; Dionisi-Vici-Sabetta-Gambarara syndrome; Immunodeficiency with cleft lip/palate, cataract, hypopigmentation and absent corpus callosum.
Definition
Vici syndrome [OMIM242840, ORPHA1493] is a severe congenital multisystem disorder characterized by the principal features of agenesis of the corpus callosum, cataracts, oculocutaneous hypopigmentation, cardiomyopathy, a combined immunodeficiency and additional, more variable multisystem involvement. The condition is due to recessive mutations in the EPG5 gene on chromosome 18q.
Epidemiology
The incidence of Vici syndrome is unknown. Since the original description of the disorder by Dionisi-Vici and colleagues in 1988 [1], an exponentially increasing number of patients has been reported, with around 50 genetically confirmed cases published to date [1–14]. Vici syndrome is likely to be rare but probably underdiagnosed.
Clinical description
Vici syndrome is one of the most extensive inherited human multisystem disorders reported to date, presenting invariably in the first months of life. Apart from the 5 principal diagnostic findings–callosal agenesis, cataracts, cardiomyopathy, hypopigmentation and combined immunodeficiency-a wide range of variably present additional features has been reported, suggesting that virtually any organ system can be involved [
4
]. Three additional findings (profound developmental delay, acquired microcephaly and marked failure to thrive) have recently emerged that, although non-specific, are as consistently associated as the 5 main diagnostic features and highly supportive of the diagnosis [
14
]. The common occurrence of structural congenital abnormalities and acquired organ dysfunction (for example, congenital cardiac defects and cardiomyopathy later in life) is not infrequently observed in individual patients. Typical findings in Vici syndrome are outlined in detail below and summarized in Table
1
. The characteristic features of Vici syndrome are illustrated in Fig.
1
.
Table 1
Clinical features of Vici syndrome
Feature

Frequency

Principal diagnostic features

Absent corpus callosum

++++

Profound developmental delay

++++

Failure to thrive

++++

Hypopigmentation

++++

Immune problems

++++

Progressive microcephaly

+++

Cardiomyopathy

+++

Cataracts

+++

Other features

Presentation in neonatal period

+++

Myopathy

+++

Seizures

++

Absent reflexes (probable neuropathy)

++

Thymic aplasia

+

Sensorineural deafness

+

Optic atrophy

+

Renal tubular acidosis

+

Cleft lip/palate

+

Coarse facial features

+

Hepatomegaly

+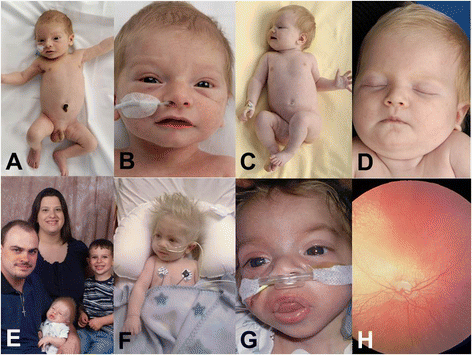 Declarations
Acknowledgements
LS was supported by a King's Bioscience Institute PhD Fellowship. MG holds the BHF Chair of Molecular Cardiology; LS and MG are supported by the Leducq Foundation. HJ acknowledges grant support from the Myotubular Trust, Great Britain (Grant reference number 12KCL01).
Open AccessThis article is distributed under the terms of the Creative Commons Attribution 4.0 International License (http://creativecommons.org/licenses/by/4.0/), which permits unrestricted use, distribution, and reproduction in any medium, provided you give appropriate credit to the original author(s) and the source, provide a link to the Creative Commons license, and indicate if changes were made. The Creative Commons Public Domain Dedication waiver (http://creativecommons.org/publicdomain/zero/1.0/) applies to the data made available in this article, unless otherwise stated.
Authors' Affiliations
(1)
Department of Paediatric Neurology, Neuromuscular Service, Evelina's Children Hospital, London, UK
(2)
Division of Metabolism and Laboratory of Molecular Medicine, Bambino Gesu Children's Hospital IRCCS, Rome, Italy
(3)
Randall Division of Cell and Molecular Biophysics, Muscle Signalling Section, King's College, London, UK
(4)
Department of Clinical and Basic Neuroscience, IoPPN, King's College, London, UK