Digenic mutational inheritance of the integrin alpha 7 and the myosin heavy chain 7B genes causes congenital myopathy with left ventricular non-compact cardiomyopathy
Orphanet Journal of Rare Diseases
2013
8:91
Received: 5 April 2013
Accepted: 12 June 2013
Published: 21 June 2013
Abstract
Background
We report an Italian family in which the proband showed a severe phenotype characterized by the association of congenital fiber type disproportion (CFTD) with a left ventricular non-compaction cardiomyopathy (LVNC). This study was focused on the identification of the responsible gene/s.
Methods and results
Using the whole-exome sequencing approach, we identified the proband homozygous missense mutations in two genes, the myosin heavy chain 7B (MYH7B) and the integrin alpha 7 (ITGA7). Both genes are expressed in heart and muscle tissues, and both mutations were predicted to be deleterious and were not found in the healthy population.
The R890C mutation in the MYH7B gene segregated with the LVNC phenotype in the examined family. It was also found in one unrelated patient affected by LVNC, confirming a causative role in cardiomyopathy.
The E882K mutation in the ITGA7 gene, a key component of the basal lamina of muscle fibers, was found only in the proband, suggesting a role in CFTD.
Conclusions
This study identifies two novel disease genes. Mutation in MYH7B causes a classical LVNC phenotype, whereas mutation in ITGA7 causes CFTD. Both phenotypes represent alterations of skeletal and cardiac muscle maturation and are usually not severe. The severe phenotype of the proband is most likely due to a synergic effect of these two mutations.
This study provides new insights into the genetics underlying Mendelian traits and demonstrates a role for digenic inheritance in complex phenotypes.
Keywords
Left ventricular noncompact cardiomyopathy
Congenital type fiber disproportion
Integrin alpha 7 (ITGA7)
Myosin heavy chain 7B (MYH7B)
Whole exome sequencing
Background
Congenital fiber type disproportion (CFTD) is a form of congenital myopathy in which consistent type 1 fiber hypotrophy relative to type 2 fibers is the main histological abnormality [1]. The health impairments commonly encountered in CFTD are similar to those of many other congenital myopathies. Muscle weakness is usually relatively stable or slowly progressive during childhood and adolescence. In general, scoliosis and joint contractures (other than mild Achilles tendon contractures) are relatively uncommon. Mutations associated with CFTD have been found in the TPM3 (MIM# 191030), ACTA1 (MIM# 102610), SEPN1 (MIM# 606210), RYR1 (MIM# 180901), TPM2 (MIM# 190990) and MYH7 (MIM# 160760) genes [2–8]. Despite recent advances, no genetic cause has been found in at least 50% of CFTD patients.
Left ventricular non-compaction cardiomyopathy (LVNC) has been reported in patients with different types of neuromuscular disorders but has never been associated with CFTD. Within the last 2 decades, more than 200 cases of LVNC have been described [9]. The hallmark features of this cardiomyopathy include prominent trabeculations and deep endocardial recesses. Symptoms associated with LVNC are variable and can include arrhythmias, thromboembolic events and heart failure. At least 4 genes that cause very rare cardiomyopathy diseases have been found to be linked to non-syndromic LVNC in familial or sporadic cases. Thus far, the X-linked gene known as G4.5 or taffazin (TAZ) has been found to be associated with the largest number of LVNC cases [10]. Other genes found to be mutated in LVNC include alpha-dystrobrevin (DTNA), Cypher/ZASP and lamin A/C [11–13]. Cumulatively, these genes have been shown to be associated with only a small percentage of sporadic or familial cases. Over the past few years, mutations in genes encoding sarcomere proteins, the beta-myosin heavy chain (MYH7), alpha-cardiac actin (ACTC1), cardiac troponin T (TNNT2), cardiac myosin- binding protein C (MYBPC3), alpha-tropomyosin (TMP1) and cardiac troponin I (TNNI3) have been identified in a significant proportion of patients with LVNC [14–16].
We report an Italian family in which the proband showed a severe disease phenotype characterized by CFTD and LVNC. The clinical and instrumental analysis of the family members identified the LVNC phenotype in the mother, the sister and the first-degree cousin of the proband, suggesting that the LVNC cardiomyopathy segregated as a dominant mode of inheritance with high phenotypic heterogeneity and reduced penetrance. CFTD phenotype showed a recessive mode of inheritance.
To our knowledge, this is the first example of LVNC cardiac phenotype associated with CFTD. We provide a full description of this new phenotype and of the identification of the disease-causing genes by whole-exome sequencing [17].
Patients and methods
Family and unrelated cohort
A single, multigenerational Italian pedigree was involved in this investigation, as depicted in Figure
1
. Phenotypic data were available for 10 individuals (3 males and 7 females) ranging in age from 4 to 50. All individuals were of Caucasian ancestry. DNA was available for 6 individuals (IV-10, IV-13, IV-14, V-1, V-4, V-5). We extended the clinical and instrumental (EMG, ECG, Echocardiography, muscle biopsy) evaluation to the whole family. We identified a mild LVNC phenotype (according to the Jenni criteria) in the mother (IV-14), sister (V-5) and cousin (V-1) of the proband, with hypertabeculations of the mid inferolateral wall and of the ape and without neuromuscular disorders [
18
]. During the growth, there was a reduction of clinical signs in patients V-1 and V-5. No data have been collected for individual IV-9, who died at the age of 35 of unknown causes. The father (IV-13) of the proband was asymptomatic.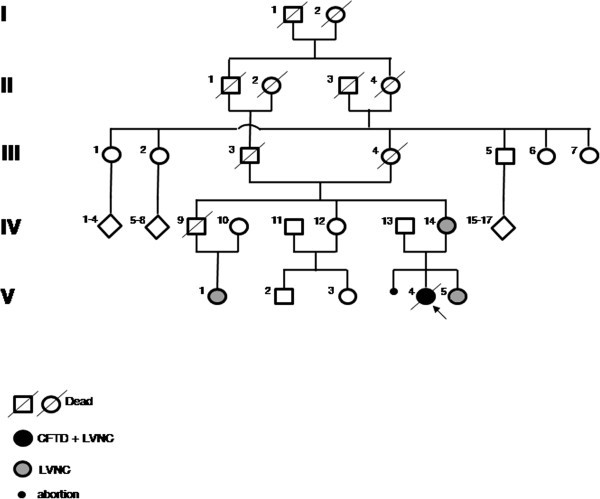 An unrelated cohort (UC) of 24 patients (including LVNC14-BG), all fulfilling the criteria for LVNC, were also analyzed in this study.
Informed consent was obtained from each patient. In the case of minors, parental consent was obtained. The study protocol conforms to the ethical guidelines of the 1975 Declaration of Helsinki, as reflected in the a priori approval by the institution's human research committee.
Whole-exome sequencing strategy
For all participants over 18 years of age, DNA was extracted from peripheral blood specimens using a standard salting-out procedure. Genomic DNA samples from two affected females in the pedigree (the proband V-4, affected by CFTD and LVNC, and her cousin V-1, affected by LVNC) were captured with the NimbleGen SeqCap EZ Exome™ capture kits (Roche, Indianapolis, IN, USA)) and sequenced with one lane per sample on an Illumina GAIIx (Illumina, San Diego, CA, USA) with 90-bp paired-end reads.
Sequences were aligned to the human reference genome sequence (GRCh37/hg19) with the MAQ7 and NextGENe software v2.00 with sequence condensation by consolidation (SoftGenetics, State College, PA, USA). This approach resulted in more than 40× of target exome coverage.
Single nucleotide variants (SNVs) were called with MAQ and NextGENe. Small insertions and deletions were detected with NextGENe. Called SNVs were annotated with SeattleSeq Annotation and filtered with dbSNP130.
Expression analysis
To examine the expression pattern of the MYH7B and ITGA7 genes, real-time PCR was performed on total RNAs from human adult tissues purchased from Stratagene and on total RNAs derived from the blood of family members using the LightCycler system DNA Engine Opticon 2 (MJ Research). The detailed protocol has already been published [21, 22].
The expression levels were normalized to glyceraldehyde 3-phosphate dehydrogenase (GAPDH) to account for differences in the starting material and in the cDNA reaction efficiency. Agarose gel electrophoresis was performed to further confirm the specific PCR products.
The MYH7B and ITGA7 transcript primers were the following:
MYH7B-cDNA-F 5′ GTCTGGGTGCCTGATGAACA 3′
MYH7B-cDNA-R 5′ CTCGTTCAGGTGCGTCATCA 3′
ITGA7-IS1-F 5′ GGATGGTGGGGAATGGAAGT 3′
ITGA7-IS1-R 5′ GGTCAGCAGGGTCCAAAGTT 3′
ITGA7-IS2-R 5′ GCGGGGGTCCTGCTCTTCT 3′
ITGA7-IS3-F 5′ CAGAGGCAGGCAGAAGGATT 3′
The primer ITGA7-IS2-R was combined with either ITGA7-IS1-F or ITGA7-IS3-F.
The GAPDH primers were as follows: forward primer, 5′ AGCCACATCGCTCAGACAC 3′, and reverse primer, 5′ GATCTCGCTCCTGGAAGATG 3′.
Discussion
We describe an unusual association between CFTD and LVNC and link this unusual severe phenotype to digenic inheritance, a novel type of transmission that is emerging with the application of novel powerful genomic technologies, such as whole-exome sequencing [23]. The CFTD myopathy is a genetically heterogeneous disorder characterized by relative hypotrophy of type 1 muscle fibers compared to type 2 fibers in skeletal muscle biopsies [1]. The diagnosis of CFTD is made for exclusion because these findings are not specific and can be found in several neuromuscular diseases. The term "fiber size disproportion" has been suggested for describing this specific histological picture, reserving the term CFTD for those cases in which no secondary cause can be found [1]. Cardiovascular involvement has been rarely reported in patients with CFTD myopathy. Banwell et al. described 2 unrelated children with cardiac involvement [24]. One child, with a dilated type cardiomyopathy, developed an intractable congestive heart failure, necessitating cardiac transplantation at the age of 13 years. The second, a 1-year-old child without cardiomyopathy or congenital heart diseases, developed a high-rate atrial fibrillation, requiring treatment with digoxin. The association of DCM with CFTD has also been reported in two Japanese patients [25, 26]. However, a defined geno-phenotype correlation has not been established in these cases. LVNC has been reported in patients with different types of NMDs, including dystrophinopathy, laminopathy, zaspopathy, myotonic dystrophy, Barth syndrome, Friedreich ataxia, Charcot-Marie-Tooth disease, and metabolic and mitochondrial disorders [27, 28].
Nevertheless, considering the rarity of these pathological conditions, which are caused by a premature arrest of skeletal and cardiac muscle development, the hypothesis of a common pathogenesis is intriguing.
Our data suggest that rather than the action of a single gene, a synergic effect of homozygous mutations in two genes, i.e., myosin heavy chain 7B (MYH7B) and integrin alpha 7 (ITGA7), underlies the phenotype observed in the proband (V-4). Both genes are crucial for the physiological development of skeletal and cardiac muscles. However, a single-gene mutation responsible for both DCM/LVNC and CFTD in other patients cannot be conclusively ruled out.
Myosin, the molecular motor responsible for muscle contraction, exists in multiple forms, which dictate muscle properties, such as shortening velocity and contractile force. The majority of MYH genes known to be present in mammals are associated in two highly conserved gene clusters [29, 30]. MYH6 and MYH7 are two tandemly arrayed genes located on human chromosome 14, which code for the cardiac myosins, α- and β-MYH; β-MYH is also expressed in slow skeletal muscles. Another gene cluster, located on human chromosome 17, codes for the six skeletal myosins, including the adult fast 2A-, 2X- and 2B-MYH, the developmental embryonic and neonatal/perinatal isoforms, and MYH13, an isoform expressed specifically in extraocular muscles. Three additional genes coding for sarcomeric MYHs, i.e., MYH7B, MYH15 and MYH16, have been discovered recently. We showed that MYH7B is expressed in the adult human heart and muscle; moreover, Warkman and coworkers recently determined that MYH7B is expressed in the myocardium [31]. Developmental analysis showed Myh7b expression in cardiac and skeletal muscles of Xenopus, chick and mouse embryos and in smooth muscle tissues during the later stages of mouse embryogenesis [31]. Heterozygous mutations in eight sarcomere proteins (MYH7, ACTC1, TNNT2, TNNI3, MYL2, MYL3, MYBPC3 and TPM1) have been identified in a significant proportion of patients with LVNC in adults and children [14–16, 32, 33]. Approximately 20% of LVNC patients carried a mutation in MYH7, which was the most prevalent LVNC disease gene; missense mutations were the most prevalent types of mutations in all sarcomere proteins analyzed [16, 32]. LVNC is characterized by a trabecular meshwork and deep intertrabecular myocardial recesses communicating with the left ventricular (LV) cavity [18]. Clinical features range from a non-penetrant disease in adult carriers to heart failure, arrhythmia and thromboembolism [34, 35]. The penetrance of a mutation is defined as the percentage of mutation carriers expressing a phenotype, and most autosomal-dominant cardiomyopathies are characterized by incomplete penetrance or more age-related penetrance [36]. There is also variable expressivity in cardiomyopathies, and there can even be large differences among relatives of the same family (intrafamilial variability) who carry the same mutation. In our family, high phenotypic variability and reduced penetrance were observed.
This is the first indication that a mutation in the MYH7B gene causes LVNC cardiomyopathy. We demonstrated that the arginine at position 890 of the MYH7B gene is highly conserved in all species; this region is also conserved in the MYH7 gene, which, when mutated, causes LVNC. These data further support the concept that sarcomere genes are associated with LVNC.
Integrin α7β1 is a specific cellular receptor for the basement membrane protein laminin-1 and for the laminin isoforms −2 and −4 [37, 38]. The α7 subunit is expressed mainly in skeletal and cardiac muscles and has been suggested to be involved in differentiation and migration processes during myogenesis [39–41].
Mice homozygous for a null allele of the Itga7 gene are viable and fertile, indicating that the α7β1 integrin is not essential for myogenesis. However, a histological analysis of skeletal muscle revealed typical symptoms of a progressive muscular dystrophy starting soon after birth, but with a distinct variability in different muscle types [42]. The knock-down of zebrafish Itga7 results in muscle fiber detachments similar to those observed in lama2 and lama4-deficient embryos [43]. The human deficiency in integrin α7 causes a mild disorder that is best characterized as congenital myopathy. Three patients with mutations in the ITGA7 gene have been described. One patient had splice mutations on both alleles: one mutation caused a 21-bp insertion in the conserved cysteine-rich region, and the other caused a 98-bp deletion. A second patient was a compound heterozygote for the same 98-bp deletion and had a 1-bp frame-shift deletion in the other allele. The third patient showed a marked deficiency in the ITGA7 mRNA, but no mutations in the coding region were described. In muscle biopsies, patients 1 and 3 showed a poorly defined congenital myopathy, which was associated with mental retardation in patient 1. Patient 2 presented a clinical and pathological picture typical of muscular dystrophy, with substantial fatty acid replacement and fiber size variation (MIM 613204) [44].
Our proband (V-4) harbored a homozygous missense mutation in a highly conserved region of the protein. The typical pattern of CFTD was observed in the muscle biopsy, characterized by the predominance of type 1 fibers with smaller calibers than type 2 fibers, with no evidence of either congenital muscular dystrophy or muscular dystrophy. Clinically, she had no symptoms of a delay in mental development, which occurs only in a few cases of CFTD. Our proband and the above-mentioned cases, showing muscle disorders present from birth, all support the important role of ITGA7 in myogenesis. The differences in their phenotypes may be related to their diverse patterns of gene mutation.
Conclusions
This study identifies two novel disease genes. Mutation in MYH7B causes a classical LVNC phenotype, whereas mutation in ITGA7 causes CFTD. The synergic effect of these two mutations causes the severe phenotype observed in the proband. This study provides new insights into the genetics of cardiomyopathy and congenital myopathy.
Declarations
Acknowledgements
We thank the participating patients and their families. We are grateful to G. Franzese and G. Panella for technical support.
Authors' Affiliations
(1)
Institute of Genetics and Biophysics "Adriano Buzzati-Traverso", National Research Council of Italy, Naples, Italy
(2)
Department of Medical Sciences, Surgery, Neurological, Metabolic and Aging, Second University of Naples, Naples, Italy
(3)
Department of Cardiological Sciences, Second University of Naples, Naples, Italy
(4)
Department of Neuro-sciences, "Santobono-Pausilipon" Hospital, Naples, Italy
Copyright
© Esposito et al.; licensee BioMed Central Ltd. 2013
This article is published under license to BioMed Central Ltd. This is an Open Access article distributed under the terms of the Creative Commons Attribution License (http://creativecommons.org/licenses/by/2.0), which permits unrestricted use, distribution, and reproduction in any medium, provided the original work is properly cited.