Hereditary sensory and autonomic neuropathies: types II, III, and IV
Orphanet Journal of Rare Diseases
2007
2:39
Received: 05 March 2007
Accepted: 03 October 2007
Published: 03 October 2007
Abstract
The hereditary sensory and autonomic neuropathies (HSAN) encompass a number of inherited disorders that are associated with sensory dysfunction (depressed reflexes, altered pain and temperature perception) and varying degrees of autonomic dysfunction (gastroesophageal reflux, postural hypotention, excessive sweating). Subsequent to the numerical classification of four distinct forms of HSAN that was proposed by Dyck and Ohta, additional entities continue to be described, so that identification and classification are ongoing. As a group, the HSAN are rare diseases that affect both sexes. HSAN III is almost exclusive to individuals of Eastern European Jewish extraction, with incidence of 1 per 3600 live births. Several hundred cases with HSAN IV have been reported. The worldwide prevalence of HSAN type II is very low. This review focuses on the description of three of the disorders, HSAN II through IV, that are characterized by autosomal recessive inheritance and onset at birth. These three forms of HSAN have been the most intensively studied, especially familial dysautonomia (Riley-Day syndrome or HSAN III), which is often used as a prototype for comparison to the other HSAN. Each HSAN disorder is likely caused by different genetic errors that affect specific aspects of small fiber neurodevelopment, which result in variable phenotypic expression. As genetic tests are routinely used for diagnostic confirmation of HSAN III only, other means of differentiating between the disorders is necessary. Diagnosis is based on the clinical features, the degree of both sensory and autonomic dysfunction, and biochemical evaluations, with pathologic examinations serving to further confirm differences. Treatments for all these disorders are supportive.
Keywords
Autonomic Dysfunction
Midodrine
Familial Dysautonomia
Supine Hypertension
Anhidrosis
Background
Although genetic disorders affecting the sensory and autonomic nervous systems are rare, their existence provides a means of furthering our knowledge regarding a very complex part of the nervous system. The close relationship between development and survival of the sensory and autonomic nervous system is especially well illustrated in the diversity of a group of genetic disorders known as Hereditary Sensory and Autonomic Neuropathies (HSAN) [1].
Classification of the various sensory disorders is unsettled and ongoing. In addition to the four numerical subtypes proposed by Dyck and Ohta [
2
], additional entities have been described [
1
,
3
] and there is semantic controversy. For example, familial dysautonomia (FD), originally the Riley Day syndrome [
4
], is also referred to as HSAN III and hereditary sensory neuropathy with anhidrosis is also referred to congenital insensitivity to pain with anhidrosis (CIPA) or HSAN IV (Table
1
). Each HSAN disorder is likely caused by different genetic errors that affect specific aspects of small fiber neurodevelopment, which result in variable phenotypic expression. Because genetic tests are not available for all of the HSAN disorders, other means of differentiating between the disorders is necessary. Although specific neuropathological features have been described for some of the disorders, obtainment of neurological tissue is invasive and not always feasible. Thus clinical examinations with careful assessment of sensory and autonomic functions are preferable.
Table 1
Genetics of Hereditary Sensory and Autonomic Neuropathies (HSAN)
| Nomenclature | * HSAN type | Transmission | Chromosomal location | Gene |
| --- | --- | --- | --- | --- |
| Hereditary sensory radicular neuropathy | I | AD | 9q22.1-22.3 | SPTLC1 |
| Congenital sensory neuropathy (CSN) | II | AR | 12p13.33 | HSN2 (?) |
| Familial dysautonomia (FD)/Riley Day | III | AR | 9q31 | IKBKAP |
| Congenital insensitivity to pain with anhidrosis (CIPA) | IV | AR | 1q21-22 | NTRK1 (TRKA) |
| Congenital insensitivity to pain with partial anhidrosis | V | NK | NK | NTRK1 |
| Congenital autonomic dysfunction with universal pain loss (CAD) | | NK | NK | |
| Progressive panneuropathy | | NK | NK | |
The genes have been cloned for HSAN types III and IV and autosomal recessive inheritance demonstrated. For type HSAN type II, new information is available suggesting that this disorder has a similar autosomal recessive inheritance. Penetrance is always complete in all three types but disease expression is variable. The impediment to neuronal development starts
in utero
, and thus clinical features such as poor suck, hypotonia, and temperature instability are usually present in the neonatal period. Furthermore, the lack of an axon flare in response to intradermal histamine is so universal and consistent in patients with HSAN II, III, and IV that it is considered one of the clinical diagnostic criteria. Nonetheless, diagnosis may be delayed in some individuals to late infancy or early childhood when injuries, enteric dysfunction, or delayed milestones become evident. Although the development of the unmyelinated neuronal population is impeded in all three HSAN types, the degree of involvement will vary with the particular HSAN type. Accordingly, pain and temperature perception and autonomic dysfunction will vary and also affect age of diagnosis and presentation (Table
2
).
Table 2
Major clinical features of HSAN II, HSAN III, and HSAN IV
| Clinical features | HSAN type II | HSAN type III | HSAN type IV |
| --- | --- | --- | --- |
| Onset | Birth | Birth | Birth |
| Initial symptoms (From birth to age 3 years) | Swallowing problems | Swallowing problems | Fevers |
| | Self mutilation (65%) | Aspiration pneumonia | Self mutilation (88%) |
| | Delayed development | Breech presentation (37%) | |
| | | Hypothermia | |
| | | Delayed development | |
| Unique features | No axon flare | No axon flare | No axon flare |
| | Lack of fungiform papilla | Lack of fungiform papilla | Anhydrosis |
| | Hearing loss (30%) | Alacrima | Consanguinity 50% |
| Sensory dysfunction | | | |
|    Depressed DTR | Frequent (71%) | Almost consistent (99%) | Infrequent (9%) |
|    Pain perception | Absent | Mild to moderate decrease | Absent |
|    Temperature perception | Severe decrease | Mild to moderate decrease | Absent |
|    Vibration sense | Normal | Normal | Normal to moderate decrease |
| Autonomic | | | |
|    Gastroesophageal Reflux | Frequent (71%) | Frequent (67%) | Uncommon (24%) |
|    Postural hypotension | Uncommon (25%) | Almost consistent (99%) | Uncommon (29%) |
|    Episodic hypertension | Rare | Frequent | Rare |
| Ectodermal features | | | |
|    Dry Skin | No | No | Consistent |
|    Fractures | 29% | 40% | 71% |
|    Scoliosis | 59% | 85% | 23% |
| Intelligence | | | |
|    IQ < 65 | Common (38%) | Uncommon (10%) | Common (33%) |
|    Hyperactivity | Common (41%) | Uncommon | Common (54%) |
This review discusses diagnosis, neuropathology, and clinical expression of the HSAN disorders in general, as well as the specific characteristics that help differentiate the three most common disorders, HSAN II through IV, as they have been the most intensively studied.
Genetics
With the exception of hereditary sensory radicular neuropathy (HSAN I), which presents in the second decade and is transmitted as a dominant disorder, the other HSAN are present at birth and are transmitted as autosomal recessive disorders (Table 1). HSAN I has been associated with a mutation in the SPTLC1 gene which encodes for serine palmitoyltransferase – the rate limiting enzyme for the synthesis of the sphingolipids, ceramide and sphingomyelin. [5, 6]. Other HSAN with specific genetic mutations are HSAN III (FD) and HSAN IV (CIPA), which are transmitted as autosomal recessive disorders.
FD is almost exclusive to individuals of Eastern European Jewish extraction [7–9]. In this population the carrier rate is estimated as approximately 1 in 30 with a disease incidence of 1 per 3600 live births [10]. In 1993 the FD gene was localized to the long arm of chromosome 9 (9q31) [11]. In 2001 the gene was cloned. A single point mutation was identified on the IKBKAP gene and greater than 99% of affected individuals are homozygous for this common mutation that occurs within intron 20. The result is tissue-specific mis-splicing which results in decreased amounts of normal transcript, especially in neuronal tissue. Therefore, there is a predicted lack of expression of the normal protein product, IKAP [7, 8].
IKAP is a subunit of the highly conserved complex Elongator, which is involved in transcriptional elongation. Recently, RNA interference studies have shown that depletion of IKAP, and thus Elongator, results in reduced transcriptional elongation of several target genes via histone H3 hypoacetylation. A subset of these target genes are required for cell motility, and FD patient cells were shown to be defective in cell migration assays, suggesting that defective cellular motility may underlie the developmental neuropathology of FD. Furthermore, studies in yeast suggest that the Elongator complex is involved in exocytosis and tRNA modification and studies in mammalian cells implicate IKAP as a scaffold protein involved in cytoplasmic JNK activation in response to extracellular stress. IKAP's role in these processes, and how they relate to the FD phenotype, is not yet understood.
Two other missense mutations that cause FD have been reported. One mutation, in exon 19, was noted in four unrelated Jewish patients heterozygous for the major splice mutation [7, 8]; the second mutation, in exon 26, was reported in a single patient who was also heterozygous for the major splice mutation but inherited the new mutation from a non-Jewish parent [9]. FD is the only HSAN for which genetic testing is commercially available.
HSAN IV is caused by mutations in the NTRK1 (TRKA) gene that is located on chromosome 1 (1q21-q22). This gene encodes for neurotrophic tyrosine kinase receptor type 1 that is autophosphorylated in response to NGF (nerve growth factor) [12]. As a result of loss of function mutations, signal transduction at the NGF receptor is impeded and NGF dependent neurons, the small sensory and sympathetic neurons, fail to survive. There does not seem to be a particular ethnic distribution for this recessive disorder but onehalf of reported cases have occurred in consanguineous marriages [1, 12, 13]. As many mutations have been described, commercial molecular genetic diagnostic testing is not yet feasible.
Specific genetic mutations have not been identified for the other HSAN disorders, although there is some evidence that a mutation in the NTRK1 gene also may be responsible for HSAN V [14].
The other HSANs including HSAN II, are presumed to be autosomal recessive disorders or de novo dominant mutations. In each of the disorders, other siblings but not parents have been affected. None of the disorders has a sex preference or particular ethnic distribution.
Clinical features, diagnosis and treatment
For each of the HSAN disorders, penetrance is complete but there can be marked variability in expression. Diagnosis is based upon clinical features as well as the degree of both sensory and autonomic dysfunction. In order to differentiate between the HSAN, quantitative assessment of function as well as identification of particular clinical characteristics is required. Unique to all HSAN, is lack of a normal axon flare in response to intradermal histamine phosphate (Figure
1
). As can been seen in Figure
1
, when a quantity of 0.1 ml of histamine is injected intradermally using a fine needle and tuberculin syringe (concentration = 0.275 mg histamine phosphate/ml) in a normal subject, the result is a bright red histamine flare due to capillary vasodilatation within five minutes. This normal effect is due to axon reflex within dermal nerves. Because the normal axon flare response depends on activation of unmyelinated C-fibers, in some mild cases of HSAN II patients who have largely preserved C-fibers or some HSAN V patients who have little reduction of C-fibers, the histamine test may be normal. However, there are other features that assist in distinguishing the disorders (Table
2
).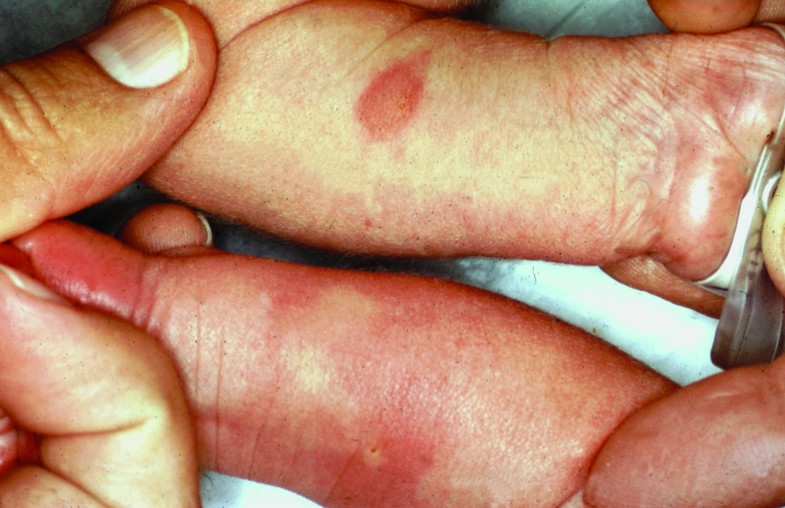 Congenital sensory neuropathy (HSAN II)
Clinical presentation
HSAN II presents in infancy or early childhood and is nonprogressive. It is characterized by profound and universal sensory loss and marked hypotonia. HSAN II occurs sporadically or with autosomal recessive inheritance. There is no sex preference or particular ethnic preponderance, and to date there is no increased incidence of consanguinity.
Although the disorder is associated with profound sensory loss involving large and small fiber modalities, the earliest problems are caused by autonomic dysfunction [1–3, 15–17]. The neonatal course is characterized by severe feeding problems and frequent apnea [15–17]. Gastroesophageal reflux occurs commonly. Other autonomic disturbances, such as erythematous blotching of the skin and postural hypotension, have not been observed. Episodic hyperhydrosis as well as patchy areas of anhidrosis can occur in the same patient. Overflow tearing is frequently delayed but is eventually normal. Pupils have an exaggerated response to parasympathomimetic agents.
All peripheral sensations are affected but distribution of somatic involvement may vary. Pain, temperature, and position senses are involved. Trophic changes are present in the upper and lower extremities. At one time, HSAN II was termed 'Morvan's disease' (after the physician who first described the disease and the occurrence of 'painless whitlows' or acrodystrophic neuropathy [18, 19]. HSAN II is associated with frequent occurrence of unrecognized injuries and fractures of hands, feet, and limbs, as well as Charcot joints [1, 17, 19].
Selfmutilation may begin as early as four months of age and is usually associated with eruption of primary dentition [20]. Taste sensation is diminished and lingual fungiform papillae are hypotrophic. Corneal and gag reflexes may be diminished. Deep tendon reflexes are attenuated and hypotonia is common which delays attainment of developmental milestones and may contribute to scoliosis. Despite the marked sensory abnormalities, other aspects of the neurological examination may be normal including mental function, cranial nerves, cerebellar and motor functions. Although the tendon reflexes are decreased or absent, there is no muscle atrophy or muscle weakness.
Pathology
Sural nerve biopsy reveals a marked reduction in nerve size and depletion of large and small myelinated fibers but only a slightly decreased number of unmyelinated fibers [16, 19]. No cutaneous sensory receptors or nerve fibers are seen but catecholaminergic sympathetic fibers can be demonstrated by aldehydeinduced fluorescence [19].
Diagnosis
As there is no DNA molecular testing available, diagnosis is based on documenting profound peripheral sensory involvement of both peripheral and cranial nerves, which includes an absent axon flare after intradermal histamine. Clinical identification is made by the finding of a mutilating acropathy with a severe, distally pronounced impairment of all sensory qualities that includes light touch sensation, position sense and vibratory perception, as well as pain and temperature perception. Supportive evidence includes selfmutilation, hypotonia and delayed milestones, and normal somatic growth.
The neurophysiological evaluation shows abnormal vibratory thresholds, and quantitative sensory testing may also reveal elevated thermal thresholds at the hands and feet [16]. Typically, nerve conduction studies confirm severe impairment of sensory nerve conduction velocities and absent sensory nerve action potentials, but motor nerve conduction velocities are at or slightly below the normal limit and compound motor action potentials may only have slightly reduced amplitudes [16, 19]. According to Dyck, the electromyogram (EMG) shows minimal fibrillations and a rarified pattern with maximal volitional innervation as well as an increased number of polyphasic motor action unit potentials [16]. Electroencephalographic (EEG) studies are normal, but auditory evoked potentials indicate immature pathways.
Management
Management is symptomatic and preventative. If feeding problems compromise nutrition and if gastroesophageal reflux is also present, fundoplication with gastrostomy is recommended. Sleep pneumograms can determine if there is central apnea and if respiratory support is needed. Parents and patients education is required to learn how to avoid injury and to be alert for signs of unrecognized trauma.
Familial dysautonomia (FD, HSAN III, or Riley-Day syndrome)
Congenital insensitivity to pain with anhidrosis (CIPA; HSAN IV)
Clinical Presentation
HSAN IV is the second most common HSAN and like the other recessively transmitted HSAN onset is in infancy [1–3]. Several hundreds cases of HSAN IV have been published. What distinguishes HSAN IV is the extensive involvement of ectodermal structures including skin, bone and nervous system, especially absent or markedly decreased sweating, the cardinal feature of the disorder.
HSAN type IV is characterized by anhidrosis, absent or markedly decreased sweating [1–3, 12, 13, 55–58]. It is the anhidrosis that causes episodic fevers and extreme hyperpyrexia that is usually the earliest sign of the disorder and can cause recurrent febrile convulsions secondary to high environmental temperature [1, 12]. The anhidrosis is probably secondary to impaired thoracolumbar sympathetic outflow. It is present on the trunk and upper extremities in 100% of cases, whereas other areas of the body are variably affected. It causes the skin to become thick and callused with lichenification of palms, dystrophic nails, and areas of hypotrichosis on the scalp [12, 13, 56, 57].
Like FD, HSAN IV is associated with decreased sensation and autonomic dysfunction. It may be confused with FD in the neonatal period but the differences become much clearer with time as the characteristic anhidrosis causes cutaneous changes and the sensory insensitivity is much more profound resulting in self-mutilation, auto-amputation, and corneal scarring [
1
,
3
,
12
,
56
,
57
]. Although there is no immunological problem, individuals with HSAN IV have definite problems in healing of ectodermal structures – skin and bone. Fractures are slow to heal and large weight bearing joints appear particularly susceptible to repeated trauma and frequently go on to the development of Charcot joints and osteomyelitis (Figure
5
). Speech is usually clear. Although hypotonia and delayed developmental milestones are frequent in the early years, strength and tone normalize with age. However, there can be severe learning problems. Hyperactivity and emotional lability are common [
1
,
3
,
12
,
56
].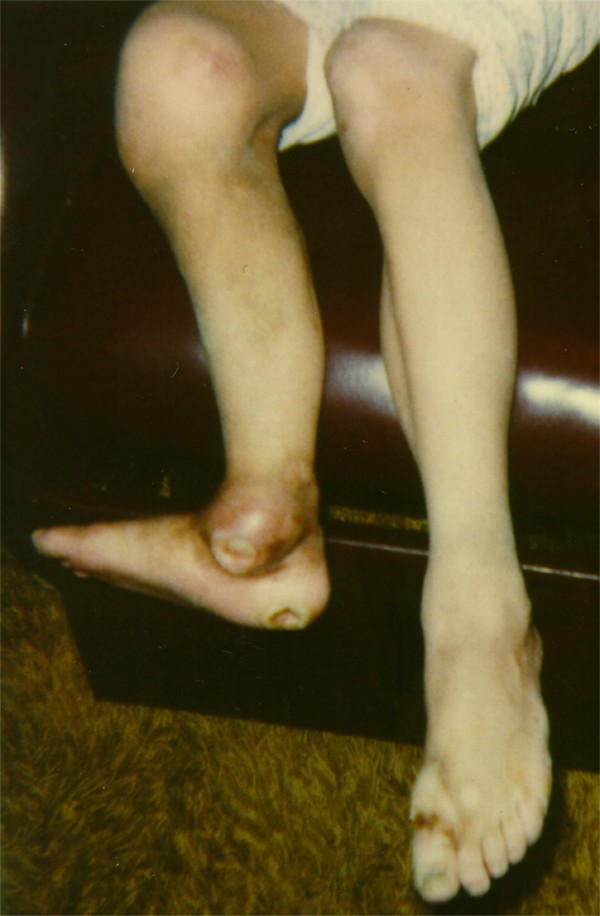 Other than the characteristic anhidrosis, other autonomic perturbations are mild to absent. Although patients exhibit myosis with dilute intraocular mecholyl, emotional tearing is normal [1, 3]. Postural hypotension with compensatory tachycardia may be present but not episodic hypertension suggesting that the blood pressure problems are secondary to disuse atrophy rather than sympathetic dysfunction. There is none to minimal gastrointestinal dysmotility; vomiting is not a feature of the disease and cyclical crises do not occur. Insensitivity to hypoxia and hypercapnia has not been noted. However, patients may have a heightened sympathetic response, as erythematous blotching of the skin with excitement has been seen in younger patients. Acrocyanosis is notably lacking. Gastrointestinal dysmotility is infrequent; vomiting is not a feature of the disease and cyclical crises do not occur [1, 3]. Insensitivity to hypoxia and hypercapnia has not been noted.
Pathology
Neuropathological studies have demonstrated decreased neuronal populations. Sural nerve biopsies show myelinated nerve fibers are present but unmyelinated fibers are absent [2]. Skin biopsy morphology of HSAN IV patients reveals deficient C and Aδ fibers in the epidermis and absent or hypoplastic dermal sweat glands without innervation [59–62].
Although sweat glands can be demonstrated in skin biopsies, unmyelinated fibers are not adjacent to sweat glands [2, 59–62]. The lack of sweat gland innervation accounts for the clinical manifestation of severe anhidrosis and the objective absence of sympathetic skin responses (SSR) [63]. Although central neuropathology has not been demonstrated for HSAN type IV, affected individuals have clinical features suggesting central involvement as the patients are frequently exhibit hypotonia and delayed developmental milestones in the early years and there can be severe learning problems, often associated with hyperactivity [1, 12, 58].
Diagnosis
It has been suggested that diagnosis of this disorder requires three clinical criteria, i.e. anhidrosis, decreased pain perception and mental retardation [12]. However, our experience indicates that the degree of expression of the three clinical features, especially intellectual ability, can be extremely varied. In addition to the absence of an axon flare following intradermal histamine, which is common to all the HSAN, clinical diagnosis is primarily based on the fact that HSAN IV is the only HSAN that is associated with widespread anhidrosis. The sensory abnormalities are also profound and widespread. They include cranial nerves and visceral sensation resulting in insensitivity to superficial as well as deep, visceral painful stimuli and in impressive self-mutilation and traumatized joints. Temperature sensation is also decreased or absent but deep tendon reflexes are usually intact. Although there has been gene identification, numerous mutations does not allow simple DNA diagnosis so that it is not routinely used for clinical confirmation of diagnosis [12, 13]. Penetrance is complete, but expression varies widely and may be related to the site of the mutation on the NGF receptor or whether there is genetic homo- or heterozygosity [55].
Management
Medical management is supportive and oriented to control of hyperthermia, prevention of self-mutilation and treatment of orthopedic problems that potentially can cause severe and debilitating deformities. In addition it is also necessary to help families cope with behavior and educational issues. Febrile spikes will respond to use of acetaminophen and/or ibuprofen or direct cooling in a bath or cooling blanket. Diazepam, which is used for FD patients, has not been as effective in CIPA patients; chlorpromazine or chloral hydrate is more effective in relaxing the children and allowing them to cool. Careful daily inspection for unrecognized injury is important. Braces may be required on the ankles to prevent injury to these weight bearing joints. Some children will require smoothing of the teeth or extraction to prevent self-mutilation of the tongue and lips. Irritability, hyperactivity, and susceptibility to rages are seen in about 50% of patients. Chlorpromazine has been helpful as well as behavior modification. The prognosis for independent function depends on the degree of disease expression and the ability to control the secondary clinical problems.
Prognosis and goals
There are a number of hereditary and sensory and autonomic neuropathies (HSAN). Identification and classification of these entities is an ongoing process and will be refined as we become more exact in clinical acumen, definitive autonomic testing, pathological examinations and finally molecular evaluations. As genetic tests for specific diagnosis are developed, genetic counseling will be more specific and we will gain insight as to how to provide more definitive therapies.
Prognosis for the HSAN disorders is improving and they can no longer be considered only as diseases of childhood. With greater understanding of the various disorders and development of treatment programs, increasing numbers of patients are reaching adulthood. The goal is now to help them achieve independent function with minimal physical limitations. As the disorders are so rare, centralization of care increases our ability to diagnose patients accurately, understand the natural progression of the disorders and to recommend appropriate interventions and treatments. We anticipate that further improvement in prognosis will be based on increased understanding of specific gene actions that will lead to definitive therapies.
Declarations
Acknowledgements
The authors are grateful to the families for their cooperation. Written consent for publication was obtained from the patient or their relative.
Authors' Affiliations
(1)
Department of Pediatrics, New York University School of Medicine, New York, USA
(2)
Department of Neurology, New York University School of Medicine, New York, USA
Copyright
© Axelrod and Gold-von Simson; licensee BioMed Central Ltd. 2007
This article is published under license to BioMed Central Ltd. This is an Open Access article distributed under the terms of the Creative Commons Attribution License (http://creativecommons.org/licenses/by/2.0), which permits unrestricted use, distribution, and reproduction in any medium, provided the original work is properly cited.