Letter to the Editor

Open Access
Oral epigallocatechin-3-gallate for treatment of dystrophic epidermolysis bullosa: a multicentre, randomized, crossover, double-blind, placebo-controlled clinical trial
Orphanet Journal of Rare Diseases
2016
11:31
Received: 25 September 2015
Accepted: 16 March 2016
Published: 25 March 2016
Recessive dystrophic epidermolysis bullosa (RDEB) is a rare genodermatosis characterized by skin and mucosal fragility due to mutations in the COL7A1 gene [1]. No curative treatment is available [2]. It has been shown that the level of activation of dermal metalloproteinases (MMP) could modulate the phenotype in RDEB patients [3–5] and that epigallocatechin-3-gallate (EGCG), a green tea extract [6–8], is able to regulate this activity in vitro and ex vivo [9].
We then evaluated the efficacy of oral EGCG to improve skin impairment in RDEB patients in a multicentre, randomized, crossover, double-blind, placebo-controlled clinical trial. The trial was approved by the local ethics committee and was registered in the Clinical Trial Register (NCT00951964). Patients of both sexes, over 2 years of age, with generalized severe or intermediate RDEB, confirmed by immunohistological analysis of skin biopsy, were recruited. Patients received treatment or placebo for 4 months, followed by a 2-month wash-out period and then by the other treatment for 4 months (Fig.
1
). Dosage of EGCG treatment depended on the patient's weight (from 400 to 800 mg a day) (Additional file
1
, Supplementary Methods).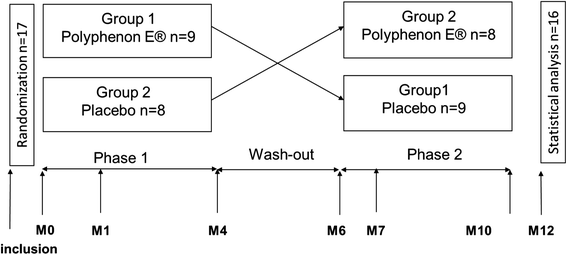 The main outcome was binary: success, defined as a decrease ≥ 20 % in the number of new blisters per day counted by patients at each dressing, upon 7 consecutive dressings before the initial and final visit of each treatment period, or failure of treatment. Secondary outcomes were the affected cutaneous surface area, the severity of mucosal impairment, skin fragility, itch and the mean duration of healing measured on 3 new blisters selected by patients in the first week of each period of treatment (Additional file 2: Table S1). Adverse events were collected by investigators at each visit. Assuming an expected success rate of 30 % in the EGCG group and 5 % in the placebo group, with 80 % power and 5 % type I error, we planned to include 22 patients. The main outcome was analysed in a modified intention to treat (mITT) and per protocol, secondary outcomes in a mITT.
(1)
Reference Centre for Inherited Epidermolysis Bullosa, Archet 2 Hospital, Nice, France
(2)
INSERM, U1081, CNRS, UMR7284, Institute for Research on Cancer and Aging of Nice, University of Nice Sophia Antipolis, Nice, France
(3)
Department of Clinical Research and Innovation, University Hospital of Nice, Nice, France
(4)
Reference Centre of Rare Skin Diseases, MAGEC 5, Saint Louis Hospital, APHP, Paris, France
(5)
Reference Centre of Rare Skin Diseases, Pellegrin Hospital, Bordeaux, France
(6)
Reference Centre of Rare Skin Diseases, Larrey Hospital, Toulouse, France
(7)
Department of Dermatology, Bocage Hospital, Dijon, France
(8)
Reference Centre of Rare Skin Diseases, MAGEC, Necker Hospital, APHP, Institut Imagine, Paris, France
(9)
Université Paris Descartes - Sorbonne Paris Cité, Paris, France