Identification and key management of non-transfusion-dependent thalassaemia patients: not a rare but potentially under-recognised condition
Orphanet Journal of Rare Diseases
2014
9:131
Received: 27 January 2014
Accepted: 5 August 2014
Published: 30 September 2014
Abstract
Patients with non-transfusion-dependent thalassaemia (NTDT) have a genetic defect or combination of defects that affect haemoglobin synthesis, but which is not severe enough to require regular blood transfusions. The carrier frequency of NTDT is high (up to 80% in some parts of the world) but the prevalence of symptomatic patients varies with geography and is estimated to be from 1 in 100,000 to 1 in 100. NTDT has a variable presentation that may include mild to severe anaemia, enlarged spleen and/or liver, skeletal deformities, growth retardation, elevated serum ferritin and iron overload. The contributing factors to disease progression are ineffective erythropoiesis and increased haemolysis, which lead to chronic anaemia. The body's attempts to correct the anaemia result in constantly activated erythropoiesis, leading to marrow expansion and extramedullary haematopoiesis. Diagnosis of NTDT is largely clinical but can be confirmed by genetic sequencing. NTDT must be differentiated from other anaemias including sideroblastic anaemia, paroxysmal nocturnal haemoglobinuria, congenital dyserythropoietic anaemia, myelodysplastic syndromes and iron-deficiency anaemia. Management of NTDT is based on managing symptoms, and includes blood transfusions, hydroxyurea treatment, iron chelation and sometimes splenectomy. Prognosis for well managed patients is good, with most patients living a normal life. Since NTDT is mainly prevalent in sub-tropical regions, patients who present in other parts of the world, in particular the Northern hemisphere, might not been correctly recognised and it can be considered a `rare' condition. It is particularly important to identify and diagnose patients early, thereby preventing complications.
Keywords
Non-transfusion-dependent thalassaemia
Thalassaemia intermedia
HbE disease
HbH disease
Iron chelation
RBC transfusion
Hydroxyurea
Model case study
A 9-year old girl of South East Asian origin undergoes routine medical check-up by her local physician. The parents had noted that the child is lethargic and that she reaches her development milestones slightly late. She is short for her age, although not quite below the fifth percentile line of the growth chart. Clinical examination shows mild scleral icterus, tachycardia with regular rhythm, II/VI flow murmur over the left sternal border and mild hepatosplenomegaly. Laboratory test results (normal values) were as follows: serum ferritin, 321 ng/mL (6-24 ng/mL); iron 155 μg/dL (50-120 μg/dL); haemoglobin (Hb), 8.1 g/dL (11-16 μg/dL); Chem-101 within normal limits; total bilirubin 3.4 mg/dL (0-1.5 mg/dL). The blood smear shows mild microcytic anaemia (mean corpuscular volume [MCV] 64 fL [70- 86 fL], mean corpuscular Hb [MCH] 19.5 pg [28-32 -pg], mean corpuscular Hb concentration [MCHC] 28.5 μg/dL [11.5-13.5 μg/dL], RBC distribution 27.9% [11.5-14.5%]) and reticulocyte count 8%. There is no evidence of inclusion bodies, but the dichlorophenolindophenol (DCIP) precipitate test is positive. Hb electrophoresis test finds HbE 45% with HbF 55%. She is diagnosed with HbE/β-thalassaemia disease and referred to a specialist for long-term management. A haematologist classifies her as having non-transfusion-dependent thalassaemia (NTDT) and recommends intermittent blood transfusions to overcome growth retardation, vigilant observation during periods of infection for the development of acute haemolysis and annual monitoring of body iron levels from age 10 years onwards, with treatment as required.
An introduction to non-transfusion-dependent thalassaemia
Clinical characteristics and common complications of NTDT patients
The clinical characteristics of NTDT patients are associated with the severity of chronic anaemia and all NTDT patients are at risk of developing a wide variety of clinical complications including gallstones, leg ulcers, growth retardation, pulmonary hypertension (PHT), splenomegaly, liver disease and thromboembolic events [
16
],[
17
],[
19
]-[
21
],[
29
],[
34
]. The risks of developing many of these complications are known to increase with age [
16
],[
26
]. Table
2
lists the most common complications and their prevalence in the different types of thalassaemia associated with NTDT. It is important to note that many patients with NTDT may go undiagnosed, and therefore the frequency of the complications listed are more reflective of those patients with moderate-to-severe NTDT phenotypes.
Characteristics and complications

β-thalassaemia intermedia

HbE/β-thalassaemia

α-thalassaemia syndromes‡

Presenting age (years)

Usually >2

Usually >2

Usually >2

Presenting Hb level (g/dL)

7-10

9-12 (mild)

8-11

6 -7 (moderately severe)

HbF(%)

3-50, but can be up to 100

3-50, but can be up to 100

Not raised, but HbH (β4) and Hb Barts (β4) present

HbA2/HbE(%)

>3.5-4

30-40

<2

Jaundice

+

+++

++++

Growth retardation

+

+++

+

Bone and skeletal abnormalities

+

+++

++++

Splenomegaly

++++

++++

++

Leg ulcers

++

+

+

Cholelithiasis

+++

+

++

Acute haemolytic episodes

+

++

+++

Thrombotic events

++

+

+

Extramedullary haematopoiesis

++

+

+

PHT

+++

+

+
β-thalassaemia intermedia
Patients with β-thalassaemia intermedia usually present when they are ≥2 years of age and their Hb level normally lies between 7-10 μg/dL [20]. They are generally considered non-transfusion dependent, but at the more severe end of the spectrum, this may not be the case. Children with Hb levels in the range of 5-6 μg/dL often develop skeletal deformities. Patients with Hb levels in the range of 6-9 μg/dL develop normally, but they are prone to progressive splenomegaly and declining Hb levels later in life, or when physiological stressors such as infection or pregnancy complicate their condition. β-thalassaemia intermedia patients have an increased susceptibility to infections and skeletal changes and they require individualized treatment strategies because their clinical severity lies between β-thalassaemia major and minor [20]. Management of these patients is particularly challenging for clinicians because they can present with a wide variety of complications which can vary in severity. In addition, until recently there were few clear guidelines on treating the underlying disease (the Thalassaemia International Federation guidelines for the management of NTDT were released recently) [42].
HbE/β-thalassaemia
This disease can be classified into three categories on the basis of clinical severity: mild (observed in 15% of patients with this disease in South East Asia); moderately severe (represents the majority of HbE/β-thalassaemia cases); and severe. It is estimated that up to half of all patients with HbE/β-thalassaemia exhibit clinical symptoms resembling those of β-thalassaemia major, while the remainder bear a clinical resemblance to the phenotype of β-thalassaemia intermedia or NTDT [35].
HbH disease
Patients with HbH disease can be classified as having either a non-deletional or a deletional defect of the α-globin genes. Patients with a non-deletional defect generally have lower levels of Hb and higher levels of HbH and inclusion bodies than those who have a deletional defect [36]. Non-deletional HbH is therefore considered a more severe form of the disease than deletional HbH. In addition, patients with non-deletional HbH disease were found to have more symptoms at a younger age, more severe haemolytic anaemia, more growth retardation, more dysmorphic facial features, larger spleens, larger livers, and higher serum ferritin levels [18],[36]. These patients required more transfusions than patients with deletional HbH disease [18]. All patients with HbH disease are prone to infections, leg ulcers and gallstones; and those older than 45 years of age are susceptible to iron overload even if they do not receive regular blood transfusions [6],[18],[36],[43]. HbH and β-thalassaemia syndrome has been recently reviewed and hence we will not discuss in detail here [44].
Making a diagnosis
Identifying NTDT patients
Many of the clinical complications common in NTDT can be prevented by early intervention strategies. A diagnosis of NTDT before the onset of clinical complications is therefore a valuable investment in the future health of patients. In addition, screening families in high frequency areas may well offer clinical value and will allow for prenatal counselling.
Children with NTDT commonly present with symptoms of anaemia, such as pallor, fatigue, dizziness or vertigo, tachycardia and dyspnoea [36]. Children are usually older than two years of age at the time of presentation and those with mild anaemia can present much later [20]. Our case study patient presented with several symptoms of anaemia. Her parents described her as being lethargic, which is a sign of fatigue, and clinical examination revealed pallor (mild scleral icterus) and tachycardia. In addition, this child was nine years of age at the time of presentation, suggesting NTDT rather than β-thalassaemia major.
NTDT patients with moderately severe phenotype can develop a haemolytic crisis during an acute pathogenic infection or high fever. In a relatively small percentage of these patients, this event triggers investigation into the presence of an underlying haemoglobinopathy. The Hb levels of NTDT patients experiencing a haemolytic crisis rapidly decline and as a result they can be mistaken for having TDT and erroneously entered into a management programme of lifelong, regular transfusions. It is therefore advised that once children recover from the underlying factor that initiated a haemolytic crisis, transfusion therapy be interrupted so that appropriate baseline Hb levels can be determined [45]. In our practices, we will follow such cases with monthly complete blood count (CBC) monitoring for at least 6 months to determine their baseline Hb and associated clinical symptoms such as clinical anaemia, fatigue, lethargy, poor feeding, poor weight gain, intercurrent infection, liver and spleen size and development of bone deformities. These parameters will be carefully considered to categorize patients into either TDT or NTDT phenotypes.
The diagnostic work-up
The diagnostic protocol for NTDT uses complete blood cell counts with erythrocyte indices as measured by an automated blood cell counter. Typically, blood analyses of almost all thalassaemias show a reduction in the size and Hb content of mature RBCs, which is evident in a reduced MCV and mean cell MCH [
46
]. Low MCV (<80 fl) and/or MCH (<27 pg) require further investigation by means of electrophoresis, high-pressure liquid chromatography (HPLC) and DNA analysis to identify the thalassaemia type and the genetic defects as shown in Figure
2
[
46
]-[
48
]. If NTDT is suspected, family studies are an important aspect of diagnosis.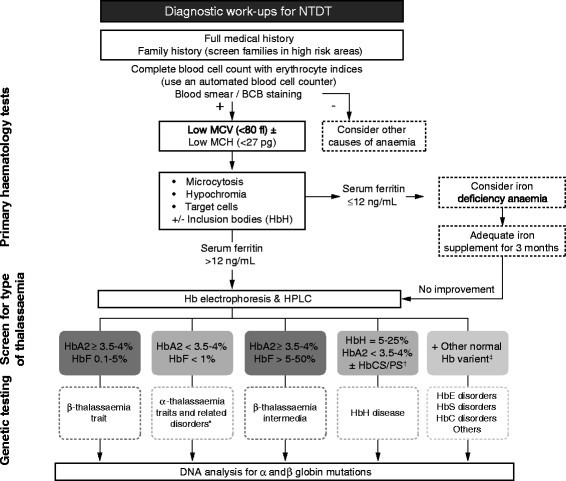 There are inexpensive screening tests available, but they utilize the reduced osmotic fragility characteristic of the RBCs of thalassaemia and therefore do not always distinguish thalassaemia from iron deficiency anaemias. A short period (up to 3 months) of iron supplementation (4-6 mg/kg/day of elemental iron) is recommended in cases with unclear diagnosis. If there is no significant improvement (increased Hb, MCV and MCH values), a further determination for NTDT by Hb and DNA analyses should be pursued. Other causes of anaemia such as sideroblastic anaemia, congenital dyserythropoietic anaemia, paroxysmal nocturnal haemoglobinuria, myelodysplastic syndromes and other anaemias including nutritional anaemias such as megaloblastic anaemia should be considered and differentiated from NTDT patients. Patients with β-thalassaemia usually have elevated HbA
2
(except those with silent β-thalassaemia defects), therefore, combining the results of 1) a test that measures HbA
2
level and 2) the results of a full blood count (MCH and MCV) is an appropriate initial screening test for β-thalassaemia [
4
]. Identification of β-thalassaemia is more complicated and the only fail-safe assessment is DNA analysis, though inclusion bodies visible in the blood smear is an important indicator [
4
],[
49
]. Figure
2
shows an algorithm for diagnosis of α- and β-thalassaemia syndromes associated with NTDT phenotype. However, even though NTDT can be defined by genotype, the diagnosis is mainly clinical and it is based on the severity of the patient's condition [
20
]. Table
3
is a guide to differentiate between TDT and NTDT patients.
Table 3
Differentiation between TDT and NTDT
TDT more likely

NTDT more likely

Clinical

Presentation (years)

<2

>2

Hb levels (g/dL)

6-7

8-10

Liver/spleen enlargement

Severe

Moderate to severe

Growth retardation/pubertal failure*

+++/++++

Negative to ++

Clinical anaemia affecting daily living

Yes

No

Bone deformity/thalassaemic facie

Yes

Negative to mild

Haematologic

Nucleated RBC (mm3)

Numerous

Negative to few

Reticulocytosis

≥10% of RBC

<10% RBC

Molecular

Type of globin defects

Severe

Mild/silent

Co-inheritance of ameliorating genetic modifiers†

No

Yes

Co-inheritance of deteriorating genetic modifiers†

Yes

No
An overview of management strategies in NTDT
Patients with NTDT should be followed by a specialist for long-term management, they should therefore be referred to a haematologist once diagnosed. Long-term therapeutic strategies for NTDT include blood transfusion; hydroxyurea (HU) administration; iron chelation therapy; and splenectomy in cases of severe splenomegaly and/or hypersplenism. Even though specialist haematologists usually manage the long-term therapy of NTDT patients, family physicians should be knowledgeable about the key components of therapy because NTDT patients also seek medical attention for problems that are unrelated to NTDT. The prescription of treatment for medical problems unrelated to NTDT should be done with consideration of the therapeutic strategies that are a part of the long-term management of NTDT.
Early detection of NTDT: the role of the family physician
An algorithm is presented in Figure
3
to outline the role of the family (or primary) physician in identification and management of NTDT patients. Family physicians are usually the first point-of-contact with patients and therefore an understanding of NTDT presentation will help to facilitate quick diagnosis and appropriate referral. Patients with NTDT require specialist care for long-term management, and should therefore be referred to a haematologist or specialist thalassaemia centre (where available) immediately after diagnosis. Even though the patient's treatment will be managed by a specialist, awareness of ongoing NTDT therapy is important when prescribing treatment for non-NTDT related medical problems and encouraging patients to remain compliant with their treatment plan. In addition, the patient or family member might come to the family physician for advice and information about NTDT. A healthy lifestyle should be encouraged and patients should avoid smoking, prolonged immobilization and oral contraceptives. For patients with a history of thrombosis, aspirin might be beneficial. Tea consumption should be encouraged in NTDT patients, as it may have some benefit in decreasing iron absorption from the gut [
42
].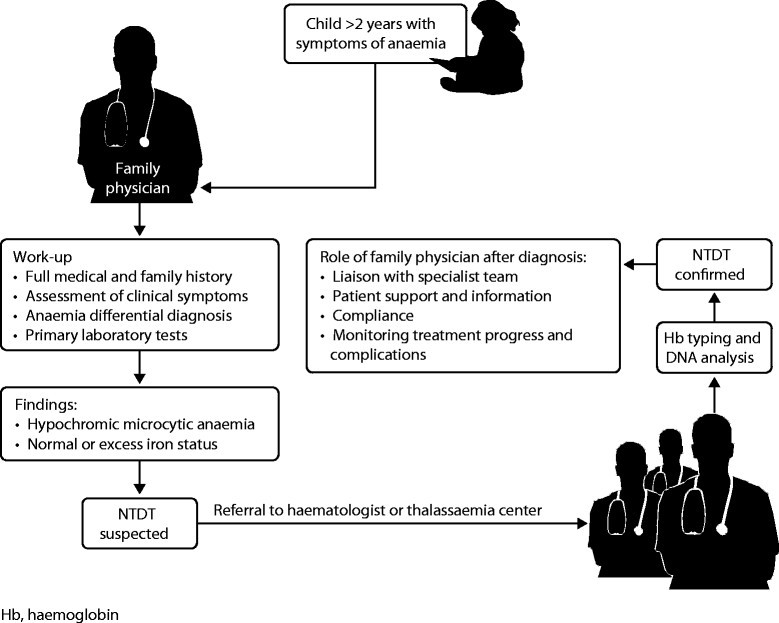 Conclusion
NTDT is a recently introduced term used to describe thalassaemia phenotypes that do not depend on regular blood transfusions for survival and daily function. The case study described at the beginning of our review illustrates how NTDT patients can present in a family medical practice. Patients with NTDT develop unique combination of clinical complications because they suffer from chronic anaemia, ineffective erythropoiesis and increased iron absorption through the GIT. The recent advances in our understanding of the thalassaemia types and the clinical complications associated with NTDT have made it possible to improve the long-term management of these patients. A timely diagnosis of NTDT can considerably improve outcomes, and all patients who present with anaemia should have appropriate laboratory blood analyses, including full blood counts and blood smears. A diagnosis of microcytic hypochromic anaemia requires further investigation by means of Hb analysis by HPLC or electrophoresis. In addition, DNA analysis is necessary to determine the exact thalassaemia disorder, especially for patients with β-thalassaemia syndromes. Patients with NTDT require specialist care for long-term management. Therapeutic approaches can include intermittent blood transfusion, HU administration and iron chelation therapy.
Endnote
1Chem-10 includes: BUN (Blood urea nitrogen); CA (Calcium); Na (Sodium); K (Potassium); Cl (Chloride); CO2 (Bicarbonate); Creatinine; Glucose; Phosphorus; GGT (Gamma-glutamyl transpeptidase).
Abbreviations
CBC:

Complete blood count
CS:

Constant spring
EPO:

Erythropoietin
GIT:

Gastrointestinal tract
Hb:

Haemoglobin
HbPS:

Hb Paksé
HPLC:

High-pressure liquid chromatography
HU:

Hydroxyurea
MCH:

Mean corpuscular haemoglobin
MCHC:

Mean corpuscular haemoglobin concentration
MCV:

Mean corpuscular volume
MRI:

Magnetic resonance imaging
NTDT:

Non-transfusion dependent thalassaemia
PHT:

Pulmonary hypertension
RBC:

Red blood cell
TDT:

Transfusion-dependent thalassaemia
TI:

Beta-thalassaemia intermedia
TM:

Thalassaemia major
Declarations
Acknowledgments
Financial support for medical editorial assistance was provided by Novartis Pharmaceuticals. We thank Holly Gilbert-Jones for medical editorial assistance with this manuscript. The authors are fully responsible for the content and editorial decisions for this manuscript.
Authors' Affiliations
(1)
Department of Pediatrics and Thalassemia Center, Faculty of Medicine, Siriraj Hospital, Mahidol University, Bangkok, Thailand
(2)
Hematology and Oncology, Department of Internal Medicine, American University of Beirut Medical Center, Beirut, Lebanon
Copyright
© Viprakasit et al.; licensee BioMed Central Ltd. 2014
This article is published under license to BioMed Central Ltd. This is an Open Access article distributed under the terms of the Creative Commons Attribution License (http://creativecommons.org/licenses/by/2.0), which permits unrestricted use, distribution, and reproduction in any medium, provided the original work is properly credited. The Creative Commons Public Domain Dedication waiver (http://creativecommons.org/publicdomain/zero/1.0/) applies to the data made available in this article, unless otherwise stated.