Identifying the unmet health needs of patients with congenital hypogonadotropic hypogonadism using a web-based needs assessment: implications for online interventions and peer-to-peer support
Orphanet Journal of Rare Diseases
2014
9:83
Received: 21 March 2014
Accepted: 4 June 2014
Published: 11 June 2014
Abstract
Background
Patients with rare diseases such as congenital hypogonadotropic hypogonadism (CHH) are dispersed, often challenged to find specialized care and face other health disparities. The internet has the potential to reach a wide audience of rare disease patients and can help connect patients and specialists. Therefore, this study aimed to: (i) determine if web-based platforms could be effectively used to conduct an online needs assessment of dispersed CHH patients; (ii) identify the unmet health and informational needs of CHH patients and (iii) assess patient acceptability regarding patient-centered, web-based interventions to bridge shortfalls in care.
Methods
A sequential mixed-methods design was used: first, an online survey was conducted to evaluate health promoting behavior and identify unmet health and informational needs of CHH men. Subsequently, patient focus groups were held to explore specific patient-identified targets for care and to examine the acceptability of possible online interventions. Descriptive statistics and thematic qualitative analyses were used.
Results
105 male participants completed the online survey (mean age 37 ± 11, range 19–66 years) representing a spectrum of patients across a broad socioeconomic range and all but one subject had adequate healthcare literacy. The survey revealed periods of non-adherence to treatment (34/93, 37%) and gaps in healthcare (36/87, 41%) exceeding one year. Patient focus groups identified lasting psychological effects related to feelings of isolation, shame and body-image concerns. Survey respondents were active internet users, nearly all had sought CHH information online (101/105, 96%), and they rated the internet, healthcare providers, and online community as equally important CHH information sources. Focus group participants were overwhelmingly positive regarding online interventions/support with links to reach expert healthcare providers and for peer-to-peer support.
Conclusion
The web-based needs assessment was an effective way to reach dispersed CHH patients. These individuals often have long gaps in care and struggle with the psychosocial sequelae of CHH. They are highly motivated internet users seeking information and tapping into online communities and are receptive to novel web-based interventions addressing their unmet needs.
Keywords
Congenital hypogonadotropic hypogonadism
Kallmann syndrome
Community based participatory research
Internet
E-health
Rare diseases
Health promotion
Patient-centered care
Nursing
Background
Patients affected by rare diseases are dispersed and face a variety of challenges including lack of specialized care, delays in diagnosis, negative social consequences and other psychosocial burdens. The European Organization of Rare Diseases has previously reported a variety of obstacles these patients face [1]. Many of these are critical social determinants of health that place rare disease patients in the realm of health disparities [2]. Further, beyond disease and symptom burden, the rarity of the condition can result in patients and families feeling marginalized. In addition, the psychosocial impact of perceived invisibility, isolation, and feelings of powerlessness can have significant deleterious impact on quality of life [3–5]. One way that patients and families have overcome this is by embracing technology to access information and connect with other patients online [6, 7]. Advances in information technology and communications are creating cultural shifts and are changing how people develop expertise. These trends have important implications for healthcare systems and particular relevance for empowering patients dealing with rare diseases [8].
Congenital hypogonadotropic hypogonadism (CHH, ORPHA174590) is a rare, genetic, endocrine disorder which is clinically characterized by incomplete/absent puberty and infertility as a result of a deficiency of gonadotropin releasing hormone. When it occurs with an absent sense of smell it is termed Kallmann syndrome (KS, ORPHA478). While incidence is difficult to assess, it is estimated at one in 4,000-10,000 based on a study of French conscripts [9]. Additionally, it is 2–5 times less frequent in females than in males though this gender discordance may represent a bias of ascertainment [10, 11]. Most cases are sporadic, consistent with a condition which impairs fertility, yet approximately a third of cases display a familial pattern of inheritance. CHH is clinically heterogeneous and may occur with variable reproductive (e.g. undescended testes with/without micropenis) and non-reproductive phenotypes such as eye/ear anomalies (including sensorineural deafness), cleft lip/palate, skeletal anomalies, osteoporosis, metabolic disturbances and renal agenesis [11].
As with other rare disorders, CHH patients often experience delays in diagnosis. For these individuals, the absent sexual development of CHH becomes increasingly apparent as peers and younger siblings advance through puberty while they remain in a preadolescent state. This experience can have significant emotional and psychological consequences - as depicted in an early case series [12] and reiterated in a recent patient account [13]. Indeed, studies of newly diagnosed adolescent males with CHH indicate higher levels of anxiety and depressive symptoms compared to peers [14, 15]. However, the long-term impact on CHH patients has not been examined. Unlike many other orphan diseases, there are effective treatments available. Hormone replacement therapy can induce development of sexual characteristics and in most cases, fertility [16–18]. Cases of spontaneous reversal has been documented [19], yet patients typically require lifelong therapy. Importantly, normalizing the serum hormone levels does not completely ameliorate the biopsychosocial effects that CHH patients experience. A study of adolescent CHH patients indicated improved mood after 6-months of treatment, yet significant physical and emotional role difficulties persisted compared to healthy peers [14]. These factors may impede adherence to treatment which is a widely-recognized and significant problem in healthcare, particularly in chronic disease, as an estimated 50% find it challenging to meet prescribed regimens regardless of disease, prognosis, or setting [20]. Patients with chronic conditions provide approximately 95% of their care [21] and thus, adherence problems can have important health ramifications. Non-adherence in men with CHH causes hormone levels plummet and patients become hypogonadal, placing them at risk for osteoporosis, anemia and metabolic problems such as insulin resistance [22–27]. A study examining bone health of a cohort of 26 Finnish patients indicated 35% of patients had non-adherence periods exceeding 5 years [28]. So despite the availability of effective treatments, there are seemingly other issues diminishing CHH patients' self-care practices. However, we do not know the extent of problems with adherence among the general population of CHH men nor do we understand patients' perceived barriers to adherence and health promoting behavior.
Therefore, the aim of this study was threefold. First, to examine the utility of web-based platforms for reaching dispersed CHH patients and conducting an online needs assessment. Second, to better define patterns of adherence to treatment and unmet health and informational needs of CHH patients. Third, to identify specific patient-reported targets for care and assess the acceptability of launching patient-centered e-health interventions to enhance self-care and health promoting behavior.
Methods
This study utilized a community based participatory research framework. This approach has previously been put forth as a useful research model for empowering patients and overcoming health inequities [
29
]. As part of a European network focused on CHH (COST Action BM1105 [
30
]), partnerships with online patient community leaders (i.e. moderators of online patient support sites) were developed to contribute to the study design, recruitment, and conduct of the study. We recognized patients as experts and these partners were actively involved in generating ideas as well as providing feedback, comments, and criticism in an iterative process to refine the questions and improve the language and clarity of the survey and focus group questions. This descriptive, multivariate correlational needs assessment study employed a sequential mixed-methods design. This approach (QUANT-Qual) started with an online survey and statistical analysis of the quantitative data (Figure
1
). Subsequently, patient focus groups were conducted and discussions were analyzed using a qualitative data analysis. The intention behind employing this mixed-methods approach was to provide a deeper exploration of the unmet health needs of CHH men than would be possible by either method in isolation.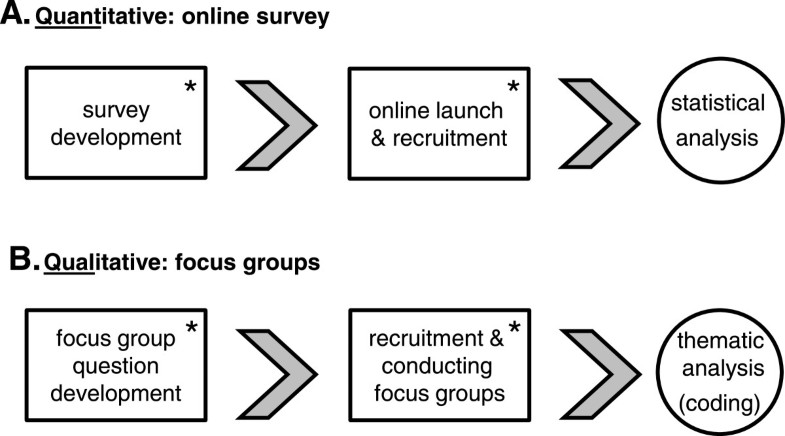 Men were targeted for recruitment as CHH is rare and male cases are 2–5 times more common than female cases [10, 11]. Men 18–70 years of age diagnosed with CHH [31] were included in the study. A random sampling (40% of subjects) were contacted to confirm diagnosis and those outside of the age range or who had other causes of hypogonadism were excluded from analyses. The study was publicized online via a closed/private CHH social media group (Facebook), CHH forum (chat room), a clinical trials registry [32], and the COST Action website [30]. Focus groups were held in concert with patient-support meetings that were planned jointly by patient community leaders and study investigators.
First, the quantitative arm included an online survey to collect demographic information and to assess healthcare literacy, health information seeking patterns, interactions with healthcare system/providers, and self-reported adherence to treatment/healthcare (Additional file 1). To assess healthcare literacy we used a self-report method previously shown to correspond with lengthier gold standard literacy tests [33, 34]. Descriptive statistics, Chi square and Pearson product moment coefficients of correlation were performed on survey results. To evaluate the relative importance of the most frequently used sources of CHH information we performed Kruskall-Wallace one-way analysis of variance on ranks. SigmaStat (Systat Software Inc., San Jose, California, USA) was used for statistical analyses and a p < 0.05 was considered significant.
Second, the qualitative arm involved patient focus groups discussing issues and challenges related to living with CHH, patient-reported coping strategies and the acceptability of possible online interventions. Questions were derived from Pender's Health Promotion Model [35] and developed with input from patient community leaders. Focus group transcripts were analyzed using NVivo10 (QSR International PSY Ltd., Melbourne Australia). Briefly, thematic analysis (coding) was conducted by two separate investigators (AD:DM) to identify categories of responses and themes emerging from the focus group discussions and discrepancies in coding as well as emergent categories were discussed until resolution was achieved. Iterative coding occurred until no further themes are identified, suggesting a saturation point has been reached. Additionally, connections between coded terms were mapped to examine connections within and between categories (i.e. whether or not certain themes appear together repeatedly) and those arising frequently and expansively were given particular emphasis [36].
The study was approved by the University of Lausanne ethics committee and informed consent was obtained from all participants. Participants in the online survey provided an electronic, opt-in format consent while focus group members provided written consent. All participants received investigator contact information to address questions/concerns and were given the option to provide an email address if they agreed to be contacted by the investigators for follow-up clarification.
Conclusions
Patients with CHH often have long gaps in care and struggle with significant psychosocial sequelae that are often unrecognized by the healthcare community. These patients are active internet users who draw on social media and online communities for support and to complement the information received from healthcare professionals. Patients are receptive to online interventions aimed at addressing their unmet needs. Peer-to-peer support can help enhance coping and patients should be encouraged to utilize these online communities. Drawing upon patient expertise and developing partnerships with online patient communities may provide new opportunities for health promotion and improved quality of life for these patients.
Abbreviations
CHH:

Congenital hypogonadotropic hypogonadism
KS:

Kallmann syndrome
COST:

European cooperation in science and technology.
Declarations
Acknowledgements
The authors wish to thank Mr. Neil Smith and the other patient community leaders for their important contributions to this work. We also want to express our deep appreciation to all the participants and Dr. Gerasimos Sykiotis for his constructive comments in drafting the manuscript. This work was supported by the Endocrine Nurses Society and COST Action BM1105.
Authors' Affiliations
(1)
University of Lausanne, Institut universitaire de formation et de recherche en soins and the Endocrinology, Diabetes & Metabolism Service of the Centre Hospitalier Universitaire Vaudois, Lausanne, Switzerland
(2)
University of Newcastle-upon-Tyne, Institute of Genetic Medicine and the Royal Victoria Infirmary, Newcastle-upon-Tyne, UK
(3)
University of Lausanne Institut universitaire de formation et de recherche en soins, Lausanne, Switzerland
(4)
University of Lausanne and the Endocrinology, Diabetes & Metabolism Service of the Centre Hospitalier Universitaire Vaudois, Lausanne, Switzerland
Copyright
© Dwyer et al.; licensee BioMed Central Ltd. 2014
This article is published under license to BioMed Central Ltd. This is an Open Access article distributed under the terms of the Creative Commons Attribution License (http://creativecommons.org/licenses/by/4.0), which permits unrestricted use, distribution, and reproduction in any medium, provided the original work is properly credited. The Creative Commons Public Domain Dedication waiver (http://creativecommons.org/publicdomain/zero/1.0/) applies to the data made available in this article, unless otherwise stated.