Funding innovation for treatment for rare diseases: adopting a cost-based yardstick approach
Orphanet Journal of Rare Diseases
2013
8:180
Received: 27 August 2013
Accepted: 11 November 2013
Published: 16 November 2013
Abstract
Background
Manufacturers justify the high prices for orphan drugs on the basis that the associated R&D costs must be spread over few patients. The proliferation of these drugs in the last three decades, combined with high prices commonly in excess of $100,000 per patient per year are placing a substantial strain on the budgets of drug plans in many countries. Do insurers spend a growing portion of their budgets on small patient populations, or leave vulnerable patients without coverage for valuable treatments? We suggest that a third option is present in the form of a cost-based regulatory mechanism.
Methods
This article explores the use of a cost-based price control mechanism for orphan drugs, adapted from the standard models applied in utilities regulation.
Results and conclusions
A rate-of-return style model, employing yardsticked cost allocations and a modified two-stage rate of return calculation could be effective in setting a new standard for orphan drugs pricing. This type of cost-based pricing would limit the costs faced by insurers while continuing to provide an efficient incentive for new drug development.
Keywords
Price regulation
Orphan drugs
Rate of return
Yardsticking
Background
Orphan drugs – those that treat small populations – are placing a substantial strain on the budgets of drug plans in many countries [1–4]. Prices commonly exceed $100,000 per patient per year and are increasing [5]. While these drugs offer important therapeutic benefits, prices are at a level that private and public insurers are struggling to manage. In many cases, insurers are faced with a deep quandary: how much are they willing to pay to save or extend a life by a few months or years? The reality of budget constraints for public insurance plans limits the amount that can be spent on drugs, orphan or not. The problem is likely to become more acute. Research is increasingly leading to more refined disease classifications so that potential and existing treatments face shrinking patient numbers [6, 7].
The high cost of drug development, relative to total market size, is often cited by pharmaceutical firms to justify the high prices of orphan drugs. Firms argue that drug development costs are similar no matter how rare the disease or condition, but the number of patients for orphan drugs is much smaller, necessitating a high price for the firm to cover its costs. Current literature indicates that production cost and molecular complexity do not play a significant role in orphan drugs pricing; pricing is more directly correlated to rarity (drugs with a smaller patient group have higher costs) and "what the market will bear" [8].
Despite high prices, insurers continue to display some willingness to cover orphan drugs [1, 9]. Given this preference and the fact that orphan drugs are associated with high average costs, the question arises: is there an effective policy to limit the prices faced by drug plans while still providing sufficient incentive to pharmaceutical companies to develop and market orphan drugs?
Without an effective standard on which to evaluate orphan drug prices, current policies are likely contributing to the problem of rising healthcare costs [7]. Other changes to the standard used to evaluate orphan drug pricing have been proposed. Some are modifications of the existing value-based or cost-effectiveness criteria [10–12]. An important analysis by Hughes-Wilson et. al. proposes an evaluation system that would depend on multiple parameters, including rarity, the extent of research undertaken, manufacturing complexity, and disease severity [13]. Our analysis could be seen as an input into a system such as the one they propose, or as offering an alternative.
Cost-effectiveness measures relate the price of a drug to a standardized measure of value, typically a QALY (quality-adjusted life year). Insurers and regulatory authorities commonly employ the "incremental cost-effectiveness ratio" to evaluate the price/coverage decision of new drugs [14]. For a given budget, drugs are ranked according to their cost effectiveness. Drugs with a cost-effectiveness above a specific threshold are then insured. The threshold is set to exhaust the given budget. Facing this system, firms tend to price to the expected threshold, and earn profits based on the differential between the threshold price and their costs of providing the product. Firms with the lowest costs of producing health generally earn higher profits.
Cost-effectiveness measures favor "common" drugs over orphan drugs due to the lower average cost of the former [2]. Realizing this, health and policy officials often make exceptions for orphan drugs; they may add a rarity premium to the cost/benefit measure, or use some other differential standard to justify the higher price of an orphan drug. The current application of these somewhat ad hoc policies are problematic as they do not replace the standard cost-effectiveness measure with any rule that helps to determine how much the insurer should be willing to pay for a given drug [1].
Given the high prices being paid, orphan drug development is becoming more profitable than development of drugs for common diseases [3]. The orphan drug market is currently growing faster than the market for traditional pharmaceuticals: 25.8% vs. 20.1% for the period 2001 to 2010 in the United States [15].
This suggests that the appropriate context in which to discuss orphan drug prices is to focus on a balance between sufficient compensation to firms that develop these drugs and control of the overall insurer budget [2]. Cote and Keating [16] note that many "orphan" drugs are financial blockbusters, and that the high prices justified on the basis of low prevalence become a path to excessive profits. Kanavos and Nicod [17] have proposed that it would be important to have a "benchmark" to determine whether the profitability of some drugs has been "excessive." Our paper makes a start on establishing a basis for creating a benchmark.
Since firms cite higher average costs in justification of higher orphan drugs prices, it seems natural that we consider a cost-based pricing approach. Cost-based pricing has not been seriously investigated as a pharmaceutical pricing solution, yet there is a substantial volume of literature on cost-based pricing in utilities where the model is widely employed [
18
]. The contribution of this paper is to exploit the utilities regulation literature to provide insight into the possibilities for cost-based regulation of orphan drugs prices. Based on comparisons to the regulatory mechanisms used in utilities sectors, we explore the use of a regulatory cost-of-service model modified for use by a government drug insurance plan. This could be implemented as the formal adoption of a cost-based approach in the price negotiation phase of approval. Should an orphan drug fail the cost effectiveness test (which is likely) we propose a cost-based mechanism to determine a "just and reasonable price" for the drug [
19
–
21
]. The prescribed approach is summarized by the flowchart below (Figure
1
).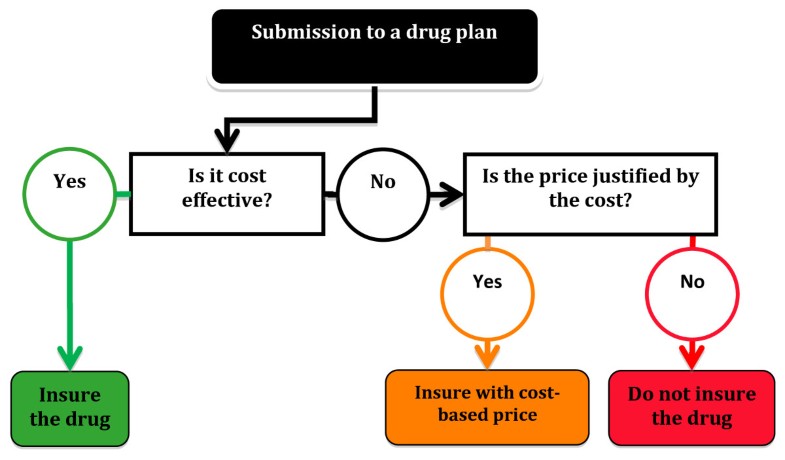 The remainder of this paper is laid out as follows: Section utilities as a model for orphan drugs: comparing cost structures examines similarities in cost structure between utilities and pharmaceutical firms as evidence that utilities regulation can inform orphan drugs pricing decisions. Section economic regulation: a primer with utilities case studies gives an overview of the rationale for economic regulation and describes two relevant models applied in utilities jurisdictions. Section drug price regulation details relevant existing economic interventions in pharmaceutical markets. Section rate of return model for orphan drug price regulation exposits our prescription for a cost-based pricing standard. Section conclusion, concludes.
Conclusion
Current price comparisons and cost-effectiveness measures, while adequate for pricing drugs for common diseases, have proven problematic when applied to orphan drugs. The attempts by firms to argue for high prices based on high average costs, combined with the apparent similarities between cost structures in the utilities sectors and pharmaceutical production shows that a form of cost based regulation should be effective in limiting the prices paid for orphan drugs while still fairly compensating firms.
As such, in cases where the insurer wishes to pay for a drug that does not meet the cost-effectiveness standard, we believe it is worth exploring the use of a rate of return model of regulation with the following modifications,:
1.

The use of deemed rather than directly observed costs in calculating the rate base used under rate of return regulation. Periodic industry-wide hearings would be conducted at fixed intervals to review these deemed costs.

2.

A fixed period of exclusivity for a drug with one or more indications following the precedent set under the U.S. Orphan Drug Act. This exclusivity period would be accompanied by an appropriate depreciation expense in the cost calculations such that the firm recoups its initial investment prior to potential generic competition.

3.

A multi-stage approach for the regulated rate of return, with higher regulated rates of return for costs incurred prior to regulatory approval (reflecting the high risk of pre-approval investments) and a lower rate of return in the period after regulatory approval (reflecting the significantly reduced risk of investment following initial approval).
While the implementation of any such system requires more investigation to resolve specific practical issues, such work is warranted given the success of the rate of return model in application to utilities jurisdictions and the identified issues with extending common pharmaceutical price cap and yardstick methodologies to the case of orphan drugs. It has been suggested that orphan drugs markets could greatly benefit from additional transparency in pricing mechanisms [8]. At the very least, even a loose cost-based regulatory framework resembling the one we outline above should greatly improve transparency and can potentially benefit orphan drugs developers/manufacturers as well as insurers and their patients.
This proposal does not link the "value" of a new drug to its price; instead, price would be, in effect, a function of the rarity of the disease or condition treated. The reason for excluding value is that we are considering drugs with unacceptable cost-effectiveness ratios, and which would be more or less automatically excluded from insurance if the only rule used were cost-effectiveness. Despite this, these drugs are sometimes included in insurance formularies. But if the insurer throws out cost-effectiveness as a tool, what rule is left? Our proposal provides a principled way to determine a reasonable price for orphan drugs that fail cost-effectiveness tests, but offer compelling medical value.
Declarations
Acknowledgements
The authors acknowledge the generous support of the Canadian Institutes of Health Research for this work, through an Emerging Team Grant on "Developing Effective Policies for Managing Technologies for Rare Diseases".
Authors' Affiliations
(1)
Department of Economics, The University of Calgary, Calgary, Canada
Copyright
© Fellows and Hollis; licensee BioMed Central Ltd. 2013
This article is published under license to BioMed Central Ltd. This is an open access article distributed under the terms of the Creative Commons Attribution License (http://creativecommons.org/licenses/by/2.0), which permits unrestricted use, distribution, and reproduction in any medium, provided the original work is properly cited.