X-linked disorders with cerebellar dysgenesis
Orphanet Journal of Rare Diseases
2011
6:24
Received: 2 November 2010
Accepted: 15 May 2011
Published: 15 May 2011
Abstract
X-linked disorders with cerebellar dysgenesis (XLCD) are a genetically heterogeneous and clinically variable group of disorders in which the hallmark is a cerebellar defect (hypoplasia, atrophy or dysplasia) visible on brain imaging, caused by gene mutations or genomic imbalances on the X-chromosome. The neurological features of XLCD include hypotonia, developmental delay, intellectual disability, ataxia and/or other cerebellar signs. Normal cognitive development has also been reported. Cerebellar dysgenesis may be isolated or associated with other brain malformations or multiorgan involvement. There are at least 15 genes on the X-chromosome that have been constantly or occasionally associated with a pathological cerebellar phenotype. 8 XLCD loci have been mapped and several families with X-linked inheritance have been reported. Recently, two recurrent duplication syndromes in Xq28 have been associated with cerebellar hypoplasia. Given the report of several forms of XLCD and the excess of males with ataxia, this group of conditions is probably underestimated and families of patients with neuroradiological and clinical evidence of a cerebellar disorder should be counseled for high risk of X-linked inheritance.
Keywords
Cerebellar Hypoplasia
Congenital Nystagmus
Periventricular Nodular Heterotopia
Molar Tooth Sign
Vermis Hypoplasia
Disease names and synonyms
X-linked Congenital Ataxias
X-Linked Disorders/Syndromes with Cerebellar Dysgenesis
Definition and classification
The term X-linked disorders with cerebellar dysgenesis (XLCD) is used here to describe an emerging group of rare conditions in which the hallmark is a cerebellar defect, visible on neuroimaging, caused by gene mutations or genomic imbalances on the X-chromosome. A classification of this group of rare disorders is still difficult because in most cases the pathogenesis is unknown. The best characterized forms are X-linked syndromes with associated cerebellar hypoplasia due to OPHN1 or CASK gene mutations. In other X-linked disorders like Fragile X, Oral-facial-digital type I or Opitz GBBB syndromes, cerebellar defects are increasingly being recognized.
Epidemiology
The overall incidence of congenital cerebellar malformations is high, 1/4,000-5,000 live births, the contribution of X-linked forms is probably underestimated.
Clinical and molecular description
a. X-linked non-progressive congenital ataxias
Congenital ataxias (CA) were first defined by Batten in 1905 [
1
] as "cases in which ataxia has been noted early in life and in which there is a tendency to gradual improvement". This heterogeneous group of disorders accounts for 10% of non-progressive infantile encephalopathies [
2
]. The first X-linked form was described in a large family of Eastern Russian descent with seven affected males over three generations. All patients had markedly delayed early developmental milestones, cerebellar ataxia, external ophthalmoplegia, pyramidal signs, normal cognitive development and a non-progressive course. Neuroimaging studies revealed marked hypoplasia/atrophy of the cerebellar vermis and hemispheres. Linkage studies mapped the gene to a large genetic interval on Xp11.21-Xq24 with a maximum lod score of 4.66 at DXS1059 [
3
]. A second family was reported with a similar phenotype, the propositus and his maternal uncle manifesting severe hypotonia at birth, psychomotor delay, slow eye movements, non progressive ataxia and normal intelligence [
4
]. Neuroimaging studies revealed global cerebellar hypoplasia/atrophy not evident in the first years of life. Despite the cerebellar changes, the clinical course was non-progressive, as it is expected in this group of ataxias. A genetic interval, partially overlapping with the first reported family, was identified by exclusion mapping. A large family of Norwegian descent with six affected males over three generations with non-progressive X-linked congenital ataxia and normal cognitive development was reported [
5
]. Hypotonia and overall delay of motor development were noted since birth. Nystagmus, dysarthria and trunkal ataxia were present. Neuroimaging studies showed global hypoplasia/atrophy of the cerebellum, predominant in the vermis (Figure
1a-c
) The condition was mapped to a genetic interval of 12 Mb at Xq25-q27.1 with a maximum lod score of 3.44 at DXS1192 not overlapping with the previously identified locus, indicating that there are at least two genes responsible for this rare forms of X-linked congenital ataxia.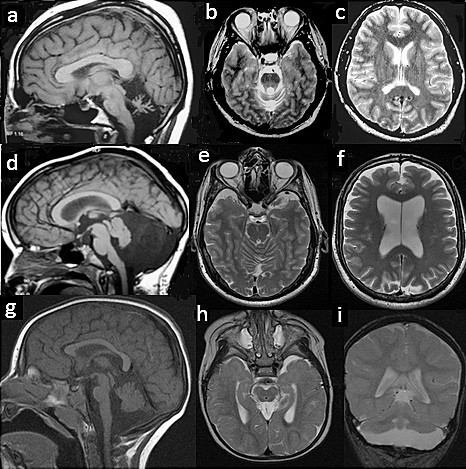 b. X-linked genes/syndromes with cerebellar dysgenesis
c. X-Linked loci/syndromes with cerebellar dysgenesis
A four generation family of Dutch descent with nine affected males presenting with severe cognitive delay, early hypotonia with progression to spasticity and contractures, choreoatetosis, seizures and a long narrow face with coarse features was reported [78]. Brain imaging studies revealed a cystic enlargement of the 4th ventricle with cerebellar hypoplasia and iron accumulation in the basal ganglia with neuroaxonal dystrophy. The disease was mapped to the long arm of the X-chromosome with a maximum lod score of 2.19 at DXS425 in Xq25-q27 [79].
A family of Italian descent has been reported with 7 affected males, two of them showing severe congenital ataxia, generalized hypotonia, psychomotor delay, recurrent bronchopulmonary infections later developing myoclonic encephalopathy and macular degeneration [80]. Serial neuroimaging studies showed cerebellar vermis and corpus callosum hypoplasia, a cyst of the septum pellucidum and persistence of the cavum vergae. The other five affected males in the family had recurrent bronchopneumonia with severe congenital hypotonia and died within the first years of life. Immunologic investigations only showed a reduced level of IgG2 subclass in one sib. The condition was mapped to the short arm of the X-chromosome with a maximum lod score of 2.48 at DXS7099 in Xp22.33-pter [81].
A family with a syndromic form of X-linked mental retardation characterized by absent speech, truncal ataxia, contractures and hypoplasia of the cerebellum and the brainstem revealed at neuroimaging studies was reported. Only one of the affected males developed seizures and showed changes in the basal ganglia suggesting iron deposits. The condition was mapped to Xq23-q24 [82].
A family in which affected males showed congenital cerebellar hypoplasia, microcephaly, short stature, profound developmental delay, blindness, deafness and seizures was described. Death occurred in infancy or early childhood. This syndrome was mapped to Xq24-Xq27 [83].
A family with 7 affected males presenting moderate to severe intellectual impairment and infantile spams was reported. Neuroimaging studies showed cerebellar atrophy or corpus callosum hypoplasia or both, in half of the affected individuals. The condition was mapped to Xp11.4-p22.11 [84].
A family with 3 males in two generations affected with moderate intellectual deficit and prominent glabella, synophris, prognathism, generalized hirsutism and bilateral single palmar creases was described. All patients developed seizures in childhood and two of them showed a progressive gait disturbance and prolonged nerve conduction velocity and hypogammaglobulinemia. Neuroimaging studies in one patient revealed cerebellar atrophy. The disorder was mapped to Xq21.33-Xq23 [85].
Note: The clinical features of other XLCD for which no mapping data are available [86–93] have been reviewed by [5].
Diagnosis
Family history is important to exclude autosomal or other forms of inheritance. In sporadic males or documented X-linked familiar cases, genetic testing, with the possible exception of FMR1, should be performed only in well selected patients with a specific clinical and neuroradiological phenotype as described in each paragraph of the present review. A precise nosological classification and a correlation between the neuroradiological phenotypes (cerebellar hypoplasia, atrophy or dysplasia, brainstem and cerebellar hypoplasia, molar tooth sign) and the genotype is still lacking but will certainly improve as the genetic causes of these conditions are being identified and also thanks to the advancement of neuroimaging techniques (eg. tractography, voxel-based morphometry). On the X-chromosome, a high incidence of causal deletions and microduplications (pathogenic copy number variations) was found, demonstrating that dysregulated expression of tightly regulated genes can disturb normal brain and cognitive development [94]. At least 1/3 of cases with OPHN1 or CASK syndrome were found to be carriers of a chromosomal or subchromosomal abnormality. It is therefore recommended, in patient with a neuroradiologically documented cerebellar disorder, especially when two or more dysmorphic features are present, to perform standard karyotype followed by array-CGH studies.
Genetic counseling and prenatal diagnosis
Given the report of several forms of X-linked cerebellar disorders and the excess of males with ataxia [95, 96], families of children with congenital cerebellar hypoplasia, atrophy or Dandy-Walker malformation with or without intellectual disability, should be counseled for high risk of X-linked inheritance. The identification of the molecular defect in couples at risk, allows early prenatal testing whereas foetal brain neuroimaging may prove uninformative.
Management, differential diagnosis and follow-up
Optimal management of these patients requires a multidisciplinary approach with particular attention to three-generation family history and personal prenatal and post-natal history to exclude infectious, toxic or traumatic etiology. A complete physical examination focused on the presence of minor anomalies, an assessment of multiorgan involvement and the search for associated problems: neurosensorial deficits, seizures, specific learning problems is important because most of these conditions are syndromic. A cognitive and behavioural assessment (Wechsler scales, Vineland) is essential because X-linked cerebellar disorders are frequently associated with mild to severe developmental/cognitive delay. A Metabolic work-up (lactate/pyruvate ratio in blood and spinal fluid, lysosomal enzymes, isoelectrofocusing of transferrin, creatin kinase, very long chain fatty acids, plasma and urinary aminoacids and urinary organic acids chromatography) together with nerve conduction studies should be performed to exclude metabolic or neuromuscular causes (pyruvate dehydrogenase deficiency, X-linked adrenoleukodystrophy, X-linked dystrophinopathies). Neuroimaging studies of the cerebellum with particular attention to the brainstem and cerebral cortex, can be fundamental for the differential diagnosis between different X-linked cerebellar syndromes and other non cerebellar X-linked disorders that can present with ataxic symptoms (e.g Arts syndrome, characterized by ataxia, deafness and neuropathy). A clinical and neuroradiological follow-up is also necessary for the assessment of the natural history of the condition. Rehabilitation strategies should be planned for motor, cognitive and behavioral difficulties and specific manifestations such as visual impairment and seizures.
Acknowledgements
The author is grateful to John M Opitz (University of Utah), Eugen Boltshauser (University of Zuerich) and Jamel Chelly and his research group at the Institut Cochin (UMR8104, Université Paris Descartes) for helpful discussions and advices. This work was supported by a grant from Telethon Italy (projects GGP08145 and 492B) and the Italian Ministry of Health.
Abbreviations
CA:

Congenital ataxia
DWM:

Dandy Walker malformation
XLCD:

X-linked Cerebellar Dysgenesis.
Authors' Affiliations
(1)
Unit of Molecular Medicine, Departement of Neurosciences, Bambino Gesù ediatric Research Hospital, Rome, Italy
Copyright
© Zanni and Bertini; licensee BioMed Central Ltd. 2011
This article is published under license to BioMed Central Ltd. This is an Open Access article distributed under the terms of the Creative Commons Attribution License (http://creativecommons.org/licenses/by/2.0), which permits unrestricted use, distribution, and reproduction in any medium, provided the original work is properly cited.