Guidelines for the diagnosis and management of chylomicron retention disease based on a review of the literature and the experience of two centers
Orphanet Journal of Rare Diseases
2010
5:24
Received: 22 January 2010
Accepted: 29 September 2010
Published: 29 September 2010
Abstract
Familial hypocholesterolemia, namely abetalipoproteinemia, hypobetalipoproteinemia and chylomicron retention disease (CRD), are rare genetic diseases that cause malnutrition, failure to thrive, growth failure and vitamin E deficiency, as well as other complications. Recently, the gene implicated in CRD was identified. The diagnosis is often delayed because symptoms are nonspecific. Treatment and follow-up remain poorly defined.
The aim of this paper is to provide guidelines for the diagnosis, treatment and follow-up of children with CRD based on a literature overview and two pediatric centers 'experience.
The diagnosis is based on a history of chronic diarrhea with fat malabsorption and abnormal lipid profile. Upper endoscopy and histology reveal fat-laden enterocytes whereas vitamin E deficiency is invariably present. Creatine kinase (CK) is usually elevated and hepatic steatosis is common. Genotyping identifies the Sar1b gene mutation.
Treatment should be aimed at preventing potential complications. Vomiting, diarrhea and abdominal distension improve on a low-long chain fat diet. Failure to thrive is one of the most common initial clinical findings. Neurological and ophthalmologic complications in CRD are less severe than in other types of familial hypocholesterolemia. However, the vitamin E deficiency status plays a pivotal role in preventing neurological complications. Essential fatty acid (EFA) deficiency is especially severe early in life. Recently, increased CK levels and cardiomyopathy have been described in addition to muscular manifestations. Poor mineralization and delayed bone maturation do occur. A moderate degree of macrovesicular steatosis is common, but no cases of steatohepatitis cirrhosis.
Besides a low-long chain fat diet made up uniquely of polyunsaturated fatty acids, treatment includes fat-soluble vitamin supplements and large amounts of vitamin E. Despite fat malabsorption and the absence of postprandial chylomicrons, the oral route can prevent neurological complications even though serum levels of vitamin E remain chronically low. Dietary counseling is needed not only to monitor fat intake and improve symptoms, but also to maintain sufficient caloric and EFA intake.
Despite a better understanding of the pathogenesis of CRD, the diagnosis and management of the disease remain a challenge for clinicians. The clinical guidelines proposed will helpfully lead to an earlier diagnosis and the prevention of complications.
Keywords
Celiac Disease
Essential Fatty Acid
Microsomal Triglyceride Transfer Protein
Essential Fatty Acid Deficiency
Digestive Symptom
Background
Chylomicrons, the principal carriers of dietary lipids, are triglyceride (TG)-rich lipoproteins secreted exclusively from the enterocyte. These large lipoproteins (700 to 6000 Å) contain a single molecule of apolipoprotein (apo) B-48, which is essential for chylomicron structure cohesion [1, 2]. Apo B-100 is found within very-low-density lipoproteins (VLDL) secreted by the liver and in low-density lipoprotein (LDL), a catabolic product of VLDL.
Many genetic diseases are responsible for alterations in apo B synthesis, metabolism or secretion abnormalities, causing intestinal fat malabsorption with growth retardation and neuro-ophtalmological complications. Over the last 20 years, genetic abnormalities have been identified for three main disorders classified as familial hypocholesterolemia: hypobetalipoproteinemia (HBL), abetalipoproteinemia (ABL) and chylomicron retention disease (CRD). Figure
1
illustrates the characteristic lipid screening profiles and oral responses to a fat load test in patients and their parents with these disorders.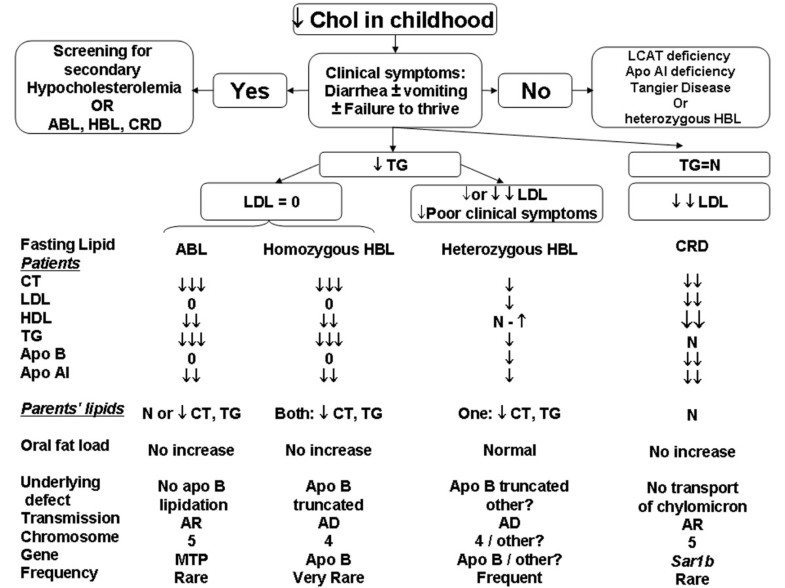 HBL is due to a mutation in the apo B gene on chromosome 2 leading to a shorter apo B molecule (truncated apo B) [3]. The clinical phenotype of this autosomal dominant hypocholesterolemia (Figure 1) is variable, as homozygous patients are indistinguishable from ABL, while heterozygotes show only a very mild phenotype [4].
The genetic abnormality leading to ABL was identified in 1992 [5] and is due to the mutation of the microsomal triglyceride transfer protein gene on chromosome 4 [5–7]. This mutation leads to premature degradation of nascent apo B and then to a drastic decrease in apo B-containing lipoproteins.
Recently, the SAR1B gene was identified as responsible for CRD or Anderson's disease (MIM #607689) [8]. The SAR1B gene encodes the Sar1b protein, which is involved in chylomicron transport from the endoplasmic reticulum (ER) to the Golgi apparatus [9, 10]. In fact, Sar1-GTP forms a coating protein complex (COPII) with two heterodimers Sec23/24 and Sec 13/31, which initiates budding and captures cargo to eject vesicles from the ER to the Golgi apparatus. When Sar1b is muted, the pre-chylomicron transport vesicle delivered by the ER cannot fuse with the Golgi apparatus, which then induces an accumulation of pre-chylomicron transport vesicles in the cytoplasm of the enterocytes [11–14]. Genotyping has revealed that Anderson's and CRD are in fact the same disease [8]. Recently, we described three new mutations in addition to the eight original genetic defects and a few others have been reported [8, 11, 15, 16]. These studies have greatly contributed to a better understanding of CRD for the clinicians who often experience difficulties with the diagnosis and management of CRD patients. First, the diagnosis is often delayed because symptoms are nonspecific (diarrhea, abdominal distension, vomiting, and failure to thrive) and hypocholesterolemia may be attributed to malnutrition secondary to chronic diarrhea. Secondly, follow-up and treatment are poorly defined for many reasons. The similarity with other types of familial hypocholesterolemias may lead to a wrong diagnosis unless molecular testing is performed. Furthermore, CRD is rare: only ~ 40 cases and two small cohorts with seven and eight patients each have been described [17–29]. Very long-term follow-up into adulthood is poorly documented. However, a few authors report some adult cases with serious neurological impairment, albeit less severe than in patients with homozygous ABL or HBL [20, 21, 27–29]. Finally, to our knowledge, there are no specific recommendations for CRD follow-up or treatment. For the most part, therapeutic suggestions have been elaborated based on recommendations for ABL or symptomatic HBL patients. As the pathogenesis of these diseases differs, their manifestations and complications lead to poorer outcomes.
The aim of this paper is to provide an overview of the disease, comment on recent findings obtained from a cohort of 16 patients in whom a molecular diagnosis was made and for whom a median follow-up of five and ten years was available for the Montreal and Lyon cohorts, and make recommendations for the diagnosis and treatment respectively [30].
Conclusions
CRD diagnosis and management remain challenging for clinicians. Significant progress has been made with regard to the pathogenesis of CRD, the relationship between genotype and phenotype and its outcome. Thanks to the experience of two medical centers and a review of the literature, this paper proposes clinical guidelines for the diagnosis, follow-up and treatment of CRD.
The major clinical and biological features of CRD are summarized in Table 2:
In infants under six months the disease presents as chronic malabsorptive diarrhea with malnutrition associated with an altered lipid profile: TGs are normal but both LDL-C and HDL-C are below 50% of normal levels, vitamin E deficiency and elevated CK are associated. In older children: there is in variably a history of chronic diarrhea with stunting of growth and delayed puberty eventually associated with mild neurological impairment and elevated CK. Hypocholesterolemia is also present with the same pattern, but may be overlooked. Chronic mild cytolysis of liver cells with an echographic pattern of steatosis may be an indication for screening. In both situations, endoscopy reveals a white duodenal mucosa by fat-laden enterocytes.
For follow-up (Table 3): During childhood, standard clinical examination and biological evaluations should be performed annually, focusing on nutrition growth, gastrointestinal, liver and neurological manifestations and complications.
In children over the age of ten, neurology and ophthalmology consultations bone densitometry should be obtained every three years. An echocardiogram can be added to those when adulthood is reached.
Abbreviations
Å:

ångström
ABL:

abetalipoproteinemia
Apo:

apolipoprotein
COPII:

coating protein complex type II
CK:

creatine kinase
CRD:

chylomicron retention disease
EFAD:

essential fatty acid deficiency
EFA:

essential fatty acid
HBL:

hypobetalipoproteinemia
HDL:

high-density lipoprotein
LDL:

low-density lipoprotein
TG:

triglycerides
VLDL:

very-low density lipoprotein.
Declarations
Acknowledgements
This study was supported by the Canadian Institutes of Health Research (EL, MOP 10584) and the J.A. de Sève Research Chair in Nutrition (EL). Dr. Peretti's fellowship was supported by a Lavoisier grant from the French Ministry of Foreign Affairs. The authors wish to thank Mrs. Schohraya Spahis for her technical assistance.
Authors' Affiliations
(1)
Department of Nutrition, CHU Sainte-Justine Research Center, Université de Montréal, Montreal, Canada
(2)
Hospices Civils de Lyon, Université Lyon 1; UMR 870, INSERM 8-870, INRA U-1235, Lyon, France
(3)
Department of Nutrition-Hepatogastroenterology, Hôpital Femme Mère Enfant, Bron, Université Lyon 1, Lyon, France
(4)
UF Dyslipidemia Laboratory, Centre de Biologie Est, Biochemistry Laboratory, and Department of Endocrinology, Hôpital Neurologique et Cardiologique, Hospices Civils de Lyon, Lyon, France
(5)
Department of Pediatrics, CHU Sainte-Justine Research Center, Université de Montréal, Montreal, Canada
Copyright
© Peretti et al; licensee BioMed Central Ltd. 2010
This article is published under license to BioMed Central Ltd. This is an Open Access article distributed under the terms of the Creative Commons Attribution License (http://creativecommons.org/licenses/by/2.0), which permits unrestricted use, distribution, and reproduction in any medium, provided the original work is properly cited.