Erythropoietic protoporphyria
Orphanet Journal of Rare Diseases
2009
4:19
Received: 17 April 2008
Accepted: 10 September 2009
Published: 10 September 2009
Abstract
Erythropoietic protoporphyria (EPP) is an inherited disorder of the haem metabolic pathway characterised by accumulation of protoporphyrin in blood, erythrocytes and tissues, and cutaneous manifestations of photosensitivity. EPP has been reported worldwide, with prevalence between 1:75,000 and 1:200,000. It usually manifests in early infancy upon the first sun exposures. EPP is characterised by cutaneous manifestations of acute painful photosensitivity with erythema and oedema, sometimes with petechiae, together with stinging and burning sensations upon exposure to sunlight, without blisters. These episodes have a variable severity depending on the exposure duration and may result in chronic permanent lesions on exposed skin. As protoporphyrin is a lipophilic molecule that is excreted by the liver, EPP patients are at risk of cholelithiasis with obstructive episodes, and chronic liver disease that might evolve to rapid acute liver failure. In most patients, EPP results from a partial deficiency of the last enzyme of the haem biosynthetic pathway, ferrochelatase, EC 4.99.1.1/FECH (encoded by the FECH gene). EPP appears to be inherited as an autosomal dominant disease, the clinical expression of which is modulated by the presence of the hypomorphic FECH IVS3-48C allele trans, but recessive inheritance with two mutated FECH alleles has also been described. In about 2% of patients, overt disease was recently shown to be caused by gain-of-function mutations in the erythroid-specific aminolevulinic acid synthase 2 (ALAS2/ALAS, EC 2.3.1.27) gene and named X-linked dominant protoporphyria. Diagnosis is established by finding increased levels of protoporphyrin in plasma and red blood cells, and detection of a plasma fluorescence peak at 634 nm. Investigations for hepatic involvement, ferrochelatase activity level, genetic analysis (FECH mutations, presence of the hypomorphic FECH IVS3-48C allele trans and ALAS2 mutations) and family studies are advisable. Differential diagnosis includes phototoxic drug reactions, hydroa vacciniforme, solar urticaria, contact dermatitis, angio-oedema and, in some cases, other types of porphyria. Management includes avoidance of exposure to light, reduction of protoporphyrin levels and prevention of progression of possible liver disease to liver failure. As the major risk in EPP patients is liver disease, a regular follow-up of hepatic involvement is essential. Sequential hepatic and bone marrow transplantation should be considered as a suitable treatment for most severe cases of EPP with hepatic involvement. EPP is a lifelong disorder whose prognosis depends on the evolution of the hepatic disease. However, photosensitivity may have a significant impact on quality of life of EPP patients.
Keywords
Porphyria
Ferrochelatase
Photosensitivity Reaction
Acute Porphyria
Haem Biosynthetic Pathway
Disease names and synonyms
Erythropoietic protoporphyria, Protoporphyria, Haem synthetase deficiency, Ferrochelatase deficiency, X-linked dominant protoporphyria (XLDPP), Erythrohepatic protoporphyria (no longer used).
Definition
Erythropoietic protoporphyria (EPP) is a painful photodermatosis without blisters caused by inborn errors of the haem biosynthetic pathway due, in the majority of patients, to a deficient activity of the enzyme ferrochelatase (ferrohaemprotolyase, haem synthetase, ferrohaem-protolyase, EC4.99.1.1, FECH (EPP), (MIM 177000) or caused, in about 2% of patients, by a gain of activity of the erythroid specific aminolevulinic acid synthase 2 (ALAS; EC 2.3.1.27). The latter results in a new protoporphyria named X-linked dominant protoporphyria (XLDPP), (MIM 300752) [1–3].
ALAS is the first enzyme of the haem synthetic pathway, which is synthesised by two different genes:
ALAS1
in the liver and other tissues located on chromosome 3, and
ALAS2
in the erythroid tissue located on chromosome X. The role of ALAS is to combine glycine and succinyl-coenzyme A to form delta aminolevulinic acid (ALA), the first substrate of the pathway in the mitochondrial matrix. FECH is the last of the eight enzymes acting sequentially in the haem biosynthetic pathway and is encoded by
FECH
gene on chromosome 18. The role of FECH is to catalyse the insertion of iron into protoporphyrin ring to generate the final product, haem (Fig
1
).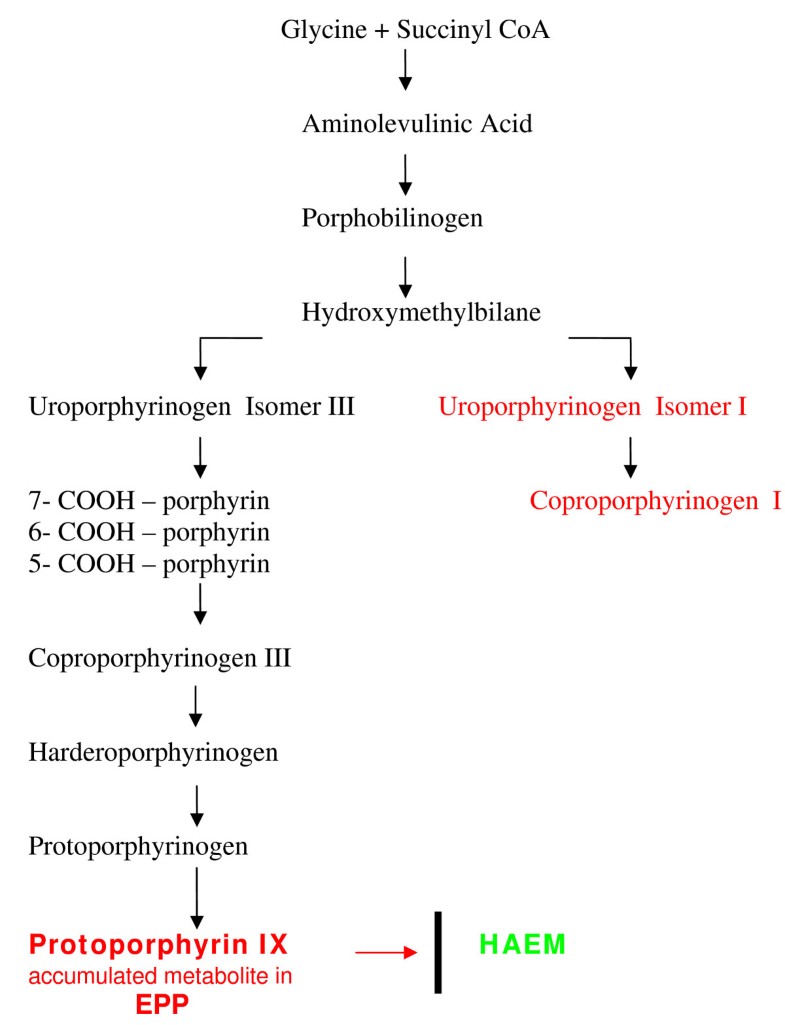 Porphyrias may manifest in two clinical types: cutaneous photosensitivity (cutaneous porphyrias) or acute neuro-visceral symptoms (acute porphyrias). EPP belongs to the group of cutaneous porphyrias. In EPP, the enzyme deficiency causes accumulation of protoporphyrin in various tissues (skin, liver) and blood (erythrocytes and plasma). Skin protoporphyrin accumulation results in acute episodes of painful photosensitivity without blisters, which is the characteristic clinical manifestation of the disease.
The first comprehensive description of the disease was published by Magnus et al. in 1961 [1].
Aetiopathogenesis
EPP clinical manifestations are consequence of protoporphyrin accumulation in various tissues. The protoporphyrin molecule absorbs light radiation in a range of wavelengths from 320 to 595 nm. The absorption of these wavelengths increases the energy content of the protoporphyrin molecule (inducing a triplet state) and enables the excess energy to be transferred to oxygen, resulting in a reactive oxygen species that may interact with many biological molecules, such as proteins, lipids and DNA (photodynamic reactions) [20].
As protoporhyrin is a hydrophobic molecule, it tends to accumulate in cellular membranes. Upon irradiation with the specific wavelengths mentioned above, a photodynamic reaction takes place in tissues where protoporphyrin is present (skin, red blood cells in skin blood vessels) and cellular membranes are damaged because of membrane lipids peroxidation. Oxygen species generation may also injure tissues by complement activation and mast cell degranulation phenomena that explain the vasodilatation and oedema components of the skin photosensitivity reactions in EPP patients.
Histological examination of the skin upon sun exposure in EPP patients reveals the presence of inflammatory reaction arround dermal capillaries, with inflammatory infiltration. Subsequently, a repair reaction ensues with collagen synthesis. This process is produced repeatedly and manifests histologically by a deposition of PAS-positive material around skin blood vessels, which, on the other hand, show reduplication of capillary basal membranes [21].
Protoporphyrin is highly toxic, independently of the photosensitized reactions. Possible mechanisms underlying this hepatic toxicity have been described, but none of these hypotheses have been confirmed. The basic consequence is that the biliary system is exposed to high concentrations of protoporphyrin that saturate the excretion capacity. Deposits of protoporphyrin are formed and further reduce excretion capacity. Hepatic inflammation may appear with disordered tissue regeneration, hepatic fibrosis and cirrhosis associated with biliary disease [7, 21, 22].
Genetics
With only rare exceptions, EPP is an inherited disorder. Even after the identification of mutations in the FECH gene in EPP, the precise pattern of inheritance remained uncertain. The difference in FECH activity between clinically overt and latent individuals could not readily be explained by the prevailing view that inheritance was autosomal dominant with low clinical penetrance but was consistent with a three allele system. Recent genetic studies revealed different patterns of inheritance in EPP [23, 24].
In most patients with EPP, a FECH mutation that markedly decreases or abolishes enzyme activity can be identified on only one allele [23, 25–30]. The discovery that clinical expression of this type of EPP normally required a hypomorphic FECH IVS3-48C allele trans to the mutation was demonstrated in France [26, 31] and was independently confirmed by studies from Japan, North America, Sweden, Israel, South Africa, the United Kingdom [28, 30–34].
The pattern of inheritance of photosensitivity has been well documented by Went and Klasen [4] who investigated 91 families from the Netherlands, most of whom were likely to have had this type of EPP. About half the cases were sporadic. When a family contained more than one patient, affected siblings were more common than parent to child transmission. The number of families with patients in more than one generation increases with the population prevalence, occurring in 15% of French and 51% of Japanese families. In contrast, EPP caused by FECH deficiency has not been reported in black South African families [26, 33].
FECH mutations on both alleles are an uncommon cause of EPP. To date, twenty-one symptomatic patients from 17 families have been reported. In the UK and France, this type of EPP accounts for about 4% of EPP families. Reported FECH activities, either measured in lymphocytes or estimated from in vitro expression studies, are within the median range of 9%. Molecular analyses show that most of the patients are compound heterozygotes. In marked contrast to the type of EPP described above, missense mutations make up 85% of the total and null mutations are unusual [28, 30–34].
The pattern of inheritance of photosensitivity in these families is characteristic of an autosomal recessive disorder. There is an increased incidence of consanguinity, only siblings are affected and both parents are clinically normal. This last feature may in part be explained by the chance absence of a hypomorphic allele trans to the mutation [35, 36],
Acquired somatic FECH mutations have been identified in a small number of patients in whom EPP has developed after the age of 40 years in association with myelodysplasia or myeloproliferative disorder [10, 37].
Patients in which EPP is inherited in an X-linked dominant pattern have normal FECH activities but higher erythrocyte total protoporphyrin concentrations than other types of EPP of which around 40% is zinc-protoporphyrin. Two frameshift mutations have been identified in 8 families that lead to predicted disruption or deletion of the 19-20 C-terminal amino-acids of ALAS2. Prokaryotic expression studies show that both mutations markedly increase ALAS2 activity. Thus the C-terminal region of ALAS2 appears to inhibit enzyme activity; its removal by mutation leads to gain of function whereas all other previously described mutations in ALAS2 decrease activity and cause hereditary sideroblastic anaemia.
Despite advances in techniques for mutation detection and the discovery of gain in function mutations of ALAS2 as a cause of EPP, in about 5% of EPP families no mutations in neither FECH or ALAS2 genes have been identified. Disease in these families is strongly associated with inheritance of the hypomorphic FECH IVS3-48C allele and decreased FECH activity which suggests that most may have mutations in regions of the FECH gene that are not included in current strategies for mutation detection.
Genotype/phenotype correlations
The cutaneous features of EPP, though varying in severity are remarkably uniform. No correlation between indices of severity of photosensitivity, such as age of onset or duration of symptoms, and genotype have yet been reported apart from the suggestion that the relatively common missense mutation, P334L, may cause only mild disease Apart from this instance, no correlation between erythrocyte protoporphyrin concentration and type of FECH mutation has been reported. Seasonal palmar keratoderma has to date been reported only in patients who are compound heterozygotes or homozygotes for FECH mutations [19, 38].
A mainly literature-based study of 112 patients with a single FECH mutation, of whom 18 had severe liver disease, found that all patients with liver disease had a 'null' mutation (splicing defect, nonsense or frameshift) while none of the 20 patients with a missense mutation had liver disease; this difference was statistically significant [39]. Under-representation of missense mutations was also noted in a group of 15 patients with liver disease, all studied in the same laboratory, but comparison with a group without liver disease did not reach statistical significance [4, 35]. Together these studies suggest that missense mutations that preserve significant amounts of residual activity may carry a lower risk of liver disease than 'null' mutations, a group that includes those misssense mutations that abolish FECH activity. However, 'null' mutations associated with liver disease are found more frequently in patients without liver disease; an observation that indicates the probable importance of genetic factors outside the FECH locus and acquired factors in the pathogenesis of protoporphyric liver disease [40].
Diagnosis
Photosensitivity, with the characteristic painful inflammatory reaction without blistering, is the clinical basis for diagnosis of EPP. Screening by fluorescence microscopy for the presence of fluorescent erythrocytes - fluorocytes - in a fresh unstained blood smear may be the first step in confirmation of the EPP diagnosis. This step should be followed by the detection of a plasmatic fluorescence peak at 634 nm (630 - 635) and the demonstration of high free protoporphyrin levels in plasma and erythrocytes or a higher content and percentage of zinc-protoporphyrin in XLDPP patients. Presence of increased protoporphyrin in the stools may also be a useful diagnostic finding. These data confirm the diagnosis of EPP (Fig
6
). In addition, the levels of FECH activity in selected tissues may be determined.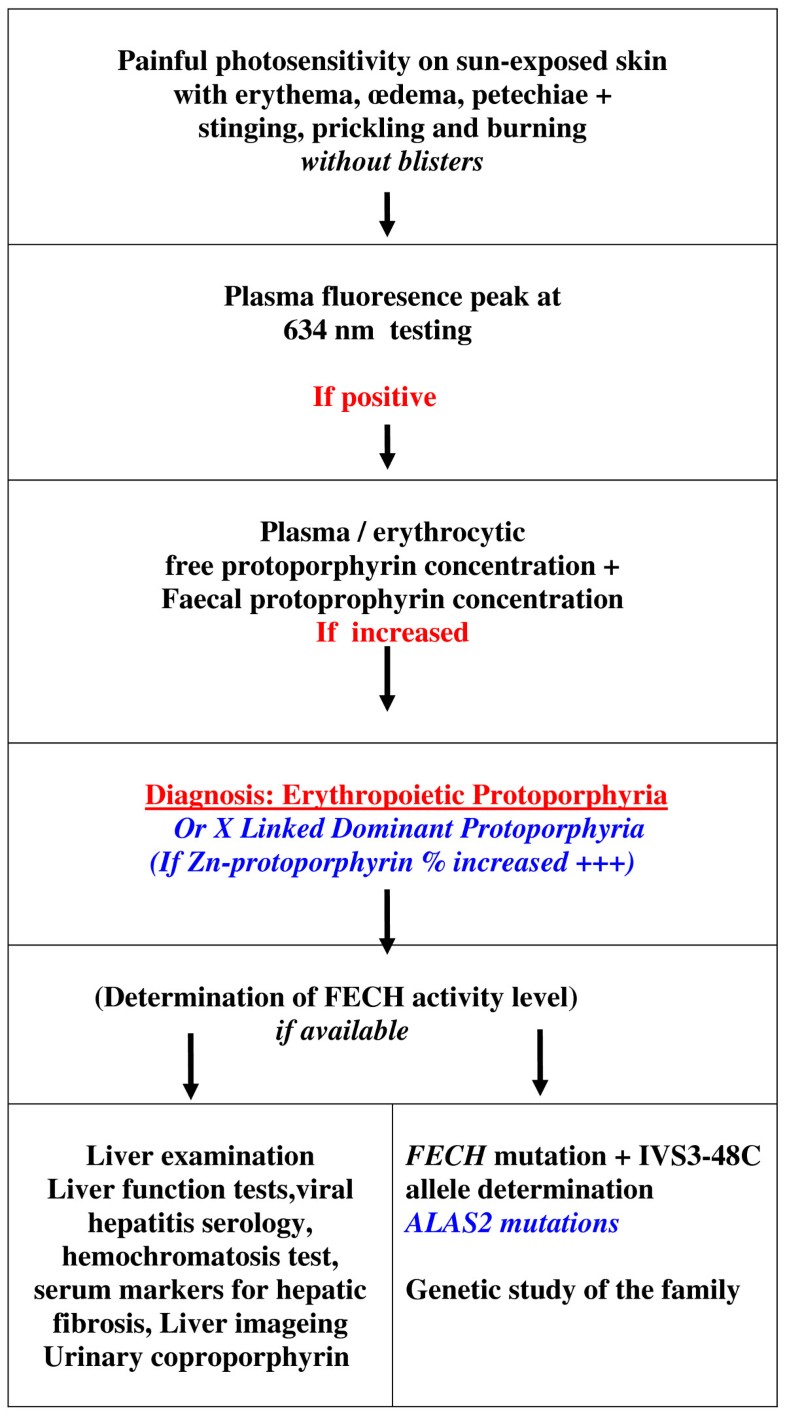 Hepatic function should be tested and abdominal ultrasonographic examination should be performed to detect cholelithiasis.
Screening for either FECH gene mutations and for the presence of the IVS3-48C hypomorphic FECH allele or ALAS2 gain of function mutations, together with studies of family members, may also be proposed. These data will be useful for genetic counselling [7].
Differential diagnosis
Clinically, EPP should be differentiated from phototoxic drug reactions, hydroa vacciniforme, solar urticaria. Contact dermatitis and angioedema or even other types of curaneous porphyria could also be considered. Chronic lesions should be differentiated from lipoid proteinosis [7].
Biochemically, excess protoporphyrin should be present in the form of free protoporphyrin. Elevated zinc chelated-protoporphyrin levels could indicate iron deficiency or lead poisoning but also now the X-linked EPP due to ALAS2 gain of function mutations. Elevated levels of zinc-protoprophyrin may be detected in homozygotes with other inherited forms of porphyria [7, 41].
Genetic counselling
In the classic EPP with FECH mutation on one allele and hypomorphic FECH IVS3-48C allele in trans position, the probability for the offspring of an EPP patient to present the disease is less than 1:40 (less than 2.5%). Hypomorphic FECH allele in the general population (Caucasians) has a prevalence of around 10% [26, 40]. Screening for the presence of the FECH IVS3-48C hypomorphic allele in the EPP patient's partner allows more accurate estimation of this probability.
During pregnancy, EPP is usually not a problem neither for the mother nor for the baby. With the exception of one recently published case, the reported cases of pregnancy in patients with EPP have revealed that symptoms of photosensitivity improve during pregnancy, with reduction of erythrocyte protoprophyrin levels [42].
Prognosis
EPP is a lifelong disease whose prognosis depends on the evolution of the hepatic disease that may lead to potentially fatal liver failure. Regarding life quality aspects, only one study has addressed this question in porphyric patients and, specifically, in EPP patients. It has been concluded that photosensitivity may significantly modify the life style of EPP patients, with a marked impact on the quality of life and with scores that appear higher in EPP patients as compared to those for other skin diseases considered as severe [6].
Abbreviations
EPP:

erythropoietic protoporphyria
FECH:

ferrohaemprotolyase
ALAS:

aminolevulinic acid synthase
XLDPP:

X-linked dominant protoporphyria
ALA:

aminolevulinic acid
Hb:

haemoglobin
SFn:

serum ferritin
Tf:

transferrin
STfR:

soluble transferrin receptor
CT:

computing tomography
MRI:

magnetic resonance imaging
Declarations
Acknowledgements
We thank Pr Laurent Gouya (Paris, France) Pr George Elder and Pr Mike Badminton (Cardiff, UK) for helpful discussion and contribution to the manuscript.
Authors' Affiliations
(1)
Department of Dermatology, Hospital Clinic, University of Barcelona, Barcelona, Spain
(2)
AP-HP, Centre Français des Porphyries, Hôpital Louis Mourier, Colombes, France
(3)
INSERM Unité 773, Centre de Recherche Biomedicale Bichat-Beaujon, Université Paris Diderot, France
Copyright
© Lecha et al; licensee BioMed Central Ltd. 2009
This article is published under license to BioMed Central Ltd. This is an Open Access article distributed under the terms of the Creative Commons Attribution License (http://creativecommons.org/licenses/by/2.0), which permits unrestricted use, distribution, and reproduction in any medium, provided the original work is properly cited.