Primary intestinal lymphangiectasia (Waldmann's disease)
Orphanet Journal of Rare Diseases
2008
3:5
Received: 26 July 2007
Accepted: 22 February 2008
Published: 22 February 2008
Abstract
Primary intestinal lymphangiectasia (PIL) is a rare disorder characterized by dilated intestinal lacteals resulting in lymph leakage into the small bowel lumen and responsible for protein-losing enteropathy leading to lymphopenia, hypoalbuminemia and hypogammaglobulinemia. PIL is generally diagnosed before 3 years of age but may be diagnosed in older patients. Prevalence is unknown. The main symptom is predominantly bilateral lower limb edema. Edema may be moderate to severe with anasarca and includes pleural effusion, pericarditis or chylous ascites. Fatigue, abdominal pain, weight loss, inability to gain weight, moderate diarrhea or fat-soluble vitamin deficiencies due to malabsorption may also be present. In some patients, limb lymphedema is associated with PIL and is difficult to distinguish lymphedema from edema. Exsudative enteropathy is confirmed by the elevated 24-h stool α1-antitrypsin clearance. Etiology remains unknown. Very rare familial cases of PIL have been reported. Diagnosis is confirmed by endoscopic observation of intestinal lymphangiectasia with the corresponding histology of intestinal biopsy specimens. Videocapsule endoscopy may be useful when endoscopic findings are not contributive. Differential diagnosis includes constrictive pericarditis, intestinal lymphoma, Whipple's disease, Crohn's disease, intestinal tuberculosis, sarcoidosis or systemic sclerosis. Several B-cell lymphomas confined to the gastrointestinal tract (stomach, jejunum, midgut, ileum) or with extra-intestinal localizations were reported in PIL patients. A low-fat diet associated with medium-chain triglyceride supplementation is the cornerstone of PIL medical management. The absence of fat in the diet prevents chyle engorgement of the intestinal lymphatic vessels thereby preventing their rupture with its ensuing lymph loss. Medium-chain triglycerides are absorbed directly into the portal venous circulation and avoid lacteal overloading. Other inconsistently effective treatments have been proposed for PIL patients, such as antiplasmin, octreotide or corticosteroids. Surgical small-bowel resection is useful in the rare cases with segmental and localized intestinal lymphangiectasia. The need for dietary control appears to be permanent, because clinical and biochemical findings reappear after low-fat diet withdrawal. PIL outcome may be severe even life-threatening when malignant complications or serous effusion(s) occur.
Keywords
Octreotide
Lymphedema
Constrictive Pericarditis
Chylous Ascites
Intestinal Tuberculosis
Disease name and synonyms
Primary intestinal lymphangiectasia (PIL).
Waldmann's disease.
History and definition
In 1961, Waldmann et al. described the first 18 cases of "idiopathic hypercatabolic hypoproteinemia" [1]. These patients had edema associated with hypoproteinemia, low serum albumin and gammaglobulin levels. The total exchangeable albumin pool, assessed with radio-labeled 131I-albumin, was low in all patients. Daily fecal excretion of 131I was twice the highest value obtained in controls. Microscope examination of the small intestine biopsies showed variable degrees of dilation of the lymph vessels in the mucosa and submucosa. The authors also proposed the term "intestinal lymphangiectasia".
Etiology and pathogenesis
To date, PIL etiology is unknown. Intestinal lymphangiectasia is responsible for lymph leakage into the bowel lumen, which leads to hypoalbuminemia and lymphopenia. Edema is the consequence of hypoprotidemia with decreased oncotic pressure. Several genes, such as VEGFR3 (vascular endothelial growth factor receptor 3), prospero-related homeobox-transcriptional factor PROX1, forkhead transcriptional factor FOXC2 and SOX18 are implicated in the development of the lymphatic system. In a recent paper, Hokari et al. reported inconsistently changed expressions of regulatory molecules for lymphangiogenesis in the duodenal mucosa of PIL patients [24].
Diagnosis and diagnostic methods
PIL diagnosis is confirmed by the presence of intestinal lymphangiectasia based on endoscopic findings with the corresponding histology of intestinal biopsy specimens (Figure
2
). Macroscopic abnormalities are usually obvious with creamy yellow of jejunal villi corresponding to marked dilation of the lymphatics within the intestinal mucosa. The density of lymphangiectasia varies and their size ranges from mm to cm. Histological examination of duodenum-jejunum and ileum biopsies confirms the presence of lacteal juice, dilated mucosal (from moderate to severe) and submucosal lymphatic vessels (and also in the serosa) with polyclonal normal plasma cells. Intestinal lymphatics may be dilated in many villi or only a few. Intestinal abnormalities may be slight; small bowel mucosa also appears edematous but not creamy. That neither villous atrophy nor microorganisms are found in biopsies is underlined in pathology reports. Endoscopy may be negative when intestinal lesions are segmental or localized. In such cases, videocapsule endoscopy, easier to use than enteroscopy, is a useful tool to detect the presence of intestinal lymphangiectasia and to specify its localization (Figure
3
) [
25
–
27
]. Videocapsule endoscopy is also feasible to appreciate the extent of lymphangiectasia in children [
28
].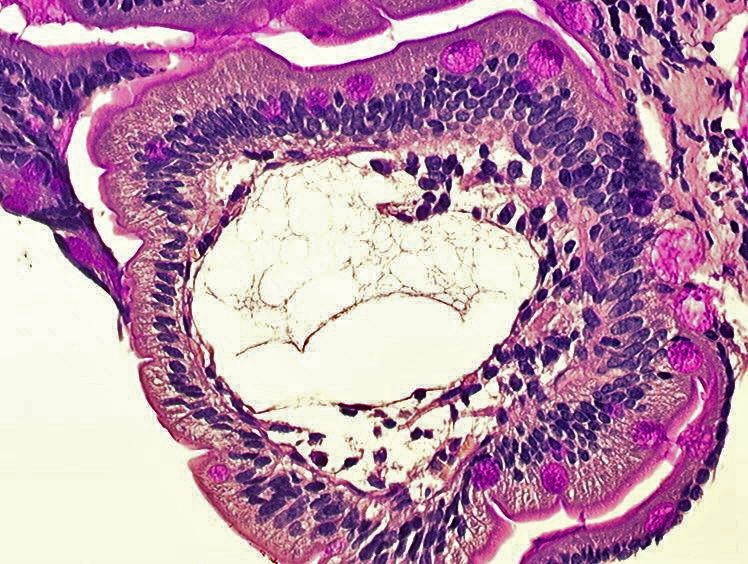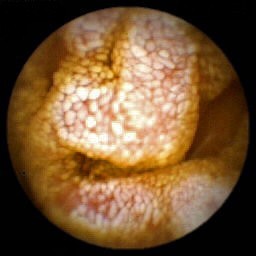 Indirect biological abnormalities are suggesting of PIL, such as hypoproteinemia, hypoalbuminemia, hypogammaglobulinemia with low IgG, IgA and IgM levels or lymphocytopenia. Exsudative enteropathy is confirmed by the high 24-h stool α1-antitrypsin clearance due to enteric protein loss. Functional absorption tests, e.g., such as D-xylose test results are normal in PIL.
Complementary examinations
Although various methods have been proposed to investigate PIL, none of them can replace histological examination of biopsies to confirm the diagnosis.
Immunological abnormalities
PIL patients have immunological abnormalities involving both the B-cell and T-cell lineages of the immune system. The B-cell defect is characterized by low immunoglobulin levels (IgG, IgA and IgM) and poor antibody responses [38–40]. The T-cell defect is characterized by lymphocytopenia, prolonged skin-allograft rejection and impaired in vitro proliferative responses to various stimulants (anti-CD3, anti-CD28) [41]. Furthermore, PIL patient's peripheral blood samples contain extremely low counts of CD4+ T cells, especially naïve, CD45RA+ CD62L+, while CD45RO+ memory cells, are only moderately below normal. CD45RA+ and CD45RO+ CD8+ T cells are moderately below normal [41].
Differential diagnosis
The differential diagnosis is of special importance for subjects suspected of having PIL. Some secondary causes of intestinal lymphangiectasia have been identified as diseases responsible for anatomical or dynamic alterations of the lymphatic flow. Protein-losing enteropathies associated with intestinal lymphangiectasia may arise secondary to constrictive pericarditis [42–44], intestinal lymphoma [45, 46], lymphenteric fistula [47], Whipple's disease [48], Crohn's disease [49], sarcoidosis [50], intestinal tuberculosis [51], systemic sclerosis [52], radiation and/or chemotherapy with retroperitoneal fibrosis [53], human immunodeficiency virus-related enteropathy [54] or the Fontan operation to treat cardiac malformations [55].
Many diseases are associated with excessive enteric loss of plasma proteins but do not include lymphatic lymphangiectasia, such as Menetrier's disease or inflammatory states of systemic lupus erythematosus in adults and children [56–59].
Management including treatment
A. Low-fat diet associated with medium-chain triglycerides
Low-fat diet associated with supplementary medium-chain triglycerides (MCT) is the cornerstone of PIL medical management [70]. It is likely that the absence of fat in the diet prevents engorgement of the intestinal lymphatics with chyle, thereby preventing their rupture with its ensuing protein and T-cell loss. MCT are directly absorbed into the portal venous circulation and thus provide nutrient fat but avoid lacteal engorgement. After a few weeks, this treatment may lead to reversal of clinical and biochemical signs (albuminemia, immunoglobulin levels and lymphocyte counts) [71]. In patients not responding to a low-fat diet, enteral nutritional therapy (elemental, semi-elemental and polymeric diets) may be required. In a few very severe cases, total parenteral nutrition is warranted [72]. The need for dietary control appears to be permanent, because clinical and biochemical findings reappear after low-fat diet withdrawal. Long-term PIL monitoring essentially concerns its predominant clinical manifestation (edema). Laboratory analyses (albuminemia, lymphocyte counts, immunoglobulin levels) are required when lower limb edema becomes more pronounced.
B. Other treatments
In the literature, other treatments have been proposed to treat PIL. They can be used after or in combination with a low-fat diet associated with MCT supplementation. Their efficacy is variable and insufficiently evaluated.
1) Antiplasmin
A few authors reported that PIL patients responded to tranexamic acid (1 g, 3 times a day) [73, 74], but these responses were heterogeneous with only partial disease attenuation. It was hypothesized that increasing plasma fibrinolysis might enhance lymphatic permeability to plasma proteins. Under antiplasmin treatment, a lower percentage of T lymphocytes became normalized together with serum immunoglobulin values. In addition, the therapy resulted in the disappearance endoscopically observed duodenal lesions [73].
2) Octreotide
In 1998, Ballinger and Farthing reported the efficacy of octreotide in one PIL patient [75]. To date, few publications have supported the contribution of octreotide in PIL. Octreotide (150–200 μ g, twice a day or the slow-release formulation) might lead to clinical, biochemical (albuminemia) and histological improvement [76, 77]. The mechanism of action of the somatostatin analog on the gastrointestinal tract remains unclear. It has been shown that octreotide induces short-lasting splanchnic vasoconstriction in healthy volunteers and cirrhotic patients, and inhibits the absorption of triglycerides [78]. Furthermore, somatostatin inhibits thoracic lymph flow in dogs [79]. Octreotide may be useful in PIL patients in combination with a low-fat diet.
3) Surgery
Small bowel resection is useful in the rare cases in which intestinal lymphangiectasia is segmental and localized (duodenum) [80, 81]. Recurrent and/or bulky pleural effusions may lead to unilateral or bilateral surgical pleurectomy or talc pleurodesis [5].
4) Corticosteroids
Steroids were prescribed to patients with intestinal lymphangiectasia secondary to inflammatory disease with variable efficacy [82] and also to systemic lupus erythematosus patients with protein-losing enteropathy [58]
5) Albumin infusion
Albumin infusion is a symptomatic treatment proposed in patients with important serous effusion or uncomfortable lower limb edema. Repeated albumin intravenous supplementation may be useful to reduce edema and improve albuminemia but its efficacy is transient resulting from persistent lymph leakage into the bowel lumen.
Prognosis and long-term outcome
PIL is a chronic debilitating disorder requiring constraining long-term dietary control based on a low-fat regimen associated with supplementary MCT. Lower limb edema is usually the main clinical manifestation but lymphedema may be associated. Lower limb lymphedema had its own particularities, including infectious complications (e.g., cellulitis) and requires specific long-term management (low-stretch bandage, manual lymph drainage, skin care, elastic hosiery) [83]. These two conditions deteriorate the quality of life (difficulty to put on shoes, unattractive aspect of leg). PIL outcome may be severe even life-threatening when malignant complications (lymphoma) or serous effusion(s) (pleural, pericardic) occur.
Authors' Affiliations
(1)
Department of Lymphology, Centre de référence des maladies vasculaires rares, Hôpital Cognacq-Jay, Paris, France
(2)
Department of Gastroenterology and Nutrition, Hôpital Saint-Antoine, AP-HP, Paris Cedex 12, France
Copyright
© Vignes and Bellanger; licensee BioMed Central Ltd. 2008
This article is published under license to BioMed Central Ltd. This is an Open Access article distributed under the terms of the Creative Commons Attribution License (http://creativecommons.org/licenses/by/2.0), which permits unrestricted use, distribution, and reproduction in any medium, provided the original work is properly cited.