Alstrom syndrome (OMIM 203800): a case report and literature review
Orphanet Journal of Rare Diseases
2007
2:49
Received: 04 October 2007
Accepted: 21 December 2007
Published: 21 December 2007
Abstract
Background
Alstrom syndrome (AS) is a rare autosomal recessive disease characterized by multiorgan dysfunction. The key features are childhood obesity, blindness due to congenital retinal dystrophy, and sensorineural hearing loss. Associated endocrinologic features include hyperinsulinemia, early-onset type 2 diabetes, and hypertriglyceridemia. Thus, AS shares several features with the common metabolic syndrome, namely obesity, hyperinsulinemia, and hypertriglyceridemia. Mutations in the ALMS1 gene have been found to be causative for AS with a total of 79 disease-causing mutations having been described.
Case presentation
We describe the case of a 27-year old female from an English (Caucasian) kindred. She had been initially referred for hypertriglyceridemia, but demonstrated other features suggestive of AS, including blindness, obesity, type 2 diabetes, renal dysfunction, and hypertension. DNA analysis revealed that she is a compound heterozygote with two novel mutations in the ALMS1 gene – H3882Y and V424I. Examination of her family revealed that her phenotypically unaffected mother and younger sister also had heterozygous mutations in the ALMS1 gene. In addition to presenting these novel molecular findings for AS, we review the clinical and genetic features of AS in the context of our case.
Conclusion
Two novel mutations in the ALMS1 gene causative for AS have been reported here, thereby increasing the number of reported mutations to 81 and providing a wider basis for mutational screening among affected individuals.
Keywords
Sensorineural Hearing LossYoung SisterAcanthosis NigricansSensorineural DeafnessH3882Y Mutation
Background
Alstrom syndrome (AS; OMIM 203800) was first described in 1959 and has an estimated prevalence of <1:100 000 [1, 2]. AS is an autosomal recessive multiorgan disorder, characterized by childhood obesity, adult short stature with initial accelerated childhood linear growth, progressive cone-rod dystrophy leading to blindness, and sensorineural hearing loss [3, 4]. Endocrinologic complications include early-onset diabetes mellitus (typically in the 2nd or 3rd decades), hyperinsulinemia (with associated acanthosis nigricans), hypertriglyceridemia, infertility (hypergonadotrophic hypogonadism), and hypothyroidism [4–6]. Systemic fibrosis is commonly observed [3]. The primary cause of mortality among young affected patients is cardiac involvement from dilated cardiomyopathy whereas renal failure is the major cause of death among the older subgroup [2, 3].
Mutations in the ALMS1 gene were independently identified as causative for AS by two research groups [7, 8]. ALMS1 encodes a protein of 4169 amino acids, which includes a large tandem-repeat domain consisting of 47 amino acids (aa); the exact function of the ALMS1 protein still remains unknown [7]. However, the ALMS1 protein has been shown to be ubiquitously expressed and to localize subcellularly [9]. It has been proposed that ALMS1 is involved in the functioning of centrosomes or basal bodies [9]. Although initial data revealed normal ciliary structure in fibroblasts from affected individuals with ALMS1 mutations, ALMS1 knockout mice demonstrated abnormal ciliary structure that could be rescued with a prematurely truncated fragment of ALMS1 containing the N-terminus [9, 10]. Thus, the N-terminus of ALMS1 seems to be crucial to normal ciliary structure [10]. To date, a total of 79 disease-causing ALMS1 mutations have been reported [11]. We report here the clinical and novel molecular findings in a Caucasian kindred with Alstrom syndrome from the United Kingdom and review the current clinical and molecular genetic aspects of this condition.
Case presentation
In 2002, the 27-year old proband was referred to the lipid clinic of a tertiary health care centre for evaluation of an elevated triglyceride (TG) level of 59.1 mmol/L. Her prior history included poor vision since birth, commencing with the development of night blindness, eventually resulting in legal blindness by the age of 17. She had undergone a left nephrectomy at the age of 24 for a perinephric abscess due to chronic pyelonephritis. Ultrasound evaluation revealed a normal-sized right kidney with evidence of cortical scarring. Hypertension and diabetes subsequently developed at the ages of 25 and 26 years, respectively. She experienced learning difficulties in school, but did not have sensorineural deafness. On physical examination, there was evidence of central obesity with her body mass index (BMI) being 34.9 kg/m2. Her blood pressure on antihypertensive treatment was 132/86 with a regular pulse of 80 beats per minute. There was no evidence of poly- or syndactyly suggestive of Bardet-Biedl syndrome. Hirsutism was present on the face, abdomen, and arms. Ophthalmologic examination was notable for retinitis pigmentosa and cataracts bilaterally.
Her family consisted of non-consanguineous parents, both alive and well, as well as four siblings – three sisters (aged 18, 26, 29 years) and one brother (aged 29 years), who were also healthy. The family structure is outlined in Figure
1
.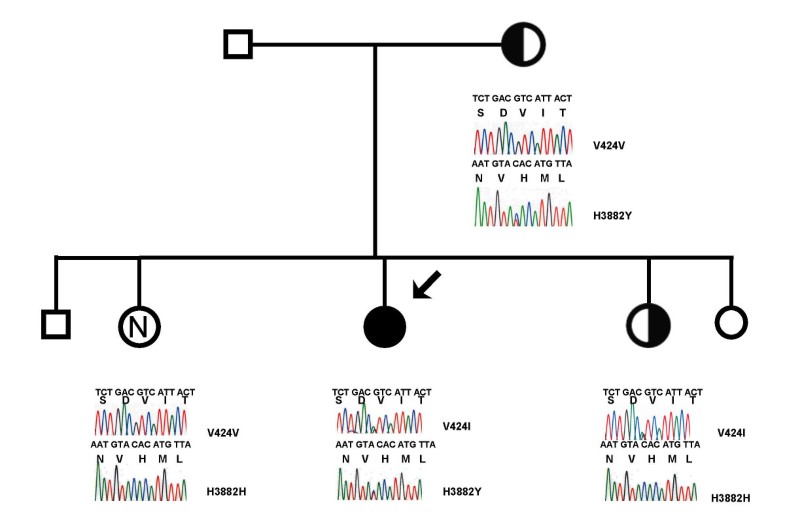 Biochemical attributes and investigations
The proband's initial labwork at the time of consultation revealed a plasma TG level of 20.6 mmol/L with a high-density lipoprotein cholesterol (HDL-C) level of 0.56 mmol/L. Her fasting glucose and insulin levels on oral antidiabetic therapy but not insulin were 14.2 mmol/L and 68.1 mU/L (normal <10 mU/L), respectively, with a HbA1C of 11.2%. Her creatinine was elevated at 255 μ mol/L with overt proteinuria of 2.68 g/24 hours. Her total alkaline phosphatase of 416 U/L (normal < 330 U/L) demonstrated increases in both the liver and bone isoenzymes. Abdominal ultrasound revealed fatty infiltration of the liver and splenic enlargement (14 cm in length). Both her electrocardiogram and echocardiogram were normal.
The results of lipoprotein analyses of the proband, proband's mother and two sisters are shown in Table
1
. The proband demonstrated significant hypertriglyceridemia (TG = 20.6 mmol/L) and hypoalphalipoproteinemia (HDL-C = 0.56 mmol/L). Both the proband's mother and older sister displayed mildly elevated plasma TG whereas the younger sister tested had relatively normal plasma TG. Plasma low density lipoprotein-cholesterol (LDL-C) levels were higher among the mother and younger sister compared to the others. The proband demonstrated the lowest LDL-C and HDL-C levels of all four members of the kindred examined.
Table 1
Clinical and biochemical characteristics of the pedigree
| Biochemical parameter | Proband (II-2) | Mother (I-1) | Sister (II-1) | Sister (II-3) |
| --- | --- | --- | --- | --- |
| Total cholesterol (mmol/L) | 7.40 | 7.70 | 5.78 | 6.79 |
| Triglyceride (mmol/L) | 20.6 | 2.61 | 3.80 | 1.78 |
| VLDL- C (mmol/L) | 4.62 | 0.92 | 1.09 | 0.58 |
| VLDL-TG (mmol/L) | 15.4 | 1.57 | 2.54 | 1.10 |
| VLDL-TG/VLDL-C ratio | 3.33 | 1.71 | 2.33 | 1.90 |
| HDL-C (mmol/L) | 0.56 | 0.94 | 1.04 | 1.72 |
| LDL-C (mmol/L) | 0.83 | 5.32 | 3.29 | 4.19 |
| Apo A-1 (g/L) | 1.25 | 1.20 | 1.45 | 1.59 |
| Apo B (g/L) | 0.91 | 1.59 | 1.16 | 1.22 |
Treatment
Treatment of the proband's hypertriglyceridemia required the use of multiple therapies, including a low-fat diet (< 20 g fat per day), insulin (glargine 14 units/day), pioglitazone (45 mg/day), atorvastatin (40 mg/day), and omega-3-acid ethylesters (Omacor) (2 g bid). As a result of therapy, TG levels decreased by ~84% to 3.30 mmol/L and HDL-C levels improved by ~252% to 1.41 mmol/L.
DNA isolation and sequence analysis
Informed consent was obtained from all available subjects or their guardians, and the study was approved by the institutional review board of the University of Western Ontario (#07920E). DNA and lipoprotein analyses were unavailable for the father, one sister (aged 18 years), and brother (aged 29 years). Genomic DNA from the four available study subjects was isolated from whole blood (Puregene, Gentra Systems, Minneapolis, MN). Exons 1 to 23 of
ALMS1
were amplified using the primers in Table
2
. The final volume of 50
μ
L contained 32 pmol of each primer, 0.2 mM each of dATP, dCTP, dGTP, and dTTP, 1.5 mM MgCl
2
, 50 mM KCl, 20 mM Tris-HCl (pH 8.4), and 2.5 units of Taq platinum DNA polymerase (Life Technologies, Mississauga, Ontario, Canada). DNA amplifications were performed with denaturing at 94°C for 5 minutes, followed by 30 cycles of a denaturing step at 94°C, an annealing step at 60°C, and an extension step at 72°C, each for 30 seconds. A final extension step at 72°C was performed for 10 min. Amplification products were electrophoresed on 1.5% agarose gels and purified with the QIAEX II gel extraction kit (Qiagen, Inc., Mississauga, Ontario, Canada). Purified DNA fragments were sequenced by the chain termination method using the ABI 3730 Automated DNA Sequencer and analyzed using Sequence Navigator Software (both from PE-Applied Biosystems, Mississauga, Ontario, Canada).
Table 2
Oligonucleotides for genomic amplification and sequencing of ALMS1
| Exon | Forward Primer | Reverse Primer |
| --- | --- | --- |
| 1 | GCACTGCGCCTAAGCTG | CAGCCTCCACCCCCAAC |
| 2 | ATGTGAAAGGGCTTTATAAACTGG | TTTTTCCATTCTTCATAGCTAAATCA |
| 3 | CAGTTAATGACTTAGCATGTTTTCCT | TCCTTAACTCAAAAAGGGGAAAG |
| 4 | ACGTAAGTAAATAATCAATTTTCAGCA | TCTAAGCCCCACCTCAAAGT |
| 5 | TTTCAGTGACATATGTATTTTTGTGTT | TTCCCTTGGGAATTTTATTTTT |
| 6 | CTTCGTGTGTGGGAGCTGAG | CAATACTGAAAAAGGCCACGTT |
| 7 | TGGGCATTAATGAGTCTTTTTC | TTTTCACAAGGTATCCGTAAGTAGG |
| 8 | GCTTTTTAAAGGCTCAAAGCTG | TCTCTCTATGTGAGTAGGAAGTAGAGG |
| 8 | TGACCAGACAACTGGCATGT | GACTGTCTGCTAAGTCCTGTGG |
| 8 | TTCTTACTCACAAAGAGAAAAGCCTA | GGGCAGCCAATACAGAAACA |
| 8 | TTTCCCTGAAGAAGCTCTGAA | TGGCAAGGTCTGTTGGTAGA |
| 8 | TCACAAAGAGAGAAGCCTGGT | AGCTGGTGTGCCAGTTGTCT |
| 8 | TTCAGTTGCCTCTGAACCAG | TGTGGCAAGACCTGTTGGTA |
| 8 | CACACACAGAGAAGCCTGGT | AAAGGTCCTGCTGGTATGTCA |
| 8 | TCCATTGTTTCTGGACCTACTG | ATCTGGCAACTCTTGCTGGT |
| 8 | ACTGTAACTTCCTCTTTCTATTCACAT | TCTCAGTCTTCCGGTCACCT |
| 8 | AGCAGGAGTTGCCAGATGTT | CTGGTTTTCCAGTATTCACATCA |
| 8 | AAAGATTTCAGCTGTCCCTGA | CTGCATCCTGGATTTCTTCA |
| 8 | CTCAGGCTGATGACAGAGTTG | CCCAATGGTTCCACTACACC |
| 8 | GAGCAAAGTCAGTATGGCATTAGA | TGGCTAAGCTTCCTCAAAACA |
| 9 | TCTTCTGTGTTGCAATTGTTGA | TTCCATCACCCATTCTTTCA |
| 10 | TTGGACTACTTCAAATAAGAACCTG | GACGGCATTTGTGATGAAGA |
| 10 | ACCTGCTTTTGTGCCACCTA | CTTGGTCTGCCCATGCTAAT |
| 10 | CCAGTACCAGGGCAAATTGT | GGAAGGGGAAAATGGTGTTT |
| 10 | ACCTTCCGTCTCCCATTTCT | TCCTGTGCTACAGGTTTACTGG |
| 10 | GCTTCTAAAGCGAGGATGAA | CCCCCAAGAACCGATATCTA |
| 11 | TTCCTTGAAACCACTTTTGGA | GAAAGACACAACCACAAATTTCTAA |
| 12 | GAAGGCATTCCATATTTGTTCA | GCACTGGACTTTTGTCACTCC |
| 13 | TCATAGAATTGGTCTAAGAGGCAAA | AAGATTGGATAGTAATCTCATTTAGGA |
| 14 | ATGGGTTTGGGGTTTTGTTT | GAGCTGAAGACAGCAAGAAGAA |
| 15 | AACAAAGCCTTTCACATAATACG | CACTGACCCTCACATACACAC |
| 16 | GCAGGCAGTGAATTTTCTGAT | TTTTGGATAATCTCTAACTTGACTTTT |
| 16 | CCAGAATAAAGAGCCTCAGCA | TTTTTAAGCTCGCCTGTATTTTT |
| 16 | GCGGTTTAAAAGCCTAGAGAAA | TTTTCACCTGTGTGCAAAGC |
| 17 | TGAATTGGATTAGAAAGAGGACTTG | TCTTACATGTTTAAGAGCCATTTCA |
| 18 | TCCCACACAAAGGGATTGTA | ATCGCAGGGGACTTGAAAT |
| 19 | CTGGGTGGGGCTGTAAAAA | CCAAGTCACAGAGCCAGCTT |
| 20 | GCATATGGAGAGTAGATTGCATCA | TGGGCTGGCCTTTAGCAG |
| 21 | GGTAGGGGCACCAAGTCCTA | CAGAGCTCCCGACCACTTG |
| 22 | GATGAGCTCCTGGAGAGTGG | GGCAACGTGTTTTCTCCATT |
| 23 | GGCATCTGCCTCTGATGG | AAGGATTCTGCTTCTCTAGGTTCA |
Identification of novel disease-causing ALMS1 mutation
Sequencing of genomic DNA from the affected proband demonstrated no mutations in the coding regions of the LPL gene (data not shown), but did reveal 2 novel missense mutations in the ALMS1 gene – a G→A transversion at nucleotide 1381 of exon 6 and a C→T transversion at nucleotide 11755 in exon 17. These mutations resulted in the replacement of valine by isoleucine at codon 424 (V424I, exon 6) and histidine by tyrosine at codon 3882 (H3882Y, exon 17). The proband's mother was heterozygous for the H3882Y mutation while the proband's younger sister was heterozygous for the V424I mutation, proving that the mutations were on opposite chromosomes in the proband. The proband's older sister was unaffected both clinically and molecularly. See Figure 1.
The missense mutation V424I was subsequently genotyped in 200 healthy unaffected Caucasian controls using the primer pair and PCR conditions for exon 6 amplification. The amplified product was digested with restriction enzyme Aat II (New England Biolabs Inc., Ipswich, MA, USA). All healthy controls were homozygous for G at nucleotide 1381. Similarly, the missense mutation H3882Y was genotyped in 200 healthy unaffected Caucasian controls using the primer pair and PCR conditions for exon 17 amplification. The amplified product was digested using the restriction enzyme Rsa I (New England Biolabs Inc., Ipswich, MA, USA). Among the 200 controls, only 1 control was found to be heterozygous at nucleotide 11755 C/T, giving an allele frequency of 0.9975 for the C allele and 0.0025 for the T allele at this position, based on the Hardy-Weinberg equation. This suggests that the second heterozygote mutation, 11755 C→T, is present in the general population, albeit at a very low frequency.
Literature review and case discussion
The distribution of AS is global without any gender predilection. With an estimated prevalence of < 1:100 000, only ~500 cases of AS have been reported in the literature thus far [2–4, 7, 11–37]. Yet, a greater proportion of kindreds of English descent have been noted in the literature. Whether this is due to selection bias from kindreds in the United Kingdom or North America having more readily available health care access compared to kindreds from developing nations is uncertain. Certainly, awareness of AS is lacking despite the complexity and potential lethality of this disorder. Moreover, in addition to childhood obesity, affected individuals may develop insulin resistance, type 2 diabetes, and hypertriglyceridemia. Thus, AS can be thought of as a rare genetic disorder with several features similar to the common metabolic syndrome.
Conclusion
We have reported here two novel missense mutations in the ALMS1 gene causative for Alstrom syndrome in an English kindred. These extend the mutational spectrum in AS and provide a resource for mutational screening. Furthermore, we hope that these mutations may eventually add insight into the function of the ALMS1 protein and contribute to the understanding of the phenotypic variety observed among AS-affected individuals.
Authors' Affiliations
(1)
Department of Vascular Biology and Medicine, Robarts Research Institute and Schulich School of Medicine and Dentistry, University of Western Ontario, London, Canada
(2)
Clinical and Laboratory Sciences, Medical Genetics, Eye Hospital, Manchester, UK
(3)
Cardiovascular Research Group, School of Clinical & Laboratory Sciences, Manchester, UK
Copyright
© Joy et al; licensee BioMed Central Ltd. 2007
This article is published under license to BioMed Central Ltd. This is an Open Access article distributed under the terms of the Creative Commons Attribution License (http://creativecommons.org/licenses/by/2.0), which permits unrestricted use, distribution, and reproduction in any medium, provided the original work is properly cited.