Mowat-Wilson syndrome
Orphanet Journal of Rare Diseases
2007
2:42
Received: 26 June 2007
Accepted: 24 October 2007
Published: 24 October 2007
Abstract
Mowat-Wilson syndrome (MWS) is a multiple congenital anomaly syndrome characterized by a distinct facial phenotype (high forehead, frontal bossing, large eyebrows, medially flaring and sparse in the middle part, hypertelorism, deep set but large eyes, large and uplifted ear lobes, with a central depression, saddle nose with prominent rounded nasal tip, prominent columella, open mouth, with M-shaped upper lip, frequent smiling, and a prominent but narrow and triangular pointed chin), moderate-to-severe intellectual deficiency, epilepsy and variable congenital malformations including Hirschsprung disease (HSCR), genitourinary anomalies (in particular hypospadias in males), congenital heart defects, agenesis of the corpus callosum and eye anomalies. The prevalence of MWS is currently unknown, but 171 patients have been reported so far. It seems probable that MWS is under-diagnosed, particularly in patients without HSCR. MWS is caused by heterozygous mutations or deletions in the Zinc finger E-box-binding homeobox 2 gene, ZEB2, previously called ZFHX1B (SIP1). To date, over 100 deletions/mutations have been reported in patients with a typical phenotype; they are frequently whole gene deletions or truncating mutations, suggesting that haploinsufficiency is the main pathological mechanism. Studies of genotype-phenotype analysis show that facial gestalt and delayed psychomotor development are constant clinical features, while the frequent and severe congenital malformations are variable. In a small number of patients, unusual mutations can lead to an atypical phenotype. The facial phenotype is particularly important for the initial clinical diagnosis and provides the hallmark warranting ZEB2 mutational analysis, even in the absence of HSCR. The majority of MWS cases reported so far were sporadic, therefore the recurrence risk is low. Nevertheless, rare cases of sibling recurrence have been observed. Congenital malformations and seizures require precocious clinical investigation with intervention of several specialists (including neonatologists and pediatricians). Psychomotor development is delayed in all patients, therefore rehabilitation (physical therapy, psychomotor and speech therapy) should be started as soon as possible.
Keywords
Congenital Heart Disease
Corpus Callosum
Down Syndrome
Hypospadias
Splice Site Mutation
Definition
Mowat-Wilson syndrome (MWS; MIM# 235730) is a genetic disease caused by heterozygous mutations or deletions of the ZEB2 gene, and characterized by typical face, moderate-to-severe mental retardation, epilepsy and variable congenital malformations, including Hirschsprung disease (HSCR), genital anomalies (particularly hypospadias in males), congenital heart disease (CHD), agenesis of the corpus callosum (ACC) and eye defects. The clinical aspects of the syndrome were first described by Mowat et al in 1998, who also identified a locus at chromosome 2q21-q23 [1]. In 2001, two groups independently discovered the cause of MWS as mutation or deletion of the ZEB2 gene (MIM# 605802) from studies of two de novo translocations and demonstrated intragenic truncating mutations in several other individuals affected by the disease [2, 3].
Epidemiology
The prevalence of MWS is currently unknown, but it seems probable that the syndrome is under-diagnosed, particularly in patients without HSCR [4]. Since the first delineation by Mowat et al (1998), approximately 171 patients with ZEB2 mutations, deletions or cytogenetic abnormalities have been reported primarily from Northern Europe, Australia, Italy and the United States, and over 100 mutations have been described [2–31]. The male/female ratio is approximately 1,42:1 [19, 22, 24, 29–31]. The syndrome has been identified in several ethnic groups [22], with similar clinical features in all populations.
Clinical description
Clinical manifestations of the MWS are presented in Table
1
.
Table 1
Mowat-Wilson Syndrome: Clinical features in patients with ZEB2 mutations [1-31].
| Clinical features | Published cases (n = 171) |
| --- | --- |
| Facial gestalt | 166/170 (97%) |
| M:F | 100:70 |
| Mental retardation | all, moderate, usually severe |
| Microcephaly | 135/166 (81%) |
| Seizures | 102/139 (73%) |
| HSCR | 97/170 (57%) |
| Constipation | 19/73 (26%) |
| CHD | 87/167 (52%) |
| Urogenital/renal anomalies | 81/156 (51%) |
| Hypospadias | 33/63 (52%) |
| Cryptorchidism | 23/63 (36%) |
| Renal anomalies | 20/156 (12.8%) |
| Short stature | 34/73 (46%) |
| Hypoplasia or agenesis of corpus callosum | 67/155 (43%) |
| Pyloric stenosis | 8/170 (4.7%) |
| Structural eye anomalies | 7/170 (4.1%) |
| Cleft palate | 5/170 (2,9%) |
| Pulmonary artery sling with/without tracheal stenosis/hypoplasia | 5/167 (2.9%) |
| ZEB2 mutations | All |
Etiology
MWS is caused by an heterozygous mutation in the ZEB2 gene (OMIM# 605802) [35] that was identified by Wakamatsu et al and Cacheux et al in 2001 [2, 3]. Mowat et al described the syndrome in 1998 and also identified a locus at chromosome 2q21-q23 [1].
The
ZEB2
gene spans approximately 70 Kb, consists of 10 exons and 9 introns (Figure
6
), and encodes for SIP1 (Smad interacting protein 1, SMADIP1) [
2
]. The initiation codon is located in exon 2 and the stop codon is in exon 10. SIP1 is a zinc finger/homeodomain transcriptional repressor and consists of 1214 amino acids [
36
–
39
];
ZEB2
mRNA is detected in nearly all human tissues [
3
,
8
,
40
,
41
].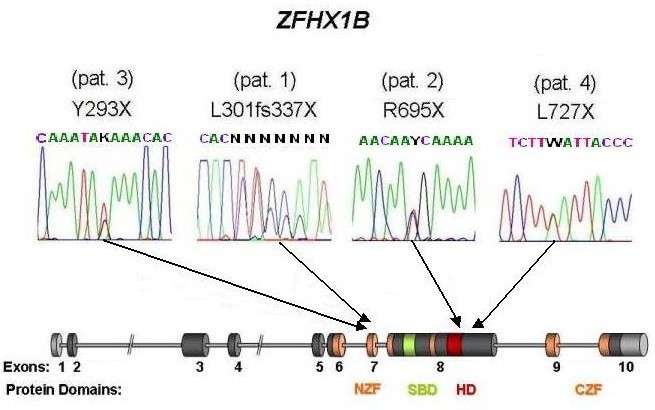 Clinical features suggest that the ZEB2 gene is involved in the development of neural-crest derived cells (enteric nervous system, craniofacial mesectoderm), central nervous system, heart septation (patent ductus arteriosus, ventricular and atrial septal defect) and midline development (corpus callosum agenesis, genitourinary anomalies and pyloric stenosis) [5, 7, 25]. Comparison of the human and mouse homologues of ZEB2 at the nucleotide and amino acid levels revealed 93% and 97% similarities, respectively [2, 3].
To date, 171 patients have been published [4, 9–12, 18, 19, 22, 24, 29–31]. In all of these patients, heterozygous mutations of the zinc finger E-box-binding homeobox 2 gene (ZEB2) were detected. In most cases the mutation produces an absent or truncating protein [9] which loses its function.
The most frequent mutations are: frameshift mutations (small insertions and deletions that lead to truncating frameshift mutations) (41,5%) [2, 3, 5–8, 10, 17–19, 22, 23, 25], non-sense mutations (31,6%) [2, 5, 7, 8, 10, 12, 18, 22, 24, 25], and deletions (not detectable by standard cytogenetic method) (19,3%) [2, 7, 11, 18, 19, 22, 24, 25, 29, 31]. Rare mutations have been reported: cytogenetically detectable deletions (1,2%) [1, 14], translocation (0,6%) disrupting the disease-gene [3], splice site mutations (2,3%) [10, 18, 21], missense mutations (1,7%) [20, 22, 28], complex mutations (combination of deletion and insertion) (1,2%) [22, 25] and an inframe mutation (0,6%) [27].
The mutations cover all the coding region [9], and are more frequent in exon 8 (69 cases, 51,1%) [22]. Four recurrent mutations have been observed: 2083C > T (13, exon 8), 2761C > T (5, exon 8) 1027C > T (4, exon 8) and 904C > T (3, exon 7) [8, 18, 22].
As two patients with non-sense mutations were reported to have the same severe phenotype that those found in patients with large 2q22 deletions, it has been pointed out that MWS is not a contiguous gene syndrome, and that truncating mutations of one allele of the ZEB2 gene are sufficient to result in this complex phenotype [12].
Haploinsufficiency is probably the underlying mechanism [7–11, 18, 22, 42].
Few studies on polymorphisms have been carried out. The amino acid altering change p.Pro714Leu, localized in exon 8, was found in one patient (in addition to a non-sense mutation) and in his healthy father, but was not detected in 96 normal controls [18].
The silent alteration p.Ile163Ile was identified both in one patient and in his father [18]. The small number of polymorphisms indicates that ZEB2 sequence is under strong evolutionary constraint and even small variations compromise the protein function [18]. A recent study on polymorphisms by Dastot et al, 2007, in 180 children (120 unaffected and 60 MWS patients) showed 20% polymorphism in exon 7 (transition T4C in intron 7 (c.917-21T4C) in both groups. The authors identified an amino acid change in exon 10 (amino acid change p.Glu1094Lys) in a typical patient who also had a total deletion of ZEB2 on the other chromosome. As this alteration was also identified in the healthy mother, it was probably a polymorphism [22].
In two cases of typical MWS, the mutation was not identified [10]. It could be due to the presence of mutations not detectable by mutational screening, or it could also indicate genetic heterogeneity for this clinical syndrome [10].
Genotype-phenotype correlation
The studies on genotype-phenotype analysis show that in most cases the phenotype was similar in patients with deletions and in those with truncating mutations [11, 12, 18]. Patients with large deletions may have a more severe phenotype and additional features [11, 25, 30, 31]. Facial gestalt and the psychomotor development delay, particularly of language, are constant. The frequent and severe malformations (HSCR, congenital heart defect, agenesis of the corpus callosum) and seizures may lead to suspicion of the diagnosis, but their presence is variable [5, 9, 12, 17, 18, 22].
The comparison between clinical data concerning the associated malformations of one of the patients with a R695X mutation and those of the other eight patients with the same mutation, demonstrated the phenotypic variability of a single mutation in MWS [4, 12]. This variability is remarkable not only in the same mutation but also in the same family. In fact, two siblings (sister and brother) with characteristic face, HSCR and agenesis of the corpus callosum were discordant for congenital heart disease and ocular coloboma [17]. On the other hand, the phenotypic expression in two affected sisters was very similar for a/hypoplasia of corpus callosum, HSCR, congenital heart defect, seizures and microcephaly [18]. These features might be controlled by common familial genetic modifiers [18].
Few data are available about the parental origin of deletions. The origin of the deleted chromosome is paternal in 17 out of 19 patients examined so far [11, 22, 25, 42]. The investigation of four patients showed that agenesis of corpus callosum (present in two patients and absent in two others) and seizures (present in one patient and absent in three others) showed no correlation with paternal origin of the deletion [11].
HSCR, when present, is a strong cross reference marker, even in the neonatal period, but it is not constant. It is noteworthy that at first the patients were selected among those with syndromic HSCR. As the number of described patients with ZEB2 mutations rises, the percentage of patients with HSCR decreases: 70% of 30 patients [11], 62% of 45 [9], 63.8% of 47 [12], 62.8% of 70 [4], 62,6% of 97 [18], 57.2% of 159 [22] and 57% of 170. Therefore, there was a bias of ascertainment.
Also the male preponderance of HSCR in general populations (4:1) [43] can cause a bias of ascertainment and explain the male excess in MWS [9]. In fact, the male/female ratio decreases from 2.13/1 out of 47 patients (M/F 32/15) [12] to 1.92/1 out of 70 patients (M/F 46/24) [4], to 1.49/1 out of 97 patients (M/F 58/39) (personal data), to 1.37/1 out of 159 patients (M/F 92/67) [22] and today 1.42/1 out of 170 patients (M/F 100/70).
The manifestation of HSCR is not influenced by deletion size [11]. Moreover, Zfhx1b knockout mice do not exhibit HSCR [44], therefore a non-allelic modifier might contribute to the manifestation of HSCR [11].
Unusual mutations can lead to an atypical phenotype. The first person reported was a 48-year-old woman with severe constipation and mild mental retardation in the absence of specific facial anomalies, seizures, and other malformations caused by non-truncating mutations with a 3 bp in frame deletion [27].
Three patients with ZEB2 missense mutations showed a clinical severity as variable as expected. The first was a boy with Down syndrome and typical facial features of trisomy 21, HSCR (rarer in Down syndrome than in MWS), myopia, and ocular coloboma affecting iris and retina [28]. The child showed some dysmorphism compatible with MWS but not the facial gestalt. The importance of ocular anomalies that differs and are more severe than those observed in Down syndrome is underlined.
Another boy with a missense mutation [20] showed HSCR, corpus callosum hypoplasia, epilepsy and severe mental retardation, but also other anomalies such as cleft lip and palate, brachytelephalangy, and broad thumbs and halluces. Facial phenotype was similar to MWS but differed by the presence of bilateral cleft lip and palate, and eyebrows that were not typical of MWS.
The third missense mutation was found in a young child with typical MWS including HSCR who died at age of 3 years [22].
An exceptionally mild phenotype, caused by a novel and unusual splice site mutation in the 5'UTR, was reported by Zweier et al (2006) in a 5-year-old child. He showed a mild motor and speech delay but, by age 5 years, he spoke in full sentences. The phenotype was not typical but facial features resembled the facial gestalt of MWS. Clinical features were mild in comparison with these associated with truncating mutations, no malformations or seizures were present. The mild phenotype could be due to the conservation of all known functional domains of the protein: in fact, this mutation only results in loss of exon 2 [21]. The authors suggested that exon 2 might contain important determinants of the facial phenotype in MWS [21]. Three other splice site mutations [10, 18] have been identified in patients with typical phenotypes.
The confirmation of the diagnosis based on the presence of a mutation, deletion or translocation in the ZEB2 gene will allow the knowledge on genotype-phenotype correlation to be increased.
Diagnostic methods
Diagnosis may be suspected on the basis of the clinical phenotype in typical patients. Facial gestalt is particularly important. Serious malformations (HSCR, heart disease, agenesis of corpus callosum) are common even if not always present. Seizures are frequent and psychomotor delay, particularly serious in spoken language, is constant. A small number of patients with rare mutations (inframe, missense and splice site mutations) may show an atypical clinical picture (until now, 2.4% of the patients: 4/169). In all cases, patient should undergo molecular analysis of the ZEB2 gene.
A cytogenetic analysis should be carried out to exclude large deletions or translocations. FISH analysis enables submicroscopic deletions to be detected. Sequencing of the complete coding sequence of ZEB2 identifies the mutations [5, 9, 22]. The semi-quantitative fluorescent multiplex polymerase chain reaction (PCR) assay allows detection of other rearrangements that escaped conventional methods [22]. Sequence analysis detects mutations in approximately 79% of affected individuals, FISH analysis detects deletions in 13%, chromosomal rearrangements cause MWS in 2% and an additional 6% have an intermediate-sized deletion detected by quantitative PCR or multiplex ligation-dependent probe amplification (MLPA) [34].
In a patient with multiple congenital anomalies and an apparently balanced translocation involving chromosomes 2, 3 and 5, 1 Mb resolution array-CGH detected a cryptic deletion of about 6 Mb of chromosome 2 including the ZEB2 gene [29]. The patient, a six-month-old girl, had dysmorphic features typical of MWS, microcephaly and severe psychomotor retardation.
Differential diagnosis
The facial features of patients with MWS are quite characteristic, but the presence of HSCR, epilepsy and mental retardation may initially suggest Goldberg-Shprintzen syndrome (GOSHS) [5]. The patients with GOSHS (actually MIM 609460) share clinical features such as HSCR, epilepsy and mental retardation, but have a different facial gestalt (high nasal bridge, synophrys, long curled eyelashes, palpebral ptosis, and cleft palate are commonly observed) [45, 46]. The differential diagnosis can be carried out on the basis of facial phenotype and confirmed by mutational analysis of the ZEB2 gene. A patient with short segment HSCR, microcephaly, mental retardation, and distinct facial appearance in the absence of ZEB2 intragenic mutations was diagnosed as GOSHS [30]. Further molecular studies showed a deletion of the 2q22-q23 region encompassing the ZEB2 gene [31].
In five patients with GOSHS in a consanguineous Moroccan family, Brooks et al identified a homozygous mutation in K1AA1279 at 10q22.1 [47]. Today, it is possible to carry out molecular analyses for both syndromes.
The differential diagnosis is important for genetic counseling, since GOSHS is autosomal recessive, whereas MWS is a sporadic condition.
ZEB2 mutation analysis may be also considered in patients with syndromic [43] and apparently non-syndromic HSCR disease and no mutation in other related genes such as RET or EDNRB [20, 48, 49].
Individuals with MWS have often been described as having a wide-based or ataxic-like gait, and a smiling, happy and sociable personality. This, combined with absent speech, microcephaly and seizures, has led some individuals to be given a presumptive diagnosis of Angelman syndrome [19]. However, the facial features of MWS, in addition to the other typical congenital anomalies, distinguish these two conditions.
In patients with hypospadias and mental retardation it is necessary to take into account the differential diagnosis with Smith-Lemli-Opitz syndrome, Opitz G/BBB syndrome and X-linked mental retardation-alpha thalassemia syndrome. However, the gestalt of MWS is different.
Genetic counseling
The majority of patients with MWS so far reported are sporadic cases; therefore the recurrence risk is low. Nevertheless, cases of sibling recurrence have been observed.
Two sisters with MWS born to healthy parents have been reported. Mutation analysis of both parents revealed a low paternal mosaicism. The father had short stature (150 cm, Vietnamese origin), somewhat uplifted earlobes and a pointed nasal tip [18].
Another recurrence was found in a brother and a sister with clinical features of MWS and the same truncating mutation in exon 8. The parents were phenotypically normal, without mutation in the ZEB2 gene. Thus, the most likely explanation is germ-line mosaicism [17].
Recently, another family with three affected sibs has been reported [[34] by D. Mowat, personal communication]. Therefore, the recurrence risk, on the basis of the current data, is 3/170 families (1.76%) [17, 18, 34].
In the case of a balanced familial translocation, the risk is higher. Karyotype and gene analysis should be offered to the parents with an affected child and, in these cases, prenatal diagnosis is possible.
Antenatal diagnosis
There are few data concerning specific prenatal markers suitable during pregnancy. Wilson et al (2003) reported increased nuchal translucency in two patients [10].
Since agenesis of the corpus callosum is the only MWS feature that can be detected prenatally, molecular screening of the ZEB2 gene in prenatal isolated agenesis of the corpus callosum, has been carried out [50]. No gene mutations were detected in six fetuses. It has been concluded that ZEB2 is not the major gene for isolated agenesis of the corpus callosum and that a particular attention to the facial features (dysplastic ears) at ultrasound or fetopathological examination may help the diagnosis of MWS in fetuses with agenesis of the corpus callosum.
Only one case of examinations in pregnancy has been performed in a family with two children affected by MWS [17]. The first child, a female, had HSCR, dysmorphic features and developmental delay. The cerebral magnetic resonance imaging (MRI) showed agenesis of the corpus callosum but the karyotype analysis was normal; thus, diagnosis was not made. On the second pregnancy, a nuchal translucency scan was reported as normal, but both fetal ultrasound and MRI examination showed agenesis of the corpus callosum. Amniocentesis demonstrated a normal male karyotype [17]. MRI examination of the mother showed a normal corpus callosum. It could be supposed that the absence of diagnosis on the first child did not allow a correlation of agenesis of corpus callosum with the recurrence of a syndrome.
Other observations and studies are necessary to increase the knowledge and identify possible prenatal markers.
Management
There is no specific treatment for MWS, as the neural defect and also other malformations resulting from the mutation occur in the early stage of embryonal development [41].
The frequent presence of serious congenital malformations requires precocious clinical investigation with intervention of neonatologists, pediatricians and several specialists. Congenital heart disease and HSCR requires early surgery at the first days or months of life. Serious constipation also persists in operated patients.
Seizures can begin in the first months of life and require suitable therapies; however, in two of our patients the seizures were fairly quickly resolved. One patient still has seizures at the age of 9 years, while the other, at the age of six, had never suffered them.
Genitourinary anomalies such as hypospadias, cryptorchidism, bifid scrotum, vesicoureteral reflux and hydronephrosis may be present in the first years of life and may require surgery.
Eye problems are frequent and require a specialized help.
Deafness has not been reported. Nevertheless, speech retardation requires audiometric examination of all MWS children.
All advised vaccinations are recommended.
A periodic follow-up for the different clinical problems should be carried out regularly.
Psychomotor development is retarded in all patients, therefore rehabilitation including physical therapy, psychomotor and speech therapy should be started as soon as possible.
Prognosis
There are few data about survival of the patients affected by MWS. We are aware of the death of three patients. One patient with a large deletion and seizures in the neonatal period [11], and a patient with aortic valvular stenosis [22] both died in the first month of life. The third patient, having a missense mutation, died at 3 years of age [22].
As far as we know, the oldest patient reported so far is 30-years-old [25].
Early molecular diagnosis is feasible today and is of great importance in order to start the therapeutic and rehabilitation treatment as soon as possible.
The diagnosis of MWS is important also for the family, regardless of the prognosis. In fact, the diagnosis permits caregivers to give information and psychological support, and relieves the families from a profound sensation of solitude.
The increase of knowledge on the syndrome will support the educational and rehabilitation aid by parents and caregivers, and help the achievement of improvements in the psychomotor development and the autonomy of the MWS patients.
The support resulting from Family Associations is also important.
Declarations
Acknowledgements
The authors wish to thank the Reviewers for their positive remarks and useful suggestions. They also wish to thank the research assistants Enrico Albertini, Chiara Castronovo, Elena Favaron, Francesca Rivieri, Fiorenza Soli and Michela Zignani for their collaboration, and Fondazione Cassa di Risparmio di Vercelli for its support.
The authors are grateful to the families for their cooperation. Written consent for publication of the clinical pictures was obtained from the patients' parents.
Authors' Affiliations
(1)
Clinical Genetics Unit, Obstetric and Pediatric Department, S. Maria Nuova Hospital, Reggio Emilia, Italy
(2)
Department of Pediatrics and Clinical Genetics, S. Andrea Hospital, Vercelli, Italy
Copyright
© Garavelli and Mainardi; licensee BioMed Central Ltd. 2007
This article is published under license to BioMed Central Ltd. This is an Open Access article distributed under the terms of the Creative Commons Attribution License (http://creativecommons.org/licenses/by/2.0), which permits unrestricted use, distribution, and reproduction in any medium, provided the original work is properly cited.